Thursday, May 8, 2003

IAM Calls for Maytag CEO to Resign
The IAM stepped up its campaign to keep one of Maytag's most profitable operations in the U.S., joining shareholders, community activists and employees urging board members at the company's annual meeting to dump Maytag CEO Ralph Hake.
"'Made in the U.S.A.' is what made Maytag an American classic," said IP Tom Buffenbarger, who blasted Hake for the decision to close the company's profitable Galesburg, IL, facility and shift refrigerator production to Reynosa, Mexico. "Maytag is abandoning Galesburg and leaving behind a highly-skilled workforce at a time when many appliance manufacturers are leaving Mexico because of serious quality control problems."
"Maytag is risking a valuable reputation by allowing the current CEO to make the company a poster child for corporate greed," said Buffenbarger.
For more information about the campaign to protect Galesburg workers, visit the IAM Midwest Territory website at: http://www.goiam.org/territories.asp?n=29.
---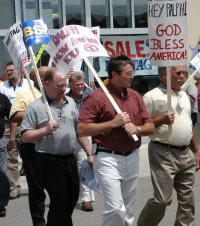 Machinists Make 'Jobs' the Issue for Dems
Sign-waving demonstrators and IAM members greeted Democratic presidential candidates with a single message at last week's debate in South Carolina: "We're here to make sure they know that JOBS! is the number one issue for working families here in the South and across America," said IAM Local 1725 member John Carr.
The U.S. jobs crisis shows no sign of abating. More than 2.7 million private sector jobs have disappeared since January 2001, with nearly 500,000 jobs lost in February and March alone. The Department of Labor's unemployment numbers for April showed a sharp decline in manufacturing jobs, pushing overall unemployment to six percent, the highest rate in eight years.
Nine Democratic candidates showed up in Columbia, SC to promote political agendas that included health care reform, tax cuts and national defense. "But if they don't have a plan to address the jobs crisis, they're wasting their time," said Carr.
---
Health Insurance Tops Workers' Worries
More than twice as many people are concerned about rising health care costs than they were about not being able to pay the rent or losing their job, according to a new poll by the Kaiser Family Foundation.
"This survey shows that the rising cost of health care ranks at the very top of the economic concerns Americans have these days," said Kaiser Foundation VP Molly Ann Brodie.
The poll also found Americans worried about declining quality of health care; prescription drug costs and health care decisions being based on cost rather what is best for the patient. Click here to view the poll results: http://www.kff.org/healthpollreport.
---
Pension Exemption Opposed at NWA
Northwest Airlines' controversial proposal to cover more than $220 million in pension shortfalls with stock from a small, subsidiary airline could jeopardize employees' retirement if the airline's shares were to fall in value, said IAM representatives this week in testimony before the U.S. Department of Labor.
"The IAM believes the exemption as it is now designed sets up a 'false choice' – to either protect the company's liquidity, or maintain a prudently diversified pension plan," said Bobby DePace, President and Directing General Chairman of District 143. "We believe it is possible to achieve both. Maintaining prudently funded pension plans is not a choice, it is an obligation."
Northwest is seeking an exemption from federal ERISA regulations limiting the amount of pension assets that can be held in stock controlled by the parent company. The airline currently owns all shares of Pinnacle stock.
"Our members' pensions must be protected," said Transportation GVP Robert Roach, Jr. "Financing Northwest's recovery by gambling with their pensions is not a practical option."
---
The Reality of Unemployment
More than half of unemployed adults have postponed medical treatment or cut back on spending for food, according to 'Unemployed in America,' a report by the National Employment Law Project (NELP).
The report, based on a poll by Peter Hart Research Associates, also found one in four adults was forced to move and 36 percent lost their phone service or had trouble paying gas or electric bills.
The impact of unemployment on families was equally significant. Two-thirds of those surveyed said they have cut back on spending for their children and 23 percent have had to interrupt their education or that of a family member.
In a testament to the importance of unemployment benefits, 95 percent said it would be very helpful if Congress increased benefits from 13 to 26 weeks and 8 in 10 said Congress should continue the federal extension of benefits past the May 31 cutoff.
To view the full report, visit the NELP website at: http://www.nelp.org/docUploads/bw6985final%5F050703%5F081526%2Epdf
---