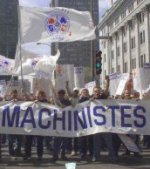 Strike Over at Bombardier 70% vote to accept contract. Details.
---

Three West Coast governors – John A. Kitzhaber, Gary Locke and Gray Davis -- were interviewed recently on the IAM's Third Shift program. Jobs, healthcare and college costs were some of the issues affecting working families that the governors addressed.
---
Find out about health care in your state: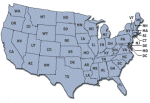 The Kaiser Family Foundation's State Health Facts Online resource contains the latest state-level data on demographics, health, and health policy, including health coverage, access, financing, and state legislation.
---


Get Your Convention Gear Check out gear for the 2004 IAM Convention
---

The IAM
Executive Council
International President
R. Thomas Buffenbarger

Secretary Treasurer
Donald E. Wharton

GVP Western
Territory
Lee Pearson
GVP Canada
GVP Canada
Dave Ritchie

GVP Midwest
Territory
Alex M. Bay

GVP Headquarters
Robert V. Thayer
GVP Southern
GVP Southern
Territory
George Hooper

GVP Eastern
Territory
Warren L. Mart

GVP Transportation
Robert Roach, Jr.
Friday, May 10, 2002

Aerospace Delegates Vow
War on Economic Terrorism
More than 200 IAM aerospace delegates left Seattle and headed home to fight the battle for jobs, security and prosperity in towns and cities across North America.
"When we see thousands of our members receiving pink slips and being laid off day after day while industry profits go through the roof, that is war, brothers and sisters. That is economic terrorism," said GVP Bob Thayer in his closing remarks to the 2002 Aerospace Conference.
"I realize these are strong words, but there are no other words for the systematic elimination of jobs; education and skills training; cuts in health care, child and elder care," Thayer said. "There is a reason job security is the number one issue everywhere we go. If you don't think we're fighting a war, ask our members. They know. We are fighting for our very existence – for our right to have a job and make a decent living for our families."
Delegates spent four full days studying methods to save jobs and promote domestic production; to build political and community support and to communicate and organize the struggle inside the workplace.
"We have a great program," Thayer said. "Now it's up to each of us to go home and put it into action."
---

Senate Eyes Flawed Trade Pact
Senate negotiators cleared the path for a patched-up Fast Track trade promotion authority measure to go to a floor vote—perhaps as early as next week. Democrats successfully amended the bill to provide greater protections to workers who lose jobs to unfair trade deals. A Senate vote on the measure could come as early as next week.
The House passed a stripped-down Fast Track bill by a single vote earlier this year. That measure lacked any worker protections whatsoever.
Additional amendments to the trade bill are likely during floor debates next week. Those amendments are needed to protect U.S. trade, health, safety and environmental laws from Fast Track's impact. Negotiations to resolve the differences between the Senate and House versions could reach fever pitch.
Fast Track gives the President sole authority to negotiate trade deals and forbids Congress any opportunity to correct flaws or problems, including lack of environmental or worker protections. "This is not how Congress is supposed to work," said IP Tom Buffenbarger. "These issues demand open discussion and debate before any legislation is adopted. That's how it should work."
---
'Day of Action' Shows IAM Solidarity
Thousands of IAM members from Boston to Hawaii took part in the IAM's Transportation Day of Action on May 8. The goal of the Day of Action was to bring awareness to the crucial job IAM members have in rebuilding America's transportation system. Activities in more than three-dozen cities included press conferences, marches, rallies and providing information and gifts to the traveling public.
"The benefits of rebuilding America's transportation system are far reaching," said IP Tom Buffenbarger at a rally in Seattle. "The advantages extend beyond the airports and rail stations into the communities where our members live, pay taxes, and school their children."
"This day grew from an idea at our Transportation Conference last August to become a historic event that displayed the solidarity of the Machinists Union," said GVP Robert Roach, Jr., who led activities at Washington DC's Union Station, and at National and Dulles Airports. "The tragic events of 9/11 have made this day even more important. The strength of a union comes from its members, and your support in making this day such a success showed why we are the strongest transportation union in the world."
Addressing the crowd at Washington, DC's National Airport, United States Deputy Secretary of Transportation Michael Jackson acknowledged the role the IAM has played in providing increased security in the wake of September 11. He also urged laid-off IAM members to take advantage of their priority hiring status for positions with the Transportation Security Administration (TSA). The IAM began discussions with the Department of Transportation immediately after the airline lay-offs began suggesting that displaced airline workers be offered jobs with the TSA.
---
Retirement 'Boom' Goes Bust
That much-ballyhooed stock market boom in the 1990s didn't do much to boost retirement security for middle-income workers. In fact, those workers saw their retirement wealth fall, according to a study by the Economic Policy Institute. Only the richest Americans saw their retirement increase during that period, EPI says.

The study highlights the importance of the working families campaign to protect and strengthen Social Security, the only source of retirement income that—unlike the stock market—is guaranteed, lifelong and rises with inflation.

"The study sheds a whole new light on the debate over Social Security," says Jeff Faux, EPI president. "It shows we've been trying to fix the part of the retirement system that's not broken."

President Bush and his allies have proposed partially privatizing Social Security, a move that would cut benefits or raise the retirement age.

"It's time to stop talking about shifting Social Security money to private accounts and start talking about how we can make sure that working Americans will have adequate pensions that will enable them to live decently in retirement." Faux says.
---

Working Mothers Work Longer Hours
Two in three working mothers, 66 percent, work 40 or more hours every week, compared with 60 percent of women without children, according to the AFL-CIO's Ask a Working Woman Survey 2000.
The survey found that 28 percent of working mothers work nights or weekends, and that 40 percent work different schedules than their spouse or partner. Women of color are more likely than white women to work a schedule that is different from their spouse.
Among all women, 63 percent work more than 40 hours per week.
The survey is the third in a series of such reports, and was part of a yearlong national effort that included a field survey of more than 20,000 working women.
---
Here's a Chance to Win a Hawg!
The Harley Davidson Corporation donated a stylish 2002 model motorcycle to some lucky winner at the inaugural CBTU golf tournament to be held May 25, 2002 in Las Vegas, Nevada. "All you have to do is score a hole-in-one," explained IP Tom Buffenbarger.
This tournament will benefit the Coalition of Black Trade Unionists' Scholarship Fund and the community issues education project of the Congressional Black Caucus PAC.
The challenging 9th hole is 165 yards long, and is cosponsored by the PACE and the IAM, added Diane Babineaux, executive assistant.