IAM Marks Day of Action With Rally & March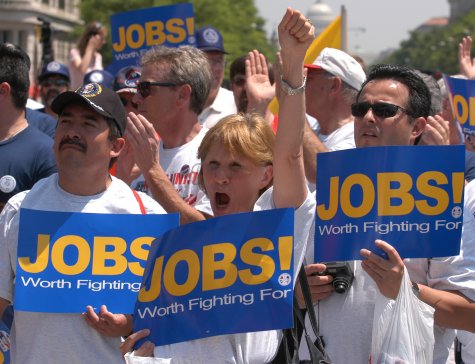 More than 1,000 IAM members from across the U.S. marched in Washington, D.C. to mark the 3rd annual Transportation Day of Action.
A three-block long column of more than 1,000 Machinists marched from the site of the IAM Legislative Conference to Freedom Plaza in downtown Washington, D.C. for a rally marking the 3rd annual Transportation Day of Action. The active and retired IAM members traveled from across the U.S. by bus, rail, auto and air to oppose the Bush administration policy of using the tragedy of September 11 as an excuse to cut wages, steal pensions and roll back decades of collective bargaining achievements.
"The attack on transportation workers began within weeks of President Bush taking office," said IP Tom Buffenbarger. "Rail negotiations screeched to a halt. Elected officials sought to restrict air and rail workers' right to vote on contracts and the administration colluded with airlines to lower wages and benefits for thousands of airline workers."
Buffenbarger singled out the National Mediation Board, which oversees negotiations in the air and rail industries, for their role in obstructing a contract for nearly 8,000 IAM members at the nation's freight rail companies. "Fifty-five months without a contract is unacceptable," said Buffenbarger. "We've got to take our country back."
"Air and rail carriers bring the administration's anti-labor sentiments to the negotiating table with them," said IAM General Vice President for Transportation Robert Roach, Jr., who coordinated the march and rally. "Transportation workers must protect their jobs and families by voting for federal, state and local candidates that speak our language and support our issues."
IAM members were joined at the rally by retired IP George Kourpias, AFL-CIO Secretary-Treasurer Rich Trumka, California Senator Barbara Boxer, Transportation Trades Dept. President Ed Wykind and more than a dozen Congressional representatives. Click here for photos of the march and rally.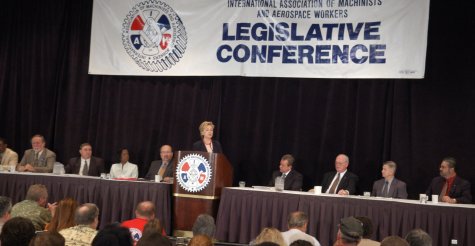 More than 300 delegates and guests gave New York Sen. Hillary Clinton a standing ovation as she led off a distinguished list of speakers on the third day of the IAM Legislative Conference in Washington, D.C.
Legislative Delegates Primed for Election
More than 300 delegates and guests gave New York Sen. Hillary Clinton a standing ovation as she led off a distinguished list of speakers on the third day of the IAM Legislative Conference in Washington, D.C. During the half hour speech, Sen. Clinton moved from scathing denunciations of Bush administration policies to impassioned appeals to educate and mobilize voters for the upcoming election. "I can't remember a time when more was at stake," said Clinton, who asked delegates to imagine the damage a second Bush administration would do to unions and working people. "They want to transform this country in a way that we would not recognize it."
Clinton pointed to polls that say a majority now believes this country is on the wrong track, and then to the 40 million eligible women and 45 million 18-35 year olds who did not vote in the last election. "As a Senator, I hear from a lot of people who are worried and concerned, but I believe if you don't vote, you've lost your right to complain."
Clinton, who serves on the Senate Armed Services Committee, drew more applause when she spoke up for the men and women in uniform doing their job in the shadow of the current Iraq prison scandal. "The actions of a few do not reflect on the many who serve with honor."
Returning to the Bush administration's campaign against working people, Clinton pledged to stand with the IAM. "I think the American labor movement is one of the reasons we're a successful country," said Clinton. She pledged to do everything possible to prevent the U.S. from becominga "fiefdom for the rich and powerful."
House Democratic Minority Leader Rep. Nancy Pelosi picked up where Clinton left off and urged the legislative activists to stay focused and demand support from their Washington representatives. "At the end of the day, it's all about JOBS!" said Pelosi.
GOP Leaders Block Debate on Overtime Rules
Republicans leaders in the House of Representatives refused this week to allow a debate or vote on an amendment to protect workers who stand to lose their overtime pay. The motion by Rep. George Miller (D-CA) was defeated 222-205 in a party-line vote.
Unless Congress acts or President Bush backs down, the regulations will go into effect Aug. 23. The new overtime rules will mean longer hours and less pay for millions of workers – and more litigation for our entire economy, according to Ross Eisenbrey, vice president of the Economic Policy Institute.
The new regulations come at a time when the last thing America's workers need is a major pay cut. Rising prices at the gas pump add significantly to the weekly commuting costs for millions of wage earners. The average gas prices across the country rose by a dime last week to a record high $1.94 a gallon for regular unleaded as reported by the federal government.
A Mayor in the Making
Longtime IAM activist Frank Ortis moved a step closer this week to becoming mayor of Pembroke Pines, Florida, when the current mayor said he would not run for reelection.
The move by current Mayor Alex Fekete all but assures Ortis will be mayor of the second largest city in Broward County when the election is held on Aug. 31.
Ortis is an IAM member of Local 368 and former president of the Florida State Council of Machinists. He currently serves as Broward County City Commissioner.
Federal Deficit Hits New Record
On the heels of sky-high energy costs, the U.S. trade deficit jumped to a new record in March, with the Commerce Dept. reporting a $46 billion trade imbalance, a 9.1 percent jump from the previous month.
The alarming growth in the deficit was fueled by the ballooning trade deficit with China, where low wages and abysmal working conditions give finished products from that country an unfair advantage in the global marketplace. In April, the Bush administration failed to act on a petition from the IAM and AFL-CIO that charged China's labor and human rights abuses are a violation of U.S. trade laws. The union's 301 petition also called for sanctions against China to protect thousands of U.S. manufacturing jobs.