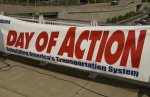 IAM Video IAM members rallied coast to coast on May 8th in what was billed as a "Day of Action: to remind the traveling public that union workers are the backbone of the transportation industry.
---

Three West Coast governors – John A. Kitzhaber, Gary Locke and Gray Davis -- were interviewed recently on the IAM's Third Shift program. Jobs, healthcare and college costs were some of the issues affecting working families that the governors addressed.
---
Find out about health care in your state: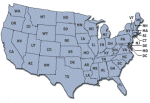 The Kaiser Family Foundation's State Health Facts Online resource contains the latest state-level data on demographics, health, and health policy, including health coverage, access, financing, and state legislation.
---


Get Your Convention Gear Check out gear for the 2004 IAM Convention
---

The IAM
Executive Council
International President
R. Thomas Buffenbarger

Secretary Treasurer
Donald E. Wharton

GVP Western
Territory
Lee Pearson
GVP Canada
GVP Canada
Dave Ritchie

GVP Midwest
Territory
Alex M. Bay

GVP Headquarters
Robert V. Thayer
GVP Southern
GVP Southern
Territory
George Hooper

GVP Eastern
Territory
Warren L. Mart

GVP Transportation
Robert Roach, Jr.
Tuesday, May 14, 2002



Legislative Conference Blankets Congress
Delegates from the 2002 IAM Legislative Conference rallied on Capitol Hill and told Congress that working families must be given a higher priority on issues ranging from fair trade to full employment from Social Security to workplace safety.
"What we are seeing is economic terrorism," IP Tom Buffenbarger said in a rousing keynote address, "and we're the ones being terrorized." He pointed out that the IAM lost 75,000 members since President Bush took office little more than a year ago.
"Things are tough in America. Bad economic conditions are choking the American Dream," he said. "There is no one out there, neither Democrat nor Republican, who is speaking up for us, for working Americans." He blamed an uncaring White House and an "out-of-touch Congress" for the dire state of the economy and the growing plight of working families.
GVP Bob Thayer urged delegates to "let Congress know the 'Fighting Machinists' are in town. Let's make our voices heard, we can make a difference." Delegates took that challenge to heart, meeting with their senators and representatives on issues crucial to working families.
The Delegates were slated to hear from a list of distinguished speakers including AFL-CIO President John Sweeney and House Minority Leader Dick Gephardt (D-MO).
---
Five Contracts Ratified at United Airlines
IAM members at United Airlines voted by large margins this week to ratify four agreements covering nearly 25,000 employees at the airline. A fifth IAM agreement, covering 500 employees at Mileage Plus Inc. (MPI), was also ratified.
Terms of the agreements include wage and overall compensation improvements that make IAM members at United industry leaders once again. Pay for a senior Lead Ramp worker will increase to from $20.46 to $27.04 over the life of the agreement. Hourly pay for senior Customer Service Representatives will rise from $19.74 to $26.32. Additional details of the agreements are available on the IAM District 141 web site at www.iam141.org.
"District 141 negotiated with United Airlines under difficult circumstances for more than two years," said Robert Roach Jr., IAM General Vice President of Transportation. "The District's negotiators and officers spent extended time away from their families. They performed a valuable service and reached agreements they can be proud of."
---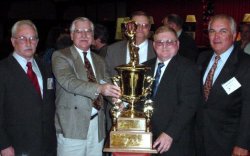 HPWO Partnership Wins In Kentucky
The state of Kentucky honored a joint High Performance Work Organization (HPWO) partnership between IAM Local 1720 and International Specialty Products (ISP) in Calvert City, KY. As reported in the Paducah Sun, the award is given by the University of Louisville Labor-Management Center to recognize a workplace where labor-management cooperation produces a measurable success. ISP makes chemicals to improve pain medicine, denture adhesive, toothpaste, sunscreen, hair spray and other products.
The HPWO partnership, started in 1996, helped turn around ISP in 1998 when layoffs were looming and production lines were shutting down. Since then, IAM members and ISP management worked together to reduce accidents; increase productivity by 34 percent; decrease the product rejection rate by 45 percent; increase customer satisfaction by 32 percent and reduce energy costs by $4 million.
IAM Local 1720 President Monty Newcomb credits former president Tommy Mayfield for starting the HPWO process. "He was a strong union man and for him to want to do this at age 60, that's something," said Newcomb. "Customers, global market – all that comes into play. We didn't used to have to worry about that."
HPWO is a program started by the IAM to help keep jobs from going overseas. "It's a union program, one that we looked at and couldn't improve upon," said ISP manager Frank Stevens. "As we're more productive, the less business we lose overseas."
---
Stanley Works Offshore Exit Blocked
Shareholders of Connecticut tool-maker Stanley Works will get a second chance to block the company's plan to move to Bermuda after charges the company deliberately misled shareholders.
Connecticut State Attorney General Richard Blumenthal filed a challenge to last week's shareholders' vote allowing the 159-year old company to establish the offshore equivalent of legal residence in Bermuda. The move would allow the company the shelter overseas profits from U.S. taxation.
"The shareholder vote was more than slipshod and incompetent. Stanley purposely created confusion and deliberately misled shareholders," said Blumenthal. Stanley CEO John M. Trani was cited as the source of conflicting information regarding the vote, which passed by less than 2 percent over the two-thirds majority needed.
Stanley's bid to bail is widely seen as little more than an effort to avoid paying nearly $30 million in U.S. taxes annually. Legislation is now pending in Congress to eliminate the offshore tax loophole.
---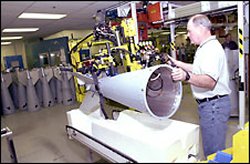 IAM, Boeing Streamline Arms Production
The IAM and Boeing have teamed up to expedite production of Joint Direct Attack Munitions (JDAM) kits for the military. The kits, which convert traditional bombs into those which can be directed by a global positioning satellite, were used extensively in Afghanistan. With more than 6,650 already dropped from fighter aircraft, stockpiles of them are said to be low. Cooperation between the IAM and Boeing has seen JDAM production ramp up from a pre-September 11 output of 800 monthly to the current 1,500 a month. The monthly production rate may reach as high as 3,000 a month.
---
IAM-NFFE Wins Grant On Forest Restoration


IAM-NFFE Local 457 in Marcola, OR didn't take "No" for an answer when they wanted to come up with better ways of managing Willamette National Forest land. After hitting several roadblocks, Local 457 officers Tony Farque, president, and Richard Fairbanks, second vice president, wrote up a grant proposal to hold a conference to promote the traditional use of fire in the Cascade mountains.

After winning the grant, the local worked with local Indian tribes who used fire control in the past to set up a conference for June 12 and 13. "The conference will focus on the use of prescribed fire to reduce fuel loads, increase rural employment, and make firefighting safer," said conference coordinator and Local 457 First Vice President Jerry Foster. "It will also benefit the surrounding communities through more jobs, and with lower fuel loads, make firefighting safer."

For more information about the conference, go to: www.fs.fed.us/r6/willamette/traditionaluse/traduseposterinfo.htm.