Friday, May 17, 2002


Fast Track Ploy Hits Senate Snag
A bipartisan Senate duo threw a roadblock in the path of a high-priority White House issue. Senators Mark Dayton, a freshman Democrat from Minnesota, and Larry Craig of Idaho, a senior member of the GOP Senate leadership, tacked on a worker-friendly amendment that raised the hackles of White House supporters.
The amendment allows Congress to amend specific portions of any new trade deals if those provisions change laws protecting U.S. producers and their workers. The amendment sailed through the Senate on a 61-38 vote.
President Bush now must pin his hopes for his so-called "Trade Promotion Authority," the old "fast track" scheme dressed in new clothes, on negotiations between House and Senate leaders to resolve the issue. The House passed a "fast track" measure, the White House version, by a single vote. Differences between the two bills must be debated in a conference over the matter.
"I will be the first one to start a filibuster against any trade bill that does not include adequate protections for American workers, American producers and retirees," Sen. Paul Wellstone, D-MN, pledged to cheering delegates to the IAM Legislative Conference. "I know what happened with NAFTA. It won't happen again."
Even major segments of the corporate sector voice concerns over the trade proposals, which give the President free rein to negotiate trade agreements, which Congress may only approve or vote down. Congress is barred from changing the agreements in any way.
"Manufacturing as we've known it since the Industrial Revolution may disappear," warned Kevin Kearns, who heads the U.S. Business & Industry Council. He reminded delegates that NAFTA has been a disaster for America's working families and for the U.S. manufacturing sector.
"NAFTA doesn't work," he said. "Canada, Mexico and the United States all have trade deficits with the rest of the world." More than 1.3 million manufacturing jobs were lost just in the past year.
---
IAM Wins at Hawaiian Air
In a vote conducted today by the National Mediation Board in Washington, DC, Hawaiian Airlines Mechanic and Related employees rejected a representation bid from the Aircraft Mechanics Fraternal Association (AMFA), and elected to remain members of the IAM.
Eighty five percent of eligible voters participated in the secret mail ballot election, with a solid majority voting to continue IAM representation. The IAM has represented employees at Hawaiian since 1951.
"The raider organization ran a campaign that played on our members' natural apprehension following the announcement of a Hawaiian – Aloha Airlines merger," said Scotty Ford, District 141-M President and General Chairman.
The Machinists Union strongly opposed a merger of Hawaiian and Aloha Airlines when it was announced in December 2001. The merger of the two carriers was later called off.
"AMFA changes each campaign to suit their needs," said Ford. "Our members at Hawaiian saw through the deceit and soundly rejected AMFA."
"AMFA organizers promised our members lower dues and more job security to gain support," said Robert Roach, Jr., IAM General Vice President of Transportation. "But to their credit, our members asked for proof. Naturally, none exists. There is no place in organized labor for groups like AMFA."
---
Delegates Snubbed on Capitol Hill
A delegation of Connecticut workers received a cold shoulder and found a closed door when they showed up for an appointment with Rep. Nancy Johnson, R-CT. "We spent weeks trying to schedule the appointment," said DBR Everett Corey of District 26. "We have a list of serious issues we wanted to talk over."
Instead, one of Johnson's aides left a message on the union's answering machine canceling the appointment and saying: "There is no available time to meet anytime this week," Corey said.
More than a dozen IAM members from Johnson's district attended the IAM Legislative Conference in Washington, DC, and met with other members of their state's Congressional delegation. Their list of issues ranged from fair trade to workplace safety to Social Security.
One of the issues dealt with Stanley Tool Works, a company that employs IAM members in New Britain, CT, Johnson's congressional district. That venerable firm has been trying to exploit a tax loophole and relocate its corporate headquarters to the Bahamas, a move that would provide an enormous tax write-off. "Company officials manipulated a shareholder vote on this issue," Corey explained. "When they got caught, they decided to re-vote the matter. That's another issue we wanted to bring up with Johnson," he added.
"Maybe we will see her at the ballot box in November. That's an appointment we'll be sure to keep," he pledged.
---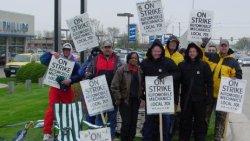 Auto Mechs Win Fight For IAM Representation
Auto mechanics at Phillips Chevrolet in Frankfort, IL were so determined to win IAM representation that they voted unanimously to strike for recognition on April 23, 2002. By May 6, they were back to work with IAM representation and their first contract.

"Our new members were extremely strong and determined to get a voice in the workplace and the contract they deserved," said Local 701 Organizer Dave Mullin. "To end the strike, the company agreed to recognize the IAM. Local 701 negotiators won the 'Standard Automotive Agreement,' which provides company-paid union health care and pension plans."

The main issues the mechanics at Phillips were concerned about were out of pocket costs for health care and the lack of a defined benefit pension program. Other issues were related to advancement and representation in the workplace.

The Phillips Chevrolet mechanics were joined on the picket line IAM Executive Assistant Diane Babineaux plus Local 701 members and retirees. "A lot of people helped on this drive, but a special thanks goes to Directing Business Rep. Herb Elam, Asistant DBR Dennis Jawor, Business Reps. Ken Malette, Ervin Barnes, Thomas Gregg, Sal Falcone, Sam Cicinelli and Organizer Dave Mullin for their dedication and hard work," said Midwest General Vice President Alex Bay.

---
IAM Resolutions UAL Shareholder Approval
Employee-owners and public shareholders at United Airlines streamed into the annual meeting in Chicago and passed a series of resolutions to alter the structure and management of the nation's second largest airline.
Two resolutions put forward by individual IAM members were approved by a majority of shareholders and the recommendations of the IAM Active Ownership Committee were followed on nearly all resolutions.
Shareholders voted by a surprising 53.2 percent margin to link executive compensation to recovery and growth of the airline's core business of passenger and freight transportation. By a 51.7 margin, shareholders also approved an IAM sponsored resolution to separate the jobs of chief executive officer and chairman, currently held by the same person.
"The IAM resolutions called for accountability at United and won with broad support from employee-owners and public shareholders," said GVP Robert Roach, Jr., whose comments were cheered by shareholders at the annual meeting. "We'll be back next year and every year to protect our members' investment in United," added Roach.
---
Machinists, US Airways Discuss Restructuring
US Airways presented the IAM and other labor representatives with elements of its restructuring plan at a 4-hour meeting yesterday in Washington, DC.
The proposed plan calls for $950 million in annual labor cost reductions to be spread among all employee groups. No breakdown of how the proposed cuts would be divided among the groups was presented. The carrier indicated it would provide specific cost reduction proposals on May 24, 2002. US Airways also stressed their need to secure a $1 billion loan guarantee from the Air Transportation Stabilization Board as a vital piece of the recovery plan.
"US Airways can't expect its employees to embrace a plan that is shrouded in secrecy, " said IAM General Vice President Robert Roach, Jr. "Our members will decide if they want to participate in the carrier's restructuring, and withholding information at such a critical time is an enormous mistake."
---
Aerospace Commission Hears Work Issues
Workers' advocates testified at the third public meeting of the Commission on the Future of the U.S. Aerospace Industry, charging the epidemic of aerospace layoffs is eating away at this vital North American defense industry.
"More than 500,000 jobs have been lost in this industry since 1989," said IP Buffenbarger, who serves as the sole labor representative on the 12-member commission. "The loss of these jobs is having a negative effect on our national economy and our national defense. The commission must address this crisis if we are to have a U.S. aerospace industry in the future."
The layoff-racked industry is already experiencing difficulty attracting the next generation of high skilled workers, explained Buffenbarger. "Our nation's security is dependant on a highly-skilled and available workforce. If our defense is in any way dependant upon other nations and their workers, we will be vulnerable in our time of greatest need."
---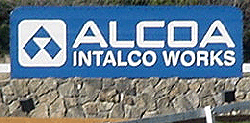 LL2379, Alcoa-Intalco Team-up to Save Jobs
When power-shortages hit the northwest U.S. last year, it looked like the Alcoa-Intelco Works in Bellingham, Washington and other aluminum producing plants might be temporarily forced to shut down. If that happened, it wasn't likely the Bellingham facility would reopen. What did happen, though, was the IAM and management worked together through their HPWO partnership, faced a challenge head-on, and saved dozens of highly-skilled IAM jobs. Read the story.