Tuesday, May 20, 2003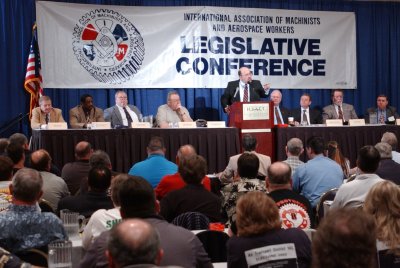 IAM Legislative Conference Kicks Off
More than 350 delegates and guests made their voices heard on Capitol Hill as the IAM held its 2003 Legislative Conference in the nation's capital. Spread over four days, IAM members met with their hometown senators and representatives and urged them to put the needs of working families high on the congressional agenda.
"Remind them that they work for you," IP Tom Buffenbarger stressed in his keynote address. "Remind them our members and our nation are tired of seeing our jobs shipped to low-wage, sweatshop countries around the globe. Remind them that we're tired of greedy CEOs looting our retirement accounts. Remind them that high-quality, accessible and affordable health care is a right all working men and women deserve."
Buffenbarger pointed out that the unemployment rate stands at six percent, that means 8.8 million jobless workers. "But that's just the tip of the iceberg," he added. When the discouraged workers and under-employed workers are added, that number jumps to 22 million. "It's wrong for Congress to let this happen."
GVP Bob Thayer, who chaired the conference, voiced similar concerns. "We have our work cut out for us. We've lost 150,000 jobs just in the airline industry since 9/11 and now Boeing is preparing to ship several thousand jobs offshore. For every one of those jobs that goes overseas, another three or four are lost in support industries," he said.
Other speakers scheduled to appear include Senator Hillary Rodham-Clinton, D-NY and presidential hopefuls Representative Dick Gephardt, D-MO, Senator John Edwards, D-NC, Dennis Kucinich, D-OH and Vermont Governor Howard Dean.
---
GVP Bay Calls for Ouster of Maytag CEO
As a 2004 closure date looms over the Maytag plant in Galesburg, IL, GVP Alex Bay ripped CEO Ralph Hake and called for his replacement (http://www.goiam.org/territories.asp?c=4360).
Bay accused Hake of using generalizations about poor quality and safety at the facility as the reasons for its closing. "He seems to have a short memory," said GVP Bay. "The Galesburg facility has been going through an extensive overhaul for many years now. In the last several years the plant has been well known for quality and safety within the Maytag organization."

Bay said Hake himself gave awards to the workers and management at the facility for the "best" safety record in the Maytag organization.
By comparison, internal documents from Maytag's Reynosa, Mexico facility—where the work from Galesburg, Illinois is slated to move— clearly indicate that facility should be dropped as a vendor because of extremely poor quality.

"Moving the Galesburg production facility to Mexico is about corporate greed and paying poverty wages. Saying the Galesburg plant has poor quality and safety ratings is a smoke screen, unfounded and untrue," said Bay.
---
IAM Makes Gains at Northrop Grumman
Local Lodge 575 members employed at Northrop Grumman in Azusa, California, ratified a new four-year agreement. The new contract provides for general wage increases—12.5% over the contract's life—a signing bonus and many other improvements including a pension benefit increase from $42.00 to $45.00 per month per year of service and an additional $2.00 per month for each year of service (bringing the actual benefit up to $47.00 per month for each year of service).
---
Grow Wichita Off to Flying Start
IAM members in Wichita, Kansas have gotten off to a good start in their campaign to keep aerospace companies and aerospace jobs in Wichita. In just two weekends, members have collected more than 5,000 signatures in support of their plans. They hope to use the broad groundswell of support as leverage in preventing subcontracting of work and job losses. The campaign is based on a similar successful approach used in Connecticut.
---
IAM Joins New "Beverly Hillbillies" Protest
The IAM is joining other labor unions in backing a campaign by the Center for Rural Strategies to block plans by CBS to take a real family from rural America and put them on display in a Beverly Hills mansion as part of a new reality-based program tentatively titled "The Real Beverly Hillbillies." Many rural families face a host of difficult challenges. The purpose of the program is to hold them up to insult and ridicule.
"To be frank, the premise of this show is despicable," IP Tom Buffenbarger said in a letter to CBS television brass. "Many IAM members come from rural areas and would be offended by how you plan to portray them. I know I am."

To learn more about the Center for Rural Strategies and the campaign to block "The Real Beverly Hillbillies," go to: http://ruralstrategies.org/index.html.
---
LL 2515 Members Give Nod To Pact
Members of IAM Local Lodge 2515, in Alamogordo, New Mexico, have ratified a new Collective Bargaining Agreement. The new agreement is for three years and delivers significant benefits to the membership. The workers at New Tec test and develop defense systems. New Tec is located at the White Sands Missile Range.
---
Last Chance for Web Class
There are still unfilled spots for September's Basic Web Development school at the Winpisinger Center in Hollywood, MD. The week-long course provides hands-on instruction in the creation of a union website. If you are interested, please call Donna Georgallas immediately at 301-967-4520, or email her: dgeorgallas@iamaw.org.
---
May 21 is 'Day of Action'
The 2003 IAM Transportation Day of Action activities in Washington, DC will begin at 12 Noon EDT with a march from the Hyatt Regency Hotel on Capitol Hill.
Confirmed speakers for the 2003 Day of Action include:
R. Thomas Buffenbarger, IAM International President
Robert Roach, Jr., IAM General Vice President of Transportation
Representative James Oberstar, (D) Minnesota
Representative Joseph Crowley, (D) New York
Representative Shelley Berkley, (D) Nevada
Senator Richard Durbin, (D) Illinois
Senator Patty Murray, (D) Washington
Representative Charles Rangel, (D) New York
Representative Albert Wynn, (D) Maryland
Representative Peter A. DeFazio, (D) Oregon
Senator Maria Cantwell, (D) Washington
Ed Wytkind, Executive Director, AFL-CIO Transportation Trades Department
Contact your local lodge for information on activities in your area.
---
Machinists Welcome Newest Rail Members
More than 50 employees of Gunderson Rail Services' Hodgekins, Illinois repair facility voted this week for the benefits of union representation by joining IAM District 19.
"District 19 President and Directing General Chairman Robert Reynolds, and General Chairmen Dell Babcock and Robert Moore were instrumental in this organizing effort," said General Vice President Robert Roach, Jr. "However, this campaign would not have been successful without the drive and dedication of the in-plant organizing committee."
Gunderson Rail Services operates railcar, wheel and axle refurbishment facilities throughout the United States.
---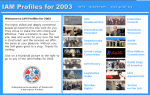 See who works for you, how the IAM is structured, and what services the IAM offers. Go to: IAM profiles for 2003.
---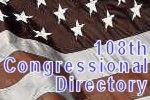 The 108th Congressional Directory . . . get your copy. Send $5 to the MNPL Education Fund, c/o IAMAW, 9000 Machinists Place, Upper Marlboro, MD, 20772.