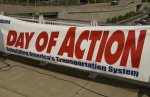 IAM Video IAM members rallied coast to coast on May 8th in what was billed as a "Day of Action: to remind the traveling public that union workers are the backbone of the transportation industry.
---

Three West Coast governors – John A. Kitzhaber, Gary Locke and Gray Davis -- were interviewed recently on the IAM's Third Shift program. Jobs, healthcare and college costs were some of the issues affecting working families that the governors addressed.
---
Find out about health care in your state: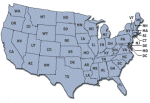 The Kaiser Family Foundation's State Health Facts Online resource contains the latest state-level data on demographics, health, and health policy, including health coverage, access, financing, and state legislation.
---


Get Your Convention Gear Check out gear for the 2004 IAM Convention
---

The IAM
Executive Council
International President
R. Thomas Buffenbarger

Secretary Treasurer
Donald E. Wharton

GVP Western
Territory
Lee Pearson
GVP Canada
GVP Canada
Dave Ritchie

GVP Midwest
Territory
Alex M. Bay

GVP Headquarters
Robert V. Thayer
GVP Southern
GVP Southern
Territory
George Hooper

GVP Eastern
Territory
Warren L. Mart

GVP Transportation
Robert Roach, Jr.
Tuesday, May 21, 2002


'Heroes' Documentary Premiers in NYC
In every generation, there are events so memorable they are told and retold continually. Pearl Harbor and the Kennedy assassination are examples. The attacks on the World Trade Center and Pentagon is another.
This week in New York City, an IAM documentary called 'Everyday Heroes,' will tell the story of union men and women and what they did in the hours and days after jet planes crashed into their cities.
The 49-minute documentary is a tribute to the members of many unions who rushed into harm's way to help. It is the story of extraordinary people who lined up by the thousands to cut steel, fight fires, run cables and cook the meals to keep their city alive.
"This is our story, told by workers themselves," said IP Tom Buffenbarger. "It is a compelling and emotional story that deserves to be handed down as a shining example of what the American labor movement is capable of."
The documentary will be shown first to the workers who shared their stories with IAM film crews during the past few months. Also present will be members of the IAM Executive Council who moved this oral history project from an idea to a reality.
Every IAM local and district lodge will receive a copy of the film and copies will be available for purchase. All profits will go to a fund to provide medical care for workers involved in the rescue, recovery and rebuilding efforts in New York and Washington.
---
Drone Pilots Fly Union
A unit of 85 drone pilots at Florida's Tyndall AFB chose IAM representation in a recent election. "These folks haven't had a pay raise in five years," reports Ray Moffat of District 75 who coordinated the organizing campaign. The newly organized IAM members will be represented by Local 1109 in Panama City.
The Tyndall workers provide full-scale F4 Phantoms, both piloted and unpiloted aircraft that provide elusive foes for the base's USAF fighter squadrons. In addition, the workers "fly" unpiloted subscale drones controlled from the ground. In addition to the highly skilled crew of pilots, the new unit includes mechanics, supply technicians and lab technicians and launch crews.
Moffatt credited a dedicated organizing committee, Ray Desroches, Ben Collins, Jim Harris, Richard Bond, Scott Tinsley and Martin Rule, for their hard work in the successful campaign.
---
Fast Track Awaits Senate Vote
Look for action on Fast Track as the Senate rushes to complete its agenda before taking a week-long Spring break. The highly flawed and jobs-stealing trade measure contains several amendments likely to cause serious heartburn when it goes before a House-Senate conference to iron out differences in the two versions.
Senators on both sides of the aisle defied a White House veto threat and approved an amendment that allows them to reject any Fast Track trade deal that weakens U.S. anti-dumping laws. Those laws allow the U.S. to impose sanctions against nations that engage in such unfair trade practices. The U.S. recently issued sanctions against foreign steel makers who unfairly dumped their products here.
"Now's a great time to make your voices heard on this issue," noted IP Tom Buffenbarger. "Your congressional representatives will be back home next week, taking the political pulse. Make an appointment and let them know how you feel on working family issues.
---
Economic 'Boom' Leaves Workers Behind
Despite rapid economic growth during recent months, working families have seen little improvement in their economic situations, a situation that is unlikely to change in the near future, according to recent surveys. Unemployment will remain high and will fall slowly despite recent economic improvements, reports the Working for America Institute. At the same time, the survey predicts more layoffs over coming months, although the pace of new layoff announcements seems to be slowing. The report is available at http://www.unionvoice.org/ct/K11ua8S1a71i/
To counter these and other effects of the worldwide recession, industrial nations need to adopt new policies aimed at boosting the global economic recovery and ensuring that growth creates new jobs, suggests the Trade Union Advisory Committee. The group is made up of international trade union officials and is a policy consultant to the Organization for Economic Cooperation and Development (OECD).
---
USDA Chief Visits NFFE Forest Service Products Lab
Department of Agriculture (USDA) Secretary Ann Veneman used the occasion of Earth Day to visit the USDA Forest Service Forest Products Laboratory in Madison WI. The new lab recently completed a demonstration home that showcases good building practices and the proper selection and use of building materials (for more information, go to www.buildabetterhome.org). Employees at the lab are represented by IAM-NFFE Local 276.
Federal District 1 Vice President and Forest Service Council President John Obst used the visit to Madison to meet with Secretary Veneman to discuss the Strategic Plan for Labor-Management Relations in the Forest Service. The plan, developed by NFFE Forest Service Council Representatives Bill Dougan, Mike Bunten, George Christopher and Obst, is a blueprint for better labor relations in the Forest Service. More information on the plan is available at www.nffe-fsc.org.