Tuesday, May 27, 2003
Maytag Threatens Workers
IP Tom Buffenbarger rebuked Maytag CEO Ralph Hake for threatening workers with job loss if they speak out about the company's plans to shift work from the U.S. to Mexico.
"Maytag is rapidly becoming the poster child for what's wrong with corporate America," said Buffenbarger. "After announcing the closure of its profitable facility in Galesburg, IL, – a move that will devastate an entire community – the company has the cold-blooded gall to suggest U.S. workers should suffer in silence."
The Machinists are reacting to a letter from Maytag's Vice President for Human Resources, suggesting further resistance to the Galesburg plant closure could jeopardize jobs at other U.S. Maytag locations.
"This thinly disguised threat by Maytag management is reminiscent of an era when corporations hired Pinkerton agents to harass and attack workers who dared to speak out," said Buffenbarger. "The tactics may have changed, but the strategy remains the same – threatening workers with the loss of their jobs."
Since 1994, the Galesburg community provided Maytag with millions in grants, loans and tax abatements. IAM-represented workers at the plant contributed with contract terms to lower costs and increase production. On October 11, Maytag announced it was closing the Galesburg plant and moving production to Reynosa, Mexico, where workers are paid the equivalent of 58 cents per hour.

---
Solidarity Key to GE Talks
Early signs hint at tough negotiations for IAM-represented workers at General Electric. "Shop floor solidarity will make the difference in the negotiations," noted GVP Bob Thayer, who heads the IAM negotiating team. He said that job security; pension protections and health care costs top the list of contract issues.
The IAM will be negotiating separately from the Coordinated Bargaining Committee (CBC), which represents the 13 other unions at GE, Thayer noted. The CBC opened negotiations last week, with both sides taking a hard-line negotiating stance. CBC representatives said they were prepared to strike if GE insisted on its demands that workers pay a much higher share of health care costs.
Two unions, the IUE and the UE struck for two days earlier this year to show their opposition to GE's unilateral imposition of higher health costs.
"We know we're in for a tough fight," Thayer said, "but we've earned our reputation as the 'Fighting Machinists.' If we all stick together, we can't be pulled apart. Without question, our solidarity will make the difference."
Union workers in GE's manufacturing division earned the company $12.5 billion in gross profits last year, compared to just $4.6 billion generated by GE's financial services and insurance arms.

---
Boeing Lands Tanker Jobs Deal
In a $16 billion deal that will preserve thousands of jobs, the Pentagon agreed to lease 100 military tanker planes from Boeing Company to replace 100 of the military's aging KC-135 tanker planes.
"This order is great news for our members, Boeing, Washington state and the military," said Mark Blondin, president of IAM District 751 in Seattle. "The tanker order will provide a much-needed boost to the 767 line and ensure production continues into the future on that line."
The deal calls for Boeing to build 100 new 767 aircraft and convert them into flying gas stations, capable of air-to-air refueling for military aircraft.

The order was a long-time coming, explained Blondin. "Despite the many obstacles we faced in putting together this unique military leasing contract, our entire Washington Congressional Delegation, including Senators Patty Murray and Maria Cantwell, pulled together and worked hard to win this order."
The order could open the door to additional tanker conversions as the military replaces its existing tanker fleet of 544 aircraft, many of which are nearly 40 years old.
"Our members are excited to be a part of this new venture and look forward to delivering the military planes that will enable them to better protect our nation," said Blondin. "We hope this will lead to even more planes once the initial order has been delivered."

---
IAM to Host Int'l Transpo Symposium
Workers' representatives from around the world will travel to the William W. Winpisinger Education and Technology Center this week for the 2nd IAMAW International Transportation Workers Symposium.
The May 27-30 conference is an opportunity for delegates to evaluate the global state of the transportation industry and to share strategies to address the crisis. Workshops regarding job security contract negotiations, safety and security, passenger rage and privacy issues will be held.
"We no longer have the luxury of merely talking about international solidarity in the air transportation industry," said GVP Robert Roach, Jr., in a letter to the symposium participants. "Every day, the jobs of our members are being sacrificed to a view of globalization that has been framed by multinational corporations. More than ever, we must live and breathe international solidarity as we have never done before."

---
President Bush Tops CLUW Hit List
President George Bush took top honors in the annual Hit and Ms Contest sponsored by the Coalition of Labor Union Women (CLUW). Bush won that dubious honor for his attacks on working women and working families.
CLUW awards "Hits" to those who stand in the way of progress for women and people of color. At the same time, the organization gave a Ms Award to CWA Local 1096 for bringing charges against Dow Jones. That case won contraceptive coverage for the workers' health care plan.

---
March With Pride At Work in Chicago
The Pride At Work, AFL-CIO contingent is inviting IAM and other union members to join them on Sunday, June 29 for the Chicago Pride Parade. Pride At Work is affiliated as the newest constituency group of the AFL-CIO and its purpose is to mobilize mutual support between organized labor and the lesbian, gay, bisexual and transgender (LGBT) community around organizing for social and economic justice. Pride at Work aims to educate the LBGT Community about the benefits of union membership for LGBT working people, and to build support and solidarity for the union movement in the LGBT community.

---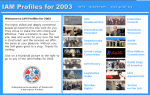 See who works for you, how the IAM is structured, and what services the IAM offers. Go to: IAM profiles for 2003.
---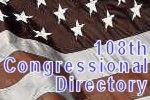 The 108th Congressional Directory . . . get your copy. Send $5 to the MNPL Education Fund, c/o IAMAW, 9000 Machinists Place, Upper Marlboro, MD, 20772.