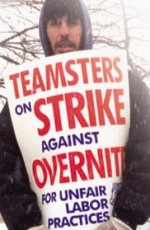 American Standoff
Driven by the inspiring stories of three determined rank-and-file workers who are willing to put everything on the line, American Standoff captures the Teamsters union's high-stakes battle against trucking giant Overnite Transportation.
HBO, June 10, 8pm
---

Three West Coast governors – John A. Kitzhaber, Gary Locke and Gray Davis -- were interviewed recently on the IAM's Third Shift program. Jobs, healthcare and college costs were some of the issues affecting working families that the governors addressed.
---
Find out about health care in your state: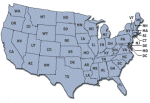 The Kaiser Family Foundation's State Health Facts Online resource contains the latest state-level data on demographics, health, and health policy, including health coverage, access, financing, and state legislation.
---


Get Your Convention Gear Check out gear for the 2004 IAM Convention
---

The IAM
Executive Council
International President
R. Thomas Buffenbarger

Secretary Treasurer
Donald E. Wharton

GVP Western
Territory
Lee Pearson

GVP Canada
Dave Ritchie

GVP Midwest
Territory
Alex M. Bay

GVP Headquarters
Robert V. Thayer

GVP Southern
Territory
George Hooper

GVP Eastern
Territory
Warren L. Mart

GVP Transportation
Robert Roach, Jr.
Tuesday, May 28, 2002

Oregon Unions OK 'New Alliance'
An IAM member played a key role as more than 200 union delegates approved a historic New Alliance for Oregon's labor movement. DBR Chuck Macrae of District W-1 served on the drafting committee and "exercised strong leadership in brokering an agreement" that won quick approval from the delegates

Oregon becomes the fifth state to complete the New Alliance process, which is designed to bring local unions and labor councils together in one central body. IP Tom Buffenbarger chaired the AFL-CIO committee, which developed the New Alliance strategy.

The delegates ratified a new constitution for the Oregon AFL-CIO, adopted ambitious plans for organizing new members and strengthening their voices in the political process and welcomed commitments to affiliate an additional 40,000 AFL-CIO union members with the state federation.
---
Corporate Taxes: Welfare for the Wealthy
A surge in corporate tax welfare outlays could drive corporate income taxes down to their lowest level since the early 1980's—when Reaganomics ruled the roost—and the second-lowest level in at least six decades, reports Citizens for Tax Justice in a recent report. New corporate tax breaks in President Bush's so-called "stimulus" package means the average taxpayer must make up for more $170 billion in each of the next two years.

"Is it any wonder that the President has to dip into Social Security and Medicare trust funds?" asked IP Tom Buffenbarger. "This is shameful."

General Electric, America's most profitable corporation, reported $50.8 billion in U.S. profits over the past five years, but paid only 11.5 percent of that in corporate taxes Corporate tax welfare has been growing at a steadily increasing rate, the reports claimed, citing tax write-offs for stock options, congressional indifference to offshore corporate tax shelters and other tax breaks. The report said such benefits allow many companies to earn billions in profits, yet pay little or nothing in federal income taxes.

General Motors drove away with a fat wallet, as well. The firm paid no taxes in three of the past five years, despite $12.5 billion in U.S. profits; GM's tax rate for the past three years was a negative 1.3 percent.
---
Privatization? What's in a Name?
Republican campaign strategists set their sights on senior citizens, Independents and women in the upcoming election campaign, saying their votes are key to GOP victory. These political gurus issue specific recommendations for how GOP candidates should frame the debate on Social Security.

"Don't say 'privatization,'" they advise. "Instead, say, 'personal retirement accounts.'" Whatever happened to truth in (political) advertising?
---
Retiree Group Blasts FTC, Networks
The pharmaceutical industry's trade group and the Federal Trade Commission came under blistering fire from George Kourpias, president of the Alliance for Retired Americans. The drug industry's trade association launched a misleading TV ad campaign supporting a Republican-sponsored prescription drug benefit with huge benefits flowing to the industry.

When the Alliance and other senior groups asked the FTC to intervene, that agency turned a deaf ear. But when AARP, a major senior organization, sponsored a TV campaign urging seniors to save money by switching from brand-name drugs to generics, the big drug firms demanded that the TV networks force AARP to tone down their ads, which the networks tamely did.

"So why is it fair for the drug industry to use front groups to advance its agenda but a senior group is forced to moderate its message to keep drug companies happy?" Kourpias asked. "Could it be that the pharmaceutical industry spends a lot of its exorbitant profits on TV ads and the networks don't dare risk offending such a big advertiser?"