Transpo Symposium Has Global Ambitions

IP Tom Buffenbarger welcomed delegates from Europe, Australia and North America to the second IAM International Transportation Symposium and said he looked forward to the day when contract negotiations, organizing drives and political action and could be effectively coordinated with union representatives around the world.
"To achieve the benefits of international solidarity, we need international strategy, international communication and international education," said Buffenbarger. "The global nature of the transportation industry requires we coordinate our efforts on a global scale – just as corporations so often coordinate their efforts against us."
Each of the 19 international delegates gave detailed 'crisis reports' on the challenges facing air transport workers in their country. The effects of mergers, bankruptcies and government subsidies were debated. The impact of airline alliances, currency fluctuations, deregulation and mismanagement were also discussed.
"At the end of the day, we're here to learn from one another," said Transportation GVP Roach. "We can no longer afford to be separated by distance, language or customs. The potential benefits of this symposium for transportation workers around the world are enormous. I am confident we will grasp the opportunity we have created here."

---
June 4 Rally to Support Defense Workers

The IAM slated a rally and informational picket on June 4 at the main gate of the Puget Sound Naval Shipyard in Bremerton, WA to protest Pentagon plans to gut collective bargaining rights for civilian defense workers.
Local 282 in Bremerton will coordinate the event and is urging the public to join and show their support for patriotic Americans who serve their country every working day. More than 700,000 workers are in danger of losing valuable rights at work if Congress passes the so-called National Security Personnel System Act.
The bill, proposed by Defense Secretary Donald Rumsfeld and currently in conference committee, would overhaul the civilian personnel system; remove collective bargaining rights and virtually eliminate overtime pay. It would also deny employees the right to appeal discriminatory actions by supervisors.
The Rumsfeld proposal is part of a larger effort to outsource much of the work currently performed by civilian government employees. The bill would waive the current requirement against hiring relatives and dramatically increase the prospect for favoritism in hiring, promotions and awarding of contracts.
For more information about the Bremerton rally and how to join the fight to protect government workers' rights on the job, contact IAM Business Representative Mike Goddard at 360-377-8868.
---
Bombardier Commits to Wichita Jet Work

In an announcement welcomed by Kansas' aerospace workers, the president and chief executive of Bombardier Aerospace pledged to keep work on the Learjet 60, 45 and 40 at its current location in Wichita.
The commitment by Bombardier marks a victory for the 'Grow Kansas' campaign, an IAM-led effort aimed at preventing the offshore outsourcing of high paying aerospace jobs.
Earlier this year, the plane maker committed to keep work on the Learjet 60 in Wichita when IAM members ratified cost-saving contract changes. The city of Wichita chipped in by cutting rent payment for Bombardier by $36,000 a year and joined with the county to repave Learjet Way at a cost of $550,000.
---
Tentative Accord Reached at Air Canada
IAM negotiators reached a tentative agreement this week with bankrupt Air Canada. The six-year accord, with a re-opener after 3 years, will now be presented to members for ratification and follows intense negotiations held under the scrutiny of Canadian bankruptcy authorities.
"Hard choices have had to be made to ensure the survival of the airline and preserve the livelihoods of our members, their families and the communities in which they live," said Canadian General Vice President Dave Ritchie.
Ritchie went on to say that IAM members' pension plans had been preserved. "Our union recognized this as the major issue we couldn't yield on, and to their credit, so did the other unions at Air Canada. We worked together to make sure pensions were protected."
Click http://www.iamaw.ca/index2.html for more information on the tentative agreement with Air Canada.
---
District 751 Says: 'We Can Do It!'

Machinists at Boeing are hitting the streets in a campaign to win community support for bringing production of the company's next generation 7E7 to Washington State. "The Machinists Union firmly believes Washington State is the ONLY logical choice to build the 7E7 because of the many advantages we have to offer," said District 751 President Mark Blondin.
Earlier this month, the Boeing Company released a list of criteria that it will use in deciding where it will build the final 7E7 assembly plant. Access to a deep-water port; a skilled aerospace workforce and available facilities will be major factors in the decision, which is expected later this year.
"We can accomplish everything in Boeing's criteria," said Blondin. "The union is launching an all-out communications plan that will involve not only our members, but the general public as well. We need to have everyone in this region pulling together to ensure the 7E7 lands here."
---
Local 778 Racks Up Service Contract Victory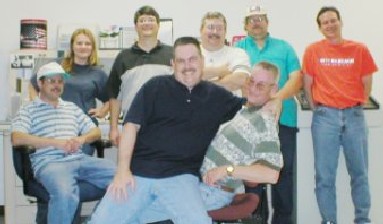 Left to right: Eric Corbett, Melisa Aragon, Michael Morrow, Craig Mayeux, Dan Mayo, Marc Morris, Tony Garrison and Paul Schmitt. Not Pictured, Wendy Wetzel.

Local 778 in Kansas City scored another Service Contract Act win for nine employees at Yulista Management Services, Inc, reports Midwest GVP Alex Bay. The new Yulista members calibrate and repair precision equipment at Whiteman Air Force Base in Missouri. Other recent wins with Yulista include Dyess Air Force Base in Abilene, TX and Minot Air Force Base in North Dakota.

According to DBR Joe Capra, the main issues in the campaign were health care, benefits and representation in the workplace. GLR Joe Cooper and Capra played key roles in the winning campaign. "We appreciate their hard work and wish them continued success in the future," Bay said.

This is the fourth Service Contract Act win for the Midwest Territory in 2003. The other wins were at Offutt Air Force Base in Nebraska, Minot Air Force Base in North Dakota, and Ahnetec Incorporated in Camp Douglas, WI.
---