Web Highlights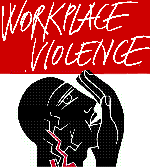 A frank summary of the problem of workplace violence and recommendations on how to prevent it. A report from the University of Iowa Injury Prevention Research Center.


Where union leaders and working family activists can access and download campaign materials.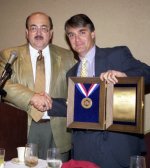 LL 23's Century Mark
IP Tom Buffenbarger & Southern GVP George Hooper help Local Lodge 23 celebrate 100 years of service.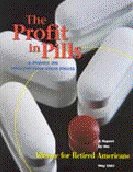 The Profits In Pills
Every day older Americans face impossible choices because of the soaring cost of their prescription drugs.What can we do about it?

The IAM's
Executive Council
Tuesday, June 7, 2001
---

IAM-UAL Talks Recessed by Federal Mediators
The National Mediation Board (NMB) called for a time-out after two IAM bargaining teams and United Airlines spent this week in Washington, D.C. maneuvering to reach acceptable settlements. The NMB summoned Districts 141 and 141-M to the nation's capitol following repeated calls by the Machinists for release from negotiations. The District 141 bargaining committee, representing 30,000 United workers, met with NMB officials and company representatives for 10 days before agreeing talks would resume shortly upon notification from the board. In separate talks for 15,000 mechanic and related employees represented by District 141-M, progress is stalled in part due to a "pending representational dispute" according to board officials. The board held two days of meetings at NMB headquarters and set June 20 as the date for talks to resume between both sides in that dispute.


For more information:

IAM District 141
IAM District 141-M

---

Rail Retirement Bill on Fast Track
A rail retirement bill that got sidetracked during the last session of Congress despite strong bipartisan backing is back on track. On the House side, the measure, HR 1140, has 363 co-sponsors compared to 306 for last session's bill. It whizzed through a major subcommittee and headed for the Ways and Means Committee, where a vote is likely by mid-July.

On the Senate side, the same legislation, S 697, has 63 co-sponsors-including 43 Democrats. The Democrat's Senate takeover means Sen. Tom Daschle of South Dakota, one of the bill's first co-sponsors, is now the Majority Leader. Sen. Max Baucus, D-Nev, another co-sponsor, chairs the Finance Committee. Baucus will determine when the legislation will be considered for a vote.

The legislation significantly improves the early retirement benefit, boosts surviving spouse payments and cuts the vesting requirement from 10 years to five. "Contact your senators and representatives and urge them to support and vote for this bill," said Mark Filipovic, IAM railroad coordinator.

For more information:
IAM Political & Legislative Department

---

AFL-CIO Leaders Mobilize for Airline Members
The IAM joined with AFL-CIO union leaders in Washington this week to establish an action plan to ensure airline members' collective bargaining rights are defended against the heavy hand of partisan political interference.

"The pay and benefits enjoyed by airline workers today are a direct result of battles fought and rights won years ago by AFL-CIO men and women," said IP Tom Buffenbarger. "We intend to protect those rights, and to use them as they were originally intended. We will not allow a pro-business political agenda to corrupt the process and silence the legitimate bargaining power of airline workers," said Buffenbarger.

The aviation summit was convened by Richard Trumka, AFL-CIO secretary-treasurer, who told leaders of a half dozen affiliated unions that the biggest obstacle to resolving airline collective bargaining agreements is not the size of their demands, but the threat of political interference and the lop-sided use of presidential emergency boards.

"Airline members are on the front lines of a fight to defeat an industry campaign designed to turn back the clock on more than 60 years of union-won progress in wages, benefits and working conditions," said Transportation GVP Robert Roach, Jr., who attended the meeting on behalf of nearly 130,000 airline employees. "We welcome the support of our brothers and sisters in the AFL-CIO and its Transportation Trades Department," said Roach. "Strength in numbers produced great victories for working people in the past and I have no doubt it will continue to do so in the future."

For more information:
AFL-CIO

---

Varsel Takes Over As Airline Coordinator
Veteran IAM representative and former Allegheny Airlines aircraft mechanic Jim Varsel takes on the job of IAM airline coordinator following the June 1 retirement of former coordinator Jim Sprang. Varsel began his IAM airline career in 1962 with Air Transport Local 1976, serving as vice president, chief steward and committee chairman before assuming general chairman duties for District 141 in 1988. Jim moved to IAM headquarters as assistant airline coordinator in 1991 and served as assistant railroad coordinator from 1993 to 1996.


For more information:
IAM Transportation Department

---

SFO Organizing Effort Scores Another Win
Employees at Monarch Aviation Services at San Francisco Airport won IAM representation after an overwhelming majority of workers signed authorization cards. The SFO Organizing project, a joint organizing effort by a coalition of area unions, won a card check recognition ordinance covering about 10,000 unrepresented workers at San Francisco Airport. More than 2,000 airport workers have gained representation under the card check ordinance so far.

"Monarch Aviation provides under and over wing services for charter and scheduled carriers. About 85 customer service and ramp workers will be members of Local 1781 and District Lodge 141.

""This win is a direct result of cooperation between the SFO Organizing Project, District 141 and Local 1781," said Don Barker SFO organizing project coordinator. "District Organizer Ozzie Valdes, Project and Local 1781 activists Victor Custodio, Roberto Mendez and Carl Finamore all put in long hours to win this campaign."

For more information:
IAM District 141
IAM Local 1781

---

Deadline Near for Worker's Memorial
The deadline for local and district lodges to submit names for the IAMAW Worker Memorial at the Winpisinger Education and Technology Center is June 8, 2001. The Memorial will honor IAM members who lost their lives in work-related accidents. The names of fallen members will be inscribed on bricks and made part of the memorial site. There is no cost to the lodges. Additional bricks with your own inscription are available for purchase. Contact the Safety and Health Department at 301-967-4704 for more information.

Related Link:
IAM Safety & Health
Winpisinger Education & Technology Center