Machinists at BIW Ratify New Contract

Bath Iron Works shipbuilders represented by IAM Local S-6 in Bath, Maine, get ready to vote on a new four-year agreement.

Shipbuilders represented by IAM Local S-6 in Bath, Maine, voted 79 percent in favor of a new four-year contract with Bath Iron Works (BIW) that contains some of the strongest job protection language achieved in years.
In addition to strong job security language, the new accord boosts company contributions to the pension fund and features a 5.8 percent average annual total wage and benefit increase over the four-year agreement.
"GLR Dale Hartford and the negotiating team did an exceptional job on this agreement," said IP Tom Buffenbarger. "It shows in the ratification results."
The IAM is the largest union at BIW, representing more than 4,000 ship fitters, welders, painters, electricians and mechanics.
CAFTA Signing Condemned by Unions
Despite widespread opposition from unions and human right's organizations, the Bush Administration inked yet another free trade accord, one that would expand the North American Free Trade Agreement (NAFTA) and allow companies to sue governments over laws that stand in the way of their ability to make profit.
The Central American Free Trade Agreement (CAFTA) faces an uncertain fate in Congress. The proposed legislation eliminates tariffs on products from Costa Rica, El Salvador, Guatamala, Honduras and Nicaragua. Tariffs would also be phased out on nearly all U.S. farm products, including beef, poultry, fruits and vegetables.
The U.S. sugar industry and thousands of agricultural and refinery workers in Florida, Louisiana, Minnesota and North Dakota are particularly vulnerable to increased sugar exports. "CAFTA threatens to do to the U.S. sugar industry what NAFTA did to our textile and manufacturing industries," said IP Buffenbarger. "The cost will be measured in lost jobs, lower wages and less opportunity for workers, their families and communities."
The White House has 60 days to send the legislation to Congress, which then has 90 days to consider it. Thanks to the so-called Fast Track trade bill passed last year, members of Congress can only cast a "yes" or "no" vote on such trade deals. No amendments can be added.
A Nation Worth Fighting For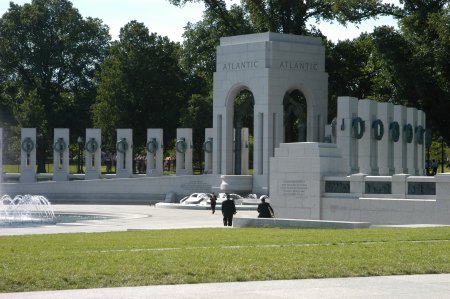 The long awaited dedication of the National World War II Memorial took place in Washington, D.C. on May 29 and served to draw the largest number of World War II veterans to one place since the war's end in 1945.
The site of the seven-acre memorial became an emotional epicenter of reunion and remembrance for the estimated 100,000 veterans who attended the event. Many wore the medals, ribbons and uniforms that bore witness to heroic service and sacrifice in the conflict that cost more than 400, 000 American lives and 60 million lives worldwide.
The veterans, who came from across the U.S., were welcomed, escorted and watched over by an army of police and medical personnel. Of the 16.4 million Americans who served between 1939 and 1945, fewer than 5 million are still alive. Age, injury and illness are shrinking their ranks at a rate of 1,100 per day.
The oval-shaped memorial is located between the Washington Monument and the Lincoln Memorial. The site includes a reflecting pool and fifty-six 17-foot high pillars bearing the name of each U.S. state, territory and the District of Columbia. The pillars are linked by massive bronze ropes and hung with sculpted bronze wreaths symbolizing the nation's industrial might.
Gladstein Named to ERISA Advisory Council
The U.S. Secretary of Labor named Neil Gladstein, Assistant Director of the IAM's Strategic Resources Department, to a three-year term on the Advisory Council on Employee Welfare and Pension Benefit Plans. Gladstein, a research economist with broad experience advising IAM representatives on pensions, benefit and other issues during contract negotiations, was named along with four others to the 15-person panel, more commonly known as the ERISA Advisory Council. The Council holds hearings and issues reports to advise the Secretary of Labor on issues related to pension, savings, and other types of benefit plans.
Gore Assails Bush Record
Former Vice President Al Gore accused President Bush's war cabinet of reckless incompetence and called for the resignations of Defense Secretary Donald H. Rumsfeld, National Security Adviser Condoleezza Rice and CIA Director George J. Tenet.
"George W. Bush promised us a foreign policy with humility," said Gore in a fiery speech http://www.moveonpac.org/goreremarks052604.html delivered Friday at New York University. "Instead, he has brought us humiliation in the eyes of the world. We simply cannot afford to further increase the risk to our country with more blunders by this team."

In calling for the resignations, Gore said that Rice "has badly mishandled the coordination of national security policy" and that "the nation is especially at risk every single day that Rumsfeld remains as Secretary of Defense." Gore also called on Rumsfeld's deputies to resign, specifically Deputy Defense Secretary Paul D. Wolfowitz.

'Fair Trade' Champion Set to Retire
One of the Senate's earliest voices against unbridled free trade deals is retiring. South Carolina Sen. Ernest F. Hollings is leaving after 38 years, just when his point of view is gaining wider acceptance.
In the late 1990's when the North American Free Trade Agreement (NAFTA) was touted to be the savior of the free world, Sen. Hollings was often a lone voice of caution, warning that workers and communities under NAFTA would suffer.
While Senator Hollings' ideals are becoming mainstream, he fears something much worse unless something is done. "We're bleeding manufacturing jobs, the plants are leaving and we're racking up a trade deficit," said Sen. Hollings in a June 1, New York Times interview. "I'm warning you that the world power that loses its manufacturing capacity no longer is a world power."