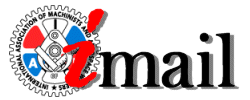 www.goiam.org
Thursday, June 5, 2003


Machinists Rally for Contract at U-Haul
Delegates at the IAM Transportation Conference suspended their agenda to attend a rally in support of 77 newly organized union members seeking a contract with U-Haul in Las Vegas.
Busloads of boisterous IAM supporters traveled to U-Haul in Henderson, Nevada, for the mid-day rally following a request by local union representatives for a public demonstration to convince U-Haul management that any delay negotiating a first contract will not be tolerated.
"A contract delayed is a contract denied," said IP Tom Buffenbarger. "The employees of U-Haul voted overwhelmingly last month for IAM representation and the benefits of collective bargaining. That's their right and we're going to make sure they get the contract they deserve."
The engine and body specialists who maintain the rental truck fleet at U-Haul locations in Las Vegas and nearby Henderson, voted to join the IAM after a campaign that saw harassment, discrimination and the firing of union supporters and supervisors in a failed bid by the company to block the organizing drive.
"These workers stood tall throughout the organizing drive and refused to be intimidated," said Dennis London, who helped organize the U-Haul workers. "They represent the future of the union movement in America and the IAM is proud and fortunate to represent them."

---
Senator Robert F. Kennedy Remembered

Thirty-five years ago today, Senator Robert F. Kennedy was assassinated in Los Angeles. His 85-day campaign for president had pulled together a broad yet diverse coalition of those the conventional politicians had scorned. He spoke to the hope and ambitions of all Americans, not just the powerful few. He always said, "we can do better." And he was right.
Today, the International Association of Machinists remembers this friend of working families. Please click here http://216.211.131.3/iamaw/video.ram?c=4424 to see this democratic candidate talk about jobs.
---
Labor Secretary Lauds Local 830

The working skills of IAM Local 830 members brought high honors to their union and effusive praise from Labor Secretary Elaine Chao. Local 830 won the 10th Annual Labor-Management Award presented by University of Louisville's Labor-Management Center. The union members work at Raytheon Corp.
Chao noted that cooperation between IAM members and Raytheon managers "saved $2.2 million in operating expenses, lowered the employee grievance rate and helped lead to one million worker hours without a loss or injury." In a letter to John Jeffries, Local 830 president, Chao said "such cooperation results in safer workplaces and more productive workers. I commend you and your partner, Raytheon."
The award honors those partnerships that set high standards labor-management cooperative efforts. "We join Secretary Chao in her recognition of this honor. Our members are the most productive and most highly skilled workers on the face of this good green Earth," said IP Tom Buffenbarger. "Congratulations for a job well done."
---
Transportation Conference Heats Up

IP Tom Buffenbarger brought IAM Transportation Conference delegates to their feet with a keynote speech that blasted the Bush administration for embracing the same policies that led this country into the Great Depression.
"We need to learn the lessons of history," said Buffenbarger. "It was a near-total lack of government regulation that allowed the financial meltdown of our economy in 1929. It took a new President, a new Congress and the New Deal to restore fairness to our laws and our economy."
President Buffenbarger urged delegates to return home with a renewed commitment to speak out on issues and to be fully involved in the upcoming elections. "The penalty for not getting involved in politics is being governed by your inferiors," said the IP.
Delegates also heard from Cameron Findlay, Deputy Secretary, U.S. Dept. of Labor. "Our being here is a sign of respect for your president and for this great union," said Findlay, whose later comments supporting the Bush administration tax cut drew a sharp reaction from delegates.
---
Rumsfeld's Plan Moves Forward in Congress

Two weeks ago, the House of Representatives passed a version of Secretary of Defense Donald Rumsfeld's plan to create a new civilian personnel system. Called the Transformation for the 21st Century Act, H.R. 1588 would have a devastating impact on the rights of federal employees.
The Rumsfeld plan takes aim at the federal employees' right to collectively bargain, their pay and performance systems, the appeals process during disciplinary proceedings, current whistleblower protections, and much more. Rumsfeld also wants to gut "Buy American" provisions and allow the Pentagon to shop offshore for military services and equipment.
The Senate is now acting on Rumsfeld's plan.
Frank Carelli, IAM Director of Government Employees, urges all members to contact their Senators and urge them to oppose Rumsfeld's plan. Click on Action Alert to send them an email.


In addition, talking points have been developed to assist locals in communicating with Congress and the community.
---
Bush Tax Bill Dumps Children

Somehow, 12 million children dropped off the radar screen when President Bush crafted his so-called "Jobs and Growth" tax cut. Low-income working families won't be eligible for a $400 childcare credit that was stripped from the $330 billion tax cut bill. Of course, only those families earning between $10,500 and $26,625 lost those child care credits.
Opponents of the child care credit claimed it was far too expensive, $3.5 billion, to be left in the tax bill. At the same time, the measure provides a whopping $90 billion in tax cuts for those earning $1 million or more a year, according to the Center on Budget and Policy Priorities.
---
Missouri Auto Tech's Vote IAM

Auto technicians at the Crown Motors Dodge Dealership in Farmington, MO, voted unanimously for IAM representation recently, bringing 10 new members into IAM District 9. The technicians will join Automotive Lodge 777, which represents over 2700 automotive, truck and body technicians in the St. Louis area.
"This was not an easy campaign," said Mark Conner, District 9 Organizer. "The company spent thousands of dollars to fight 10 technicians' desire to have IAM representation.
"The overwhelming vote was due to the fact that there were three former IAM Local Lodge 777 members who were able to extinguish the anti-union propaganda."
The IAM Midwest Territory would like to congratulate DBR Phil Gruber, Organizer Mark Conner and Organizer Scott Stackle on the hard fought win.
---
Organizing Win Adds 83 in Illinois

Employees at Huck Store Fixture Company in Quincy, IL, voted 2-1 to join the IAM recently, bringing 83 new members to District 55 and Local Lodge 822.
"The main reason Huck Store Fixture Company went IAM was to have a strong voice at their work place and the security of an IAM negotiated contract," said IAM Business Representative Terry Lindley. Lindley credited the In-Plant Committee's hard work and leadership for the organizing victory.

Huck Store Fixture Company is a 109-year old wood manufacturing company producing high quality products that have earned them long-standing relationships with some of the nation's most well known retailers. The IAM Midwest Territory would like to congratulate DL 55 Business Representative Terry Lindley and the District 55 Volunteer Organizing Team Mike Shoopman, Ted Hobson and Joe Nuske.
---