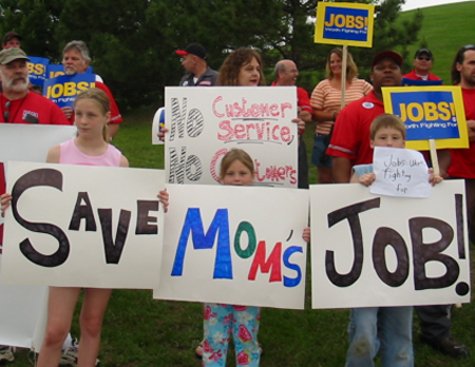 IAM members at Northwest Airlines and their families protest the company's move to eliminate customer service agent jobs.
Machinists Rally at Northwest Airlines
IAM members from Northwest Airlines (NWA) held spirited demonstrations in many states this week to protest management's plan to replace Customer Service Agents with Skycaps tagging luggage behind ticket counters and their growing network of electronic ticketing machines.
"When customers have a problem, they don't want to deal with a machine and they don't want to talk to someone on the phone," said Local 1833 member Kathy Detert, a 16-year NWA Customer Service Agent at Minneapolis-St. Paul International Airport." They want to talk with a real person who can give them answers."
In addition to a rally at NWA corporate headquarters in Minneapolis, MN, union members from three hub cities and many other locations took part in the national day of protest. At each event, IAM members urged airport passengers to contact NWA Customer Care at www.nwa.com or to call 701-420-6282 and demand an end to the campaign to eliminate Customer Service at Northwest Airlines.
IAM representatives pointed out Northwest's actions violate the current labor agreement, which will eliminate CSA jobs and eliminate tips for Skycaps working inside the terminal. "U. S. labor law prohibits unilateral changes to a collective bargaining agreement," said Bobby De Pace, president of District 143. An arbitration hearing on the issue took place this week.
UAL Retirees OK New Benefits
The United Airlines Retiree Coalition today announced an agreement with United Airlines that provides insurance benefit modifications for 50,000 of the bankrupt airline's retirees, their spouses and dependants.

"This agreement balances the company's need to remain competitive while acknowledging the fixed income of retirees," said IAM District 141 President Randy Canale. "The substantial resources of several AFL-CIO unions and dedicated retiree representatives working together made this fair and equitable agreement possible."

With this agreement, all United employee groups, both active & retired, will take part in the company's restructuring. Full details of the agreement will be released upon formal submission of the accord to the bankruptcy court for approval.

The Coalition is comprised of the International Association of Machinists & Aerospace Workers (IAM), Association of Flight Attendants (AFA), Professional Airline Flight Control Association (PAFCA), Transport Workers Union (TWU), International Federation of Professional & Technical Engineers (IFPTE), Pilots Section 1114 Committee and Salaried & Management Section 1114 Committee.
McCain Moves to Block Boeing Tanker Deal
Sen. John McCain (R-AZ) this week proposed a series of amendments aimed at hobbling the legislation surrounding Boeing Co.'s tanker deal. The proposals would prevent the U.S. Air Force from leasing any of the planes and would require additional congressional approval for any deal with Boeing.

McCain's continued efforts to ground the Boeing tanker sale are opening the door for Airbus Industries, a European consortium, to compete for the deal. According to Airbus executive Ralph Crosby, American taxpayers would be better off if his company was allowed to offer Airbus tankers in place of the U.S.-made Boeing aircraft.

The idea that a heavily subsidized, foreign-owned consortium would be invited, and even encouraged, to displace thousands of U.S. aerospace workers was scorned by IP Tom Buffenbarger, who said legislators who remain silent on the issue are "allowing our national defense to be outsourced to foreign vendors."

Take Action: Alert your elected officials to take action on this issue now and save U.S. aerospace jobs by visiting the IAM's Legislative Action page.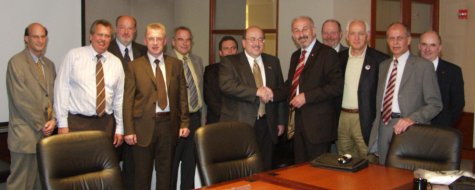 Leaders from IG Metall, the 2.5 million-member German trade union,
met with IAM representatives in Washington, D.C. to discuss threats
and opportunities facing union members in both countries.
International Unions Eye Global Threats
Leaders from IG Metall, the 2.5 million-member German trade union, met with IAM representatives in Washington, D.C. to discuss threats and opportunities facing union members in both countries. IG Metall President Jurgen Peters and IAM President Tom Buffenbarger agreed on a coordinated response to the labor and legislative agenda of multinational corporations and global financial institutions.
"Management has its act together," said IP Buffenbarger. "At bargaining tables around the world and wherever trade laws are debated, companies are coordinating their efforts. We need to do the same."
The German economy is experiencing a steady loss of skilled manufacturing jobs as European companies relocate to former Soviet bloc countries where wages and working conditions are a fraction of those in Western Europe. The trend mirrors the NAFTA-inspired exodus of U.S. companies to Mexico.
Workers in both countries are facing the movement of entire industries to China, where labor unions, wages and human rights are violently suppressed. "Jointly, we must work on an approach to respond to multinational corporations' investment in China," said IG Metall's Jurgen Peters.
Lawsuits Mount Over Overtime Abuse
Major retailers including Wal-Mart, Radio Shack, and Dollar General face a rash of lawsuits for denying workers rightful overtime. Assistant managers filed suit seeking back pay and damages saying they worked up to 75 hours a week doing the same tasks assigned to hourly employees but were denied overtime pay because of their classification as assistant managers.
Although retailers deny any wrongdoing, under current Federal law, if less than 60 percent of an employee's time is spent supervising or if his or her job does not include decision-making, then overtime pay may be entitled.
Assistant managers allege that hourly employees are not allowed overtime and are often sent home before their shifts end to save costs; assistant managers then work extra hours without compensation. This corner-cutting is Wal-Mart's attempt to hold labor costs to a thin 8 percent of sales, compared with an average of 9 or 10 percent at other large retail stores; Wal-Mart boasted sales of $256 billion and net profit of $9 billion last year.
Confusion Marks Drug Card Debut
Mass confusion marked the debut of the Medicare drug cards as only 400,000 seniors chose to sign up, according to the Alliance for Retired Americans. They joined over 2 million beneficiaries who were automatically enrolled through their managed care plan.
While the Bush administration touted significant savings through the cards, reports show that double-digit jumps in drug prices have negated expected savings from the cards.
With Medicare endorsing 73 cards that offer different drugs and different discounts, seniors also had to deal with an overwhelming array of choices.
"Seniors know a sham when they see one," said Alliance President George J. Kourpias. "These cards offer paltry savings, do nothing to rein in skyrocketing drug prices and are unnecessarily complex. Come November, America's seniors will let the president and Congress know how they feel about this law."
Time Magazine: Cheney Greased Contracts for Halliburton
Vice President Dick Cheney's relationship with his former employer, oil services company Halliburton, has once again come into question after a Time magazine article reported that an email had surfaced linking the Vice President's office with awarding Halliburton a no-bid contract in Iraq.
Despite denials by Cheney's office, this week Democrats called for a congressional investigation into Cheney's role in the affair.
"It's a legitimate question. It raises the real question; can the American people trust their government to do the right thing? We have rules here," said Sen. Patrick Leahy in an article on CNN.com.