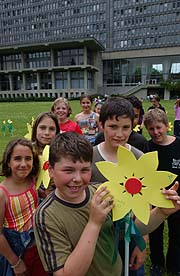 Around the world, some 246 million children between 5 and 17 years old are working instead of attending school. That's one out of every six children in the world today. The International Labour Organization has chosen June 12 as World Day Against Child Labour to focus world attention on the urgent need to eradicate child labour.
---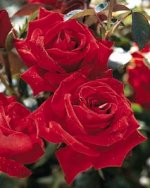 New Rose Honors UFW Founder Cesar Chavez
Gardeners who want the union label on their flowers may want to check this one out. Farm Workers members have teamed up with California flower grower Bear Creek to develop a rose dedicated to the memory of UFW founder Cesar Chavez. Ten percent of the proceeds from sale of the lustrous red rose go to the Cesar A. Chavez Foundation, which educates young people about the union leader's legacy.To order, call 800-292-4769 or visit www.jacksonandperkins.com.
---

Three West Coast governors – John A. Kitzhaber, Gary Locke and Gray Davis -- were interviewed recently on the IAM's Third Shift program. Jobs, healthcare and college costs were some of the issues affecting working families that the governors addressed.
---
Find out about health care in your state: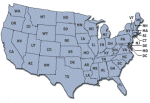 The Kaiser Family Foundation's State Health Facts Online resource contains the latest state-level data on demographics, health, and health policy, including health coverage, access, financing, and state legislation.
---


Get Your Convention Gear Check out gear for the 2004 IAM Convention
---

The IAM
Executive Council
International President
R. Thomas Buffenbarger

Secretary Treasurer
Donald E. Wharton

GVP Western
Territory
Lee Pearson

GVP Canada
Dave Ritchie

GVP Midwest
Territory
Alex M. Bay

GVP Headquarters
Robert V. Thayer

GVP Southern
Territory
George Hooper

GVP Eastern
Territory
Warren L. Mart

GVP Transportation
Robert Roach, Jr.
Tuesday, June 11, 2002


'Heroes' Documentary Available Online
The IAM unveiled a secure section of their interactive website to make the 9-11 labor documentary, 'Everyday Heroes' available directly to union members and the public.
The 49-minute documentary, produced by the Machinists, is being used to raise funds for medical and psychological treatment of workers exposed to hazardous working conditions during rescue and recovery work at the World Trade Center site.
"All profits from the sale of 'Everyday Heroes' will go to a special treatment fund established by the IAM and administered by the Mt. Sinai – Irving J. Selikoff Center for Occupational and Environmental Medicine," said Machinists President Tom Buffenbarger, who donated $20,000 to launch the workers treatment fund.
Single and multiple orders for the compelling oral history documentary can now be processed online at http://edh.goiam.org/ using a new e-commerce feature of the IAM website.
"We established the fund to honor the union men and women who rushed into harm's way on September 11," said Buffenbarger. "Their pride and resolve was an inspiration to us all. The fund is our way to say 'thank you.'"
---

Preparations Underway for
IAM-NWA Negotiations
District 143 delegates from locations across the U.S. met in St. Paul this week to review members' contract proposals in preparation for an initial exchange with airline management in August 2002.
District 143, headed by President and Directing General Chairman Robert DePace represents 16,668 IAM members at Northwest, including Reservations Agents, Customer Service Agents and Equipment Service Employees (ESE). Their current agreement expires in February 2003.

Separately, District 143 representatives recently began negotiations for 3,200 IAM members at Alaska Airlines. IAM negotiators proposed 103 changes to the current agreement, which becomes amendable on October 29, 2002.
---

US Airways Applies for
Loan Guarantees
After losing $2 billion last year, US Airways is turning to U.S. taxpayers for help. The nation's sixth largest airline filed this week for $900 million in federal loan guarantees to stave off bankruptcy and fund a massive restructuring plan.
US Airways is the largest airline so far to apply for the loan guarantee since Congress created the Air Transportation Stabilization Board (ATSB) to oversee a $15 billion airline bailout fund.

ATSB guidelines call for a viable business plan before it will approve loan guarantees. The plan filed by US Airways with its application proposes $1.3 billion in annual cost savings, with $950 million coming from employees and $350 million coming from vendors doing business with the airline.

Negotiations between the IAM and US Airways regarding restructuring proposals have been underway for weeks. Calls by the airline for wholesale cuts in wages, benefits and pensions were rejected by union representatives. "If US Airways is serious about seeking the IAM's help in avoiding bankruptcy, we need to see a tangible business plan and understand how our members fit into that plan," said District presidents Randy Canale and Scotty Ford in a message to members at US Airways. "History clearly shows that employee concessions, alone, do not save airlines."
---

GOP Eyes Lobbyists' Litmus Test
Grover Norquist is at it again. The GOP activist best known in labor circles as the "brains" behind California's notorious Proposition 226, the "paycheck deception" measure, has set his sights on Democrats who work for lobbying firms in the nation's capital.
It's part of a campaign that could "deny government access and prime lobbying jobs to Democrats," the Washington Post said in a recent article. The hefty dossier will be given to top White House officials and Republican lawmakers on Capitol Hill, the report noted. Norquist is closely tied to Karl Rove, President Bush's top political adviser. He is a frequent visitor at the White House and GOP congressional offices.

Norquist hopes to convince lobbying firms and trade associations to purge Democrats and hire more Republicans, the Post alleged.

"I am appalled that anyone would be that brazen," said Senate Majority Leader Tom Daschle, D-SD.
---

Labor Dept. Touts New Job Venture
Labor Secretary Elaine Chao unveiled a "unique" initiative to counter the loss of more than 1.5 million jobs in the last nine months. Chao announced a plan to help dislocated workers find new jobs with Home Depot.
"That's supposed to be good news?" asked IP Tom Buffenbarger. "We have thousands of members losing good jobs paying decent wages all across the manufacturing sector. Minimum wage jobs at retail outlets are not the answer."

A Home Depot executive told the Daily Labor Report the firm expects to hire 160,000 workers over the next four years. That same executive declined to discuss Home Depot's wage scales, but claimed they are higher than "local market retail rates."