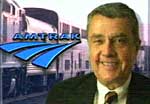 NewsHour with Jim Lehrer interviewed Amtrak president David Gunn, who recently took over the troubled rail service. Gunn talks about Amtrak's financial situation, the proposal to break up Amtrak, and the role Congress played in creating the crisis at the nation's passenger rail carrier.
---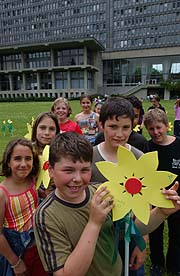 Around the world, some 246 million children between 5 and 17 years old are working instead of attending school. That's one out of every six children in the world today. The International Labour Organization has chosen June 12 as World Day Against Child Labour to focus world attention on the urgent need to eradicate child labour.
---

Three West Coast governors – John A. Kitzhaber, Gary Locke and Gray Davis -- were interviewed recently on the IAM's Third Shift program. Jobs, healthcare and college costs were some of the issues affecting working families that the governors addressed.
---
Find out about health care in your state: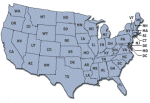 The Kaiser Family Foundation's State Health Facts Online resource contains the latest state-level data on demographics, health, and health policy, including health coverage, access, financing, and state legislation.
---


Get Your Convention Gear Check out gear for the 2004 IAM Convention
---

The IAM
Executive Council
International President
R. Thomas Buffenbarger

Secretary Treasurer
Donald E. Wharton

GVP Western
Territory
Lee Pearson

GVP Canada
Dave Ritchie

GVP Midwest
Territory
Alex M. Bay

GVP Headquarters
Robert V. Thayer

GVP Southern
Territory
George Hooper

GVP Eastern
Territory
Warren L. Mart

GVP Transportation
Robert Roach, Jr.
Tuesday, June 18, 2002

'Honest Graft' Threatens Democracy,
says IAM Journal
Lobbyists spent $4.95 billion since 2000 to alter, kill or enact various bills and regulations, according an upcoming report in the Summer 2002 IAM Journal.
The 12-page investigative report, available on line, takes a hard look at the political money trail left by several recent public laws: the Internet Tax Moratorium Act; the Aviation Stabilization and Security Acts and the Ergonomic Standard, issued in January 2001 and then killed by incoming President George W. Bush.
"The relief that was so close for the two million people victimized each year by ergonomic injuries was crushed by legislators who can't see past the checks being dangled by lobbyists," said Buffenbarger.
"The system may be stacked in favor of Big Money, but on Election Day they still count ballots, not dollar bills," insisted Buffenbarger. "Workers – not the rich – make up the vast majority of people in this country. If we register to vote and show up at the polls, we can take our country back. Our strength will always rest with politically aware working people who vote."
---
International Solidarity
Marks IMF Aerospace Session

Aerospace workers' representatives from around the world gathered in Toulouse, France this week and heard IP Buffenbarger call for an end to anti-worker collaboration by governments and transnational aerospace corporations.
"We may come from different countries, but we face common obstacles," Buffenbarger told delegates to the International Metalworkers' Federation (IMF) World Aerospace Conference. "Outsourcing, subcontracting, offsets, and mergers all represent serious job security dangers to the aerospace workforce," said Buffenbarger. "In addition, some transnational corporations are working with governments as never before in all out assault on workers' basic rights."
The IP noted global ventures by Lockheed, Boeing, Airbus, Bombardier, General Electric and Pratt & Whitney as evidence of challenges facing aerospace workers. "In the United States alone, mass consolidation of the industry resulted in only a handful of companies that now dominate the market," said Buffenbarger.
"The men and women represented here are responsible for creating and maintaining the most successful industry in the world," said Buffenbarger. "Just as the world's aerospace companies are working together on a new level, we – the world's aerospace workers, must come together in a new-found sense of solidarity. This is the goal of our conference."
---

Solidarity Aids Enron Workers
More than 4,200 Enron workers know that solidarity is more than just a word, a slogan, or a song title. Working Americans and their unions came together in a campaign to win justice for the workers who lost their jobs, their benefits, and their pensions in that sordid bankruptcy scandal.
The workers, Enron and Enron's creditors agreed on a plan that adds some $34 million in additional severance pay. The agreement, which must be approved by the federal bankruptcy court, grants workers up to $13,500 each in severance pay. That's a sizable hike from the meager $4,500 in earlier arrangements.
The agreement also provides for the possible recapture of an additional $80 million paid to Enron executives in so-called "retention bonuses" on the eve of Enron's collapse. The AFL-CIO paid all legal fees in the case and will receive no compensation from the agreement for legal services.
---
Senate Hears Voice@Work
A Senate committee opens hearings this week on the tortuous path working people face in their efforts to form unions and make their voices heard. Sen. Ted Kennedy hears those voices and has set hearings before the Senate Health, Education, Labor and Pensions Committee, which he chairs. The hearings open June 20.
Workers and experts are expected to outline employer harassment and intimidation that happens when workers try to come together. Working people participating in the hearings and a Capitol Hill news conference will meet with members of Congress and tell their stories. Look for video highlights from the hearing on www.aflcio.org beginning June 21.
---

Democrats Unveil Medicare Drug Benefit
Democrats in both the House and Senate unveiled plans for Medicare drug benefits that could ease the pain of senior citizens struggling to meeting soaring costs for prescription medicines. Both plans call for Medicare to pick up a larger portion of the drug costs, set caps on out-of-pocket expenses and carry a $25-a-month premium.
Republicans are planning to float their own proposals that call for significantly higher premiums, force seniors to pay a huge portion of their drug bills out of their own pockets and to enter into HMO-type plans to even get the coverage.
"There's no comparison between the two," said IP Tom Buffenbarger. "The Democratic plan goes a long way to meet the needs of our seniors. The other one looks more like an election-year gimmick."
For more information, visit www.fairdrugprices.org.
---

Amtrak President Interviewed on PBS
NewsHour with Jim Lehrer

interviewed Amtrak president David Gunn, who recently took over the troubled rail service. Gunn talks about Amtrak's financial situation, the proposal to break up Amtrak, and the role Congress played in creating the crisis at the nation's passenger rail carrier.
To read the full transcript of the interview, visit the Online NewsHour web site at http://www.pbs.org/newshour/bb/transportation/jan-june02/gunn_6-13.html
---