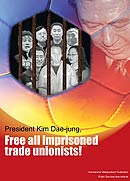 June 27 is a 'Day of Action' to support trade unionists in South Korea face who severe repression. Use the IMF digital postcard feature to send a letter of protest to the South Korean government.
---
---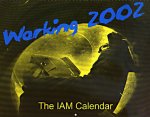 The IAM is holding a members-only photography contest this year and if your photo wins, you could win a cash prize and your picture could appear in the 2003 IAM Calendar. The deadline is June 30, 2002. For complete contest information and an entry form, click here.

---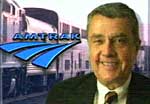 NewsHour with Jim Lehrer interviewed Amtrak president David Gunn, who recently took over the troubled rail service. Gunn talks about Amtrak's financial situation, the proposal to break up Amtrak, and the role Congress played in creating the crisis at the nation's passenger rail carrier.
---


Get Your Convention Gear Check out gear for the 2004 IAM Convention
---

The IAM
Executive Council
International President
R. Thomas Buffenbarger

Secretary Treasurer
Donald E. Wharton

GVP Western
Territory
Lee Pearson

GVP Canada
Dave Ritchie

GVP Midwest
Territory
Alex M. Bay

GVP Headquarters
Robert V. Thayer

GVP Southern
Territory
George Hooper

GVP Eastern
Territory
Warren L. Mart

GVP Transportation
Robert Roach, Jr.
Tuesday, June 25, 2002


IAM-Boeing Open Contract Talks
IAM and Boeing officials opened negotiations today over the nation's largest aerospace labor agreement, which is set to expire September 1. The contract covers some 25,000 IAM members in Kansas, Oregon and Washington State who build airplanes for the Boeing Company, the largest U.S. export manufacturer. The union says jobs, pensions and health care are the key issues in these talks.
"Boeing has eliminated more than one-third of the IAM membership's jobs since the 1999 contract, yet Boeing's after-tax profits have gone up 152 percent and sales have gone up 27 percent during that same period," said IAM Chief Negotiator Dick Schneider.
"This contract involves a matter of basic fairness: Should conditions get better or worse for employees of a profitable, world-leading corporation?" Schneider continued.
"By any measure, Boeing is one of the most successful corporations in world economic history, yet, more than 95 percent of the IAM membership goes to work each day at Boeing in fear of losing their jobs.
"Our union is about moving forward, and not backward," Schneider said. "We will build on the progress we have made in the past and move forward, because that is the right thing to do for our members, for our communities, for our country – and for Boeing, as well. The IAM seeks positive, practical solutions, so all of us – labor and management – can continue to move forward and succeed – and to do that, we must work together."
Bookmark the "IAM Boeing News" page on www.goiam.org for current information on Contract 2002 negotiations.
---

Rail Labor Leaders Meet
With DOT's Mineta to Save AMTRAK


Leaders of the nations rail unions and the AFL-CIO's Transportation Trades Department met today with Department of Transportation Secretary Norm Mineta to avoid a July shutdown of Amtrak, the nation's passenger rail service.
"Secretary Mineta assured us that nobody in the Bush administration wants to see Amtrak die," said IAM Railroad Coordinator Mark Filipovic, who attended the meeting. "We are confident that the Secretary and the White House will work around the clock to make emergency federal loan guarantees available in order to prevent the looming shutdown of Amtrak."
Labor representatives joined a growing chorus of public pressure to give Amtrak a $270 million federal loan guarantee and an emergency appropriation. "Passenger rail service is a vital link in our nation's transportation system. Every other nation in the world supports rail service with public investment, we should do the same," said General Vice President Robert Roach, Jr.
You can join the fight to keep our bothers and sisters at Amtrak working. Click here to send a message to Congress and President Bush to fund Amtrak immediately.
---

Ergonomics Bill Gets Committee OK

A bill that could bring about a comprehensive ergonomics standard for all workplaces within two years sailed through the Senate Health, Education, Labor and Pensions Committee. Last year the Bush administration repealed the nation's ergonomics standard and replaced it with what Sen. Ted Kennedy, D-MA, called "toothless voluntary guidelines that most corporations will simply ignore."
The standards are designed to prevent such painful work-related musculoskeletal and repetitive stress injuries as carpal tunnel syndrome and back injuries.
---

IAM Joins Worldwide Action
to Free Korean Labor Leaders
Behind the positive image displayed during the World Cup, South Korea is waging a brutal battle against its workers. More than 30 labor leaders are currently imprisoned under Korea's "obstruction of business" anti-labor laws. The IAM will join thousands of trade unions on June 27 for a worldwide Day of Action. The International Metalworkers Federation (IMF) is asking all of its affiliates to join in the day of protest.
"As the leader of the Machinists Union, I personally urge you to release all the trade unionists currently in jail and to refrain from using this tactic [obstruction of business] in the future," said IAM President Tom Buffenbarger in a letter to Korea's President Kim Dae-Jung. "By properly recognizing basic fundamental worker rights, you can avoid the embarrassment, shame and worldwide condemnation this activity has brought to South Korea." (Click here for the complete text of President Buffenbarger's letter).
Click here to send an electronic protest card to Kim Dae Jung.
---


U.S. Foreign Debt a Major Threat
The overvalued U.S. dollar stands to do more damage to our battered economy than the dot com's meltdown and the Enron collapse put together. Economists are sounding the alarm that a looming debt crisis poses a major threat to the world economy.
This country's accumulated foreign debt, i.e., the amount we owe for our ongoing import-buying binge, is now running $400 billion a year. By 2006, the debt will rise to 40 percent of the U.S Gross Domestic Product, roughly Argentina's level before that economy tanked last year, says Economic Policy Institute economist Jeff Faux in an upcoming article.
Faux calls for an immediate pause in the relentless drive to sign more trade expansion agreements, which are causing our trade deficits to grow by 2 percent for every one percent increase in our national income.
Congress and the administration are clueless about the problem, says Faux, deferring instead to "the divine right of multinational corporations" on matters of trade.
There is precedent for steps needed to correct the overvalued dollar. After Reagan's policies drove the dollar up in the mid 1980's, a cooperative approach by the world's largest economies reduced it by 25 percent over a three-year period.
Faux hold little hope for such steps by the current administration. "Chances of the Bushies – steeped in unilateral arrogance and ideologically wedded to laissez faire finance – moving in these directions is close to zero."
---
Canadian Member Makes "Cut for the Cure"
| | |
| --- | --- |
| | Local Lodge 1927's Helen MacGregor did her part in the fight against cancer by raising $2,500 to fight the disease. As a participant in "Cut for the Cure," MacGregor completely shaved her head. She was cheered on by fellow IAM members and her supervisor Jim Smellie, who also shaved his head. |
Macgregor has survived a bout with breast cancer in 2000 and has been cancer-free since then. To read the complete story, click below: http://www.iamaw.ca/new/LL1927/helen_macgregor_e.html
---


Senate Blocks Tax Gift to Wealthy
The Senate killed a measure that would permanently eliminate estate taxes for the wealthiest taxpayers, millionaires and billionaires whose heirs would reap huge tax windfalls from the White House-backed measure.
President Bush touts the measure as benefit for small business and family farmers, but fewer than 2 percent of all taxpayers pay any estate taxes whatsoever. But the heirs of President Bush and many other members of his administration benefit handsomely under the tax repeal. Bush heirs stand to gain as much as $5.9 million, VP Dick Cheney's heirs could rack up $40 million and the heirs of Defense Secretary Donald Rumsfeld could see as much as $120 million in the tax windfall.
Heirs of Enron's CEO Ken Lay would get $59 million.
---

K-Kids Raise Funds for K-9s
Students from Franklin Elementary School in Manitowoc, WI, came up with a major gift for Guide Dogs of America. The 4th, 5th and 6th graders handed a check for $1,900 to help support the IAM's unique guide dog facility in Sylmar, CA. Russ Wittkop Midwest territory special representative accepted the gift and praised the youngsters for their efforts.
The Franklin School's "K-Kids" raised this substantial amount through monthly cookie, cupcake, popcorn and orange drink sales.
---