Web Highlights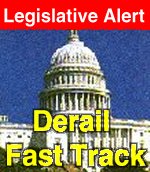 It's time to stand up for everyday workers who are at the mercy of unfair trade agreements. Say "no" to Fast Track Authority and "no" to FTAA. To take action . . .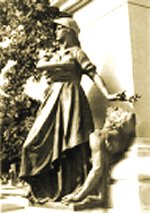 Taking s summer trip? Check out this catalog of U.S. sites honoring the history and heritage of America's workers. The memorial above commemorates the men executed for their supposed participation in the labor violence at Chicago's Haymarket Square during an 1886 demonstration for the eight-hour day.


The International Transport Workers Federation has launched a worldwide campaign to combat passenger rage on commercial aircraft.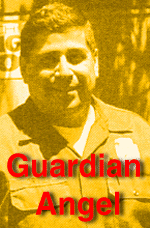 IAM member and park ranger Carlos Ortiz recently saved the life of a wounded policeman. This isn't the first life he has saved.

The IAM's
Executive Council
Friday, July 13, 2001
---
UAL-US Airways Merger Update
United Airlines and US Airways announced they will await a decision by the US Department of Justice (DOJ) before pounding any more nails in the coffin holding the remains of their bid to create the world's largest airline.

Last week, United Airlines said they did not expect the deal to overcome antitrust objections and contacted US Airways, seeking mutual agreement to abandon the acquisition. On July 6, US Airways notified employees the deal was dead and later said restructuring the airline was a possibility. Following intense pressure from the IAM and a firestorm of protest from US Airways employees, US Airways CEO Stephen Wolf said he would not propose a breakup of the carrier to the US Airways board of directors when they meet on July 18. Chairman Wolf did not say, however, what proposals he would recommend to the board.

The dying deal suddenly appeared to grow new legs on July 12 when United and US Airways announced that any decisions to abandon the deal would wait until the DOJ rules on the antitrust aspects of the merger. However, the prospect of lawsuits and millions in early withdrawal penalties are likely factors in the decision by both airlines to wait until after August 1 to kill what remains of this deal.
---
Rail Retirement Bill Heading For a Vote
The House of Representatives is expected to bring H.R. 1140, The Railroad Retirement and Survivors' Improvement Act, to the floor before the August recess. That recess is tentatively scheduled to begin August 3.

The legislation, which will bring much needed improvement to the pensions of surviving spouses of railroad workers, has the strong support of both rail labor and rail management. Currently, 369 representatives and 71 senators support the bill. However, the Bush Administration has yet to take a positions on this vital legislation.

All members should contact their legislators and urge support for this overdue improvement to the rail retirement system. Together, we can make this bill a reality. Take action now.
---
High Court Gets IAM Bid To Lift Injunction
Attorneys for the IAM filed a writ of certiorari with the U.S. Supreme Court this week seeking to overturn an injunction against the union and mechanic and related employees at United Airlines.

The injunction was issued on March 16 by order of the U.S. Court of Appeals for the Seventh Circuit following a suit by United Airlines alleging a work slowdown by mechanics at the employee-owned carrier. Stalled contract negotiations have strained relations between the IAM and United since the passing of the agreement's amendable date over a year ago.

The IAM petition for review and reversal of the lower court decision argues the injunction contradicts Supreme Court precedent and violated the anti-injunction provisions of the 1932 Norris-LaGuardia Act. "The proper place to settle contract disputes is across the bargaining table, not in the courtroom," said Transportation GVP Robert Roach Jr. "We will not hesitate, however, to take our case and our member's cause to the highest court in the land if that is what must be done."

---
Senate Appropriations Committee Votes to Protect Highway Safety
The Senate Appropriations Committee voted this week to include strong cross-border safety provisions in legislation funding next year's programs of the U.S. Department of Transportation. The action calls for all Mexico-domiciled trucks to meet the same high safety standards required of U.S. trucks and drivers and increases the number of border inspectors.

"Senators Robert C. Byrd and Patty Murray and other members from both parties deserve our thanks for leading the fight to ensure safe highways," said Sonny Hall, President of the Transportation Trades Department, AFL-CIO. "We urge the full Senate to pass these measures and to defeat any attempts to gut or weaken the sensible truck and bus safety and health provisions contained in the legislation."
---
IAM Bikers Ride for Guide Dogs
Ron McGaha and Don Branin of IAM District 751 designed a grueling test for their union-made Harley-Davidson motorcycles, as they begin an 11,500-mile "Guide Dogs North American Tour" across the U.S. and Canada. The trip begins July 15 in Blaine, WA. The tour will raise money for Guide Dogs of America, the IAM's innovative program that provides guide dogs for sightless people free of charge.

McGaha and Branin will collect donations from thousands of union members and others for each mile they ride. They expect to be on the road for more than 25 days. Fellow IAM members will stage a send-off rally at District 751 headquarters July 16.

"Harley-Davidson riders come from a tradition of independence and going their own way," said McGaha. "When a sightless person gets a trained dog from Guide Dogs of America, they're on the road to more independence and a better quality of life."

Guide Dogs of America was founded more than 50 years ago by a retired IAM member. For more information on how to contribute to the Guide Dogs Tour, contact Marie Cordone at IAM Headquarters, 301-967-3433, Email:mcordone@iamaw.org
---
Let's Derail 'Fast Track'
Don't forget! Call your members of Congress on July 17—the Stop Fast Track e-Activist National Call-In Day. You can call them toll-free at 1-800-393-1082. Tell your members of Congress that working families need fair and balanced trade, which protects people and the environment—NOT Fast Track.

If Congress gives Bush this trade authority, we'll see more trade deals like NAFTA, more job losses and shrinking wages, more attacks on worker rights and more devastating pollution of our air and water. You can begin calling today, but please remember to call July 17. Make your voices heard. For more information go to the IAM's Legislative Alert. http://www.goiam.org/politics.asp

---