Web Highlights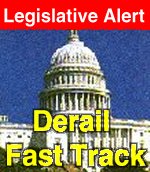 It's time to stand up for everyday workers who are at the mercy of unfair trade agreements. Say "no" to Fast Track Authority and "no" to FTAA. To take action . . .



Tell 'Em Where It Hurts
IAM members joined union activists in testifying at an Arlington, Virginia Labor Department hearing meant to address workplace ergonomic hazards. For Breaking News Video: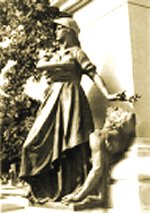 Taking a summer trip? Check out this catalog of U.S. sites honoring the history and heritage of America's workers. The memorial above commemorates the men executed for their supposed participation in the labor violence at Chicago's Haymarket Square during an 1886 demonstration for the eight-hour day.


The International Transport Workers Federation has launched a worldwide campaign to combat passenger rage on commercial aircraft.


The IAM's
Executive Council
Friday, July 20, 2001
---
Buffenbarger: IAM Supports NMD
In a major address on a white-hot topic with global implications, IP Tom Buffenbarger confirmed his strong support for a National Missile Defense program and urged lawmakers of both parties to do likewise.

"National missile defense isn't a political football to be punted from one end of Pennsylvania Ave. to another," said Buffenbarger. "It's an opportunity to protect the cities of America. Period."

In a speech to the National Press Club in Washington D.C., Buffenbarger said he would urge traditional union allies to reassess their positions and apparent opposition to NMD. "The threat of a ballistic missile attack on an American city is real today and will be an even greater threat in the next five to seven years." Said Buffenbarger. "We need a realistic program that is not tailored to anyone's political agenda."

Buffenbarger disagreed with advocates of rapid deployment of an unproven missile defense system. "Moving with undue haste to deploy an untested or semi tested or dubiously tested system has the potential to turn Congress and the American public decisively against the whole concept of national missile defense. That," said Buffenbarger, " would be a very great shame."

The leader of the largest union in the U.S. defense industry called on lawmakers to "move beyond ideology and partisan politics" on the subject of missile defense. "This issue is too important to be decided by ideologues from either party."

Read the Full Speech
---
Boeing Vote Falls Short
"No industry was ever successfully unionized the first time out – not auto, not steel and certainly not aerospace," said IP Tom Buffenbarger following news of the vote tally for 16,500 office and clerical employees at Boeing. "Today's vote was one battle in the war, not the war itself. The movement to gain union representation among Boeing employees will continue."

This issues of concern to the Boeing employees – job security and substandard salaries will only grow sharper as Boeing continues to outsource and downsize. "Corporate Boeing may be leaving Puget Sound, but the IAM is committed to workers in this region," said Mark Blondin, District 751 President and Directing Business Representative.
---
Strike Vote at United Airlines Sets Records
More than 30,000 IAM members of District 141 will strike United Airlines if management refuses to increase its substandard wage, benefit and job security proposals. In nationwide voting among Ramp & Stores, Public Contact, Dining Service and Security Guard classifications, union members voted by an overwhelming margins to authorize a strike in accordance with Railway Labor Act guidelines.

The voting marked the first time the 20,000 members of the recently organized public contact group took part in a strike authorization vote. "They came out strong," said Randy Canale, District 141 president and lead negotiator for the United employees.

Contract talks between the IAM and United have been underway since December 1999. The District 141 Negotiating Committee called for a strike vote last month when United refused to live up to its pledge to provide industry leading pay and benefits for workers in critical front-line airport and reservations positions.

Related Link:
IAM Transportation
---
IAM, Local 192 Team Up To Stop Outsourcing
The IAM's Legal Department, Government Employees, and IAM Local 192 combined resources to battle the government's attempt to out-source union jobs at Florida's Pensacola Naval Air Station.

"We'll fight tooth-and-nail any plans the government has to farm-out the Federal jobs of our members at Pensacola," said IP Tom Buffenbarger. "The IAM is devoting its full resources to this issue."

The government routinely conducts "A-76" studies to move Federal jobs to private contractors. The Pensacola study has gone well past its four-year time limit and the IAM believes it is skewed in favor of the contractors. The IAM has undertaken a coordinated litigation, arbitration, and political strategy to stop the competition and preserve jobs. Ironically, one portion of the study has been completed, and it showed IAM members beating the closest outsourcing competitor by approximately $3 million.

Related Link:
Government Employees

---