Web Highlights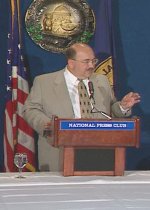 Breaking News Video:
IP Tom Buffenbarger addresses Washington D.C.'s National Press Club and defines the IAM's position on National Missile Defense.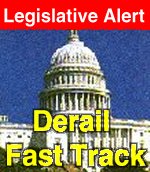 It's time to stand up for everyday workers who are at the mercy of unfair trade agreements. Say "no" to Fast Track Authority and "no" to FTAA. To take action . . .



Tell 'Em Where It Hurts
IAM members joined union activists in testifying at an Arlington, Virginia Labor Department hearing meant to address workplace ergonomic hazards. For Breaking News Video: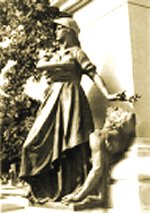 Taking a summer trip? Check out this catalog of U.S. sites honoring the history and heritage of America's workers. The memorial above commemorates the men executed for their supposed participation in the labor violence at Chicago's Haymarket Square during an 1886 demonstration for the eight-hour day.

The IAM's
Executive Council
Friday, July 27, 2001
---

Patients' Rights Ruckus Roils Republicans
A handful of moderate House Republicans hold the key votes in the battle over patients' rights legislation as Congress winds down to its August recess next week. President Bush paid a rare visit to Capitol Hill to lobby recalcitrant GOP members, who favor proposals far stronger than the pallid measure Bush supports.

His Capitol Hill visit came the day after House leaders postponed a vote on the patients' rights bill and signaled a growing White House realization that a defeat on this measure would be a major political setback. Bush promised to veto any legislation similar to the Senate version, which gives patients far more protection than the plan he favors.

The GOP moderates also voted against their leadership's wishes on a campaign finance reform proposal and appear poised to follow a similar path on several energy and environmental measures the White House is pushing.
---
Talks Resume After Big Strike Vote at UAL
Following a historic strike vote and near-unanimous approval for a walkout at United Airlines, IAM negotiators returned to Washington, D.C. for the first time in more than a month.

"The National Mediation Board called both sides back to review the results of the strike vote and to schedule the next round of meetings," said Randy Canale, District 141 President and lead negotiator for Ramp/Stores and Public Contact employees at United. "Our contract demands now have the undisputed backing of a solid majority of United Airlines employees, and the company knows it," said Canale. "The power of a 99 percent strike vote simply cannot be ignored or underestimated."

Both sides agreed on a schedule of negotiations that will begin in Chicago on August 7 in an effort to reach agreement on the outstanding issues of pay, job security and pensions. "We are prepared to demand a release if these talks do not produce immediate and tangible progress toward a settlement," said Canale.

Related Links:
Air Transport District 141
IAM Transportation

---
Airlines Lobby Pitches 'Baseball' Arbitration
Carol B. Hallett, president and CEO of the industry lobby representing airlines and airline management wants to replace airline employee's lawful right to strike with a curve ball known as 'baseball' arbitration. The practice trades away the right to strike for an agreement to settle a contract based on the decision of a supposedly neutral third party arbitrator.

Current airline labor law allows either side to reject offers of binding arbitration, a process long seen to favor management. Any change to the law itself would require congressional action, but the lobbying effort by Ms. Hallett, and the Air Transport Association of America (ATA) is promoting the practice as a 'voluntary' alternative to the threat of presidential intervention.

"This is a blatant attempt to load the bases in favor of the carriers," said Rich Michalski, IAM Legislative Director. "The IAM will oppose any efforts by the ATA to gain additional advantages for management at the expense of airline employees."

Related Link:
IAM Press Release
---
The Uproar Over Railroad Retirement
On the heels of a strong push by a coalition of union members, rail workers and rail management, the Railroad Retirement and Survivors Improvement Act of 2001 (H.R. 1140) was slated for voting by the full House of Representatives early next week.

The bill, however, was suddenly yanked from the calendar by House Majority Leader Dick Armey R-TX. A storm of protest quickly erupted over the maneuver, with lawmakers' switchboards lighting up with calls from angry union activists from coast to coast. Representative Jim Nussle R-IA was called to answer for his role in blocking the vote on legislation supported by rail labor, rail management and 368 House co-sponsors.

Less than 24 hours later, the bill was back on the calendar, proving once again the power of a phone call and the impact of politics and political action on workers lives, jobs and well being. More support for H.R. 1140 is needed to keep the bill on track for a vote next week. Visit the IAM Politics and Legislation web page at www.goiam.org/politics.asp to add your voice to the fight for railroad retirement reform.
---
Eastern Territory Notes Organizing Gains
IAM President Tom Buffenbarger traveled to the Eastern Territory Staff Conference in Bar Harbor, Maine to help 450 delegates and guests celebrate a successful year of organizing. With a win rate of 93.4%, more than a thousand new members were added to the IAM. GVP Warren L. Mart welcomed several guest speakers including IP Buffenbarger, GST Don Wharton, GVPs George Hooper, Lee Pearson, and Alex Bay and other IAM officers. Delegates also raised $21,273 for M.N.P.L. and $5,525 for Guide Dogs of America.

Related Link:
Eastern Territory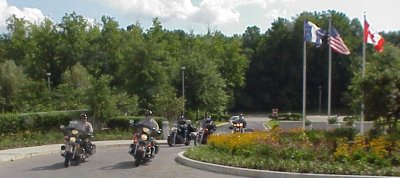 Harley Ride for Guide Dogs at Halfway Mark
The Guide Dogs North America Tour hit the halfway mark of an 11,500-mile fund raising trip when the two riders pulled their Harley-Davidson motorcycles into IAM headquarters for a rally before setting off on the next leg of their 25-day journey.
IAM members Ron McGaha and Don Branin left Blaine, Washington and began collecting donations for each mile of the cross-country ride. "We hope to raise as much as $250,000," said Maria Cordone, IAM Director of Community Services. "The money will go to Guide Dogs of America, the non-profit organization founded by an IAM member more than 50 years ago to provide trained guide dogs free of charge to blind and visually impaired individuals."
"We've had good and bad weather on the trip," said McGaha. "Sometimes the only thing between us and the great beyond was the Almighty and these Harley Davidson motorcycles. Fortunately, they both came through." The riders will return to Washington State via a route that takes them through Maine, Prince Edward Island and across the northern plains.
---