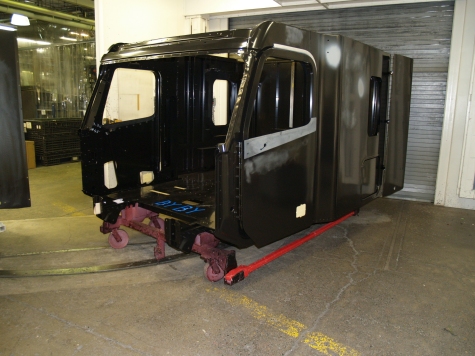 The ratified agreements at Freightliner, covering 1,100 craft workers, contain significant improvements over a company offer rejected by members on June 25.
Freightliner Workers OK New Contract
IAM members who build Freightliner and Western Star trucks, as well as Class 8 vehicles for the U.S. military, joined with members of three other unions and ratified new contracts with the Portland, OR-based company.
The new three-year accord for 850 Machinists at Freightliner increases pensions and boosts wages by $2.50 an hour over the life of the agreement. Health care costs will remain at current levels and retirees will have dental coverage added to their medical benefits. The ratified agreements, covering 1,100 craft workers, contain significant improvements over a company offer rejected by members on June 25.
Machinists, Teamsters, Painters, and Service Employees began negotiations with Freightliner in early May in an attempt to recover what workers gave up in 2001 when the truck maker was struggling. Both sides described the settlement as a compromise. Steve Hillesland, District 24 Business Representative and negotiator for the Machinists at Freightliner called the outcome a "truce" rather than a "big win."
"They could've coughed up a little more," said Jim Martin, a 12-year Freightliner Machinist, quoted in The Oregonian. "But we're not going to get back everything at once. And when you've got kids, you've got to do what you've got to do."
Kerry, Edwards Campaign in Ohio
Confirming the importance of industrial states in the upcoming election, the newly-minted Democratic team of Kerry and Edwards headed for Ohio less than 24 hours after Kerry named North Carolina Senator John Edwards to be his vice presidential running mate.
The Democratic duo addressed enthusiastic crowds in Cleveland and Dayton and vowed to restore honor, dignity and credibility to the White House. "We need a president that will lead the world, not bully it," said Sen. Edwards to cheers and applause in Cleveland.
Voters across the country are also applauding Kerry's choice of Edwards. An overnight NBC poll shows Kerry-Edwards leading Bush-Cheney by 49 to 41 percent. Twenty-four percent of those polled said the Edwards pick would make them more likely to vote for Kerry, and only 7 percent said they would be less likely.
Medicare Probe Finds 'Extraordinary Deception'
An investigation by the Inspector General (IG) of the Health and Human Services Department (HHS) confirmed there was a coordinated effort by the Bush administration to conceal the true cost of the Medicare bill passed by Congress last year.
"The IG's report describes the extraordinary deception of Bush administration officials to cover up the true costs of the Medicare bill," said Sen. Edward Kennedy (D-MA). "What they did was wrong by any definition."
The HHS report detailed a covert campaign by administration officials to conceal cost estimates for the bill that were $100 billion higher than the $300 billion cost estimate promoted by the President and supporters of the bill. The legislation passed narrowly, with many lawmakers swayed by assurances the cost would not exceed $300 billion.
Surprisingly, the unsigned HHS report concluded that administration officials broke no laws even though Medicare chief Thomas Scully threatened to fire Richard Foster, the department's lead actuary, if he revealed accurate cost estimates to members of Congress.
"It sounds as though the Bush administration examined itself and found it did nothing wrong," said Rep. Pete Stark (D-CA), senior Democrat on the House Ways and Means health subcommittee.
The HHS report is not likely to be the last word on the matter. The General Accounting Office, Congress' investigative arm, is conducting its own investigation to determine if Scully's gag order of Foster violated the law.
Act Now to Protect Overtime Rights
After more than a year of lobbying with letters, faxes, emails and phone calls, members of the U.S. House and Senate are meeting in the last three-week session before the Bush overtime pay take-away goes into effect August 23. Action is urgently needed right now even if you've acted before.
Please take one minute to send a free fax to your representative and senators.
Tell them to block Bush's overtime pay take-away. Millions of America's workers, earning as little as $23,600 a year, stand to lose much-needed income they use to take care of healthcare, housing costs and even food.
Republicans Block Union Organizing Bill
GOP leaders are blocking important legislation in the House of Representatives that would ease restrictions on union organizing, according to Rep. George Miller (D-CA).
The Employee Free Choice Act (H.R. 3619), introduced by Miller, provides for "card check" elections and provides for mediation and arbitration for first contract disputes. Republican House leaders refuse to schedule the bill for consideration despite bipartisan support and 202 co-sponsors in the House.
"They've decided in the House of Representatives in the United States of America that they don't want to let democracy function," said Miller. Noting that U.S. troops are fighting in Iraq to support a new democratic regime, Miller asked: "How about a little democracy at home in the House? How about a little democracy in the workplace?"
Miller blamed house majority leader Tom DeLay (R-TX) for delaying a vote on the "card check" legislation, calling DeLay a "little dictator."
U.S., Canada Near Top in Annual Hours Worked
Workers in the United States worked an average 1,792 hours in 2003 and their Canadian counterparts worked 1,718, but were eclipsed by Australians (1,814), Poles (1,956), and South Koreans (2,390), according to the Organization for Economic Co-operation and Development which released its 2004 employment report this week.

Based on a 52-week work year, American workers spent 34 hours on the job each week, Canadians 33 hours, and South Koreans nearly 46. Workers in Norway and Holland spent the least time at work with employees from both countries averaging 26 hour-work weeks.
Survey Shows Job Growth Stalled
Job growth in the U.S. is slowing down, according to a new survey conducted by Challenger, Gray & Christmas. While 7 out of 10 businesses surveyed added workers in 2004, only 44 percent planned to hire additional workers during the rest of the year. Additionally, 75 percent of the small to medium-sized companies surveyed said they were not planning on hiring any workers.
"Companies – especially small ones – do not want to get caught with too many workers if the economy takes a turn for the worse," said John Challenger in a Reuters article. "Many probably still consider the economy to be in a relatively fragile state which could easily collapse under the right circumstances."