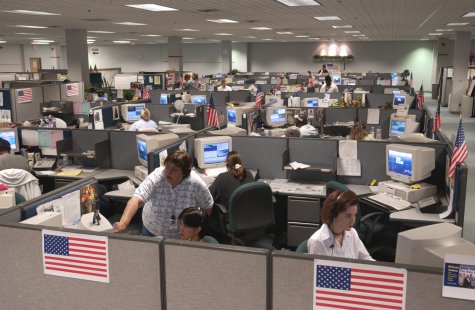 These UAL employees at Dulles Reservations Center are among 58,000 active and retired IAM members at the airline.
United Dodges Pension Payment
Bankrupt United Airlines sent an ominous signal through the ranks of its working wounded when it failed to make a required $72.4 million payment to fund its employee pension plans. The move, described as a "deferral" by the carrier, was announced in a terse 8K filing with the U.S. Securities and Exchange Commission (SEC).
The airline claims it has until Sept. 15, 2005, to make the required payment, but indicated no decision has been made regarding future pension obligations. IAM officials responded immediately, calling the decision a threat to the stability of pensions for more than 26,000 active and 32,000 retired IAM members at United.

"The IAM will fight any attempt by United Airlines to impose a permanent solution to what may be a temporary, even self-correcting problem," said District 141 President Randy Canale, who added that any improvement in ticket revenue, fuel prices or pensions investments could "dramatically alter" the financial situation United now faces.
The move by United has already drawn the attention of the Pension Benefit Guaranty Corporation (PBGC), the federal agency that insures plans against default. "In our experience, it's exceedingly rare for companies that miss legally required contributions to later make up the shortfall," said a PBGC spokesperson quoted in The New York Times.
Six Million Face OT Pay Cut
Earlier this year, the Department of Labor published regulatory changes designed to eliminate the right to overtime pay for up to six million workers. A new report by the Economic Policy Institute (EPI), "Longer Hours, Less Pay," provides a detailed analysis of how many and what kinds of workers will lose overtime protection under the new rules.

The changes, expected to take effect on August 23, make it easier to classify workers as exempt and allows employers to take a huge bite out of their employees' paychecks, according to the EPI study.

Contact your senators and representative to prevent the overtime takeaway.
Minnesota Guide Dogs Tourney Set for Aug. 9
The Minnesota Chapter of Guide Dogs of America will hold its annual charity golf tournament on Aug. 9 at Bunker Hills Gold Club in Coon Rapids, Minnesota.
The Minnesota chapter of Guide Dogs has raised more than $900,000 in the last 15 years through motorcycle rides and golf tournaments. Guide Dogs of America, founded by an IAM member more than 50 ears ago, receives no government funding but has provided free training for more than 1,800 guide dogs to assist visually impaired people.
Greens fees for this year's scramble-format tournament are $100 per golfer, which includes a round of golf, use of a cart, refreshments and a buffet dinner. The tournament begins at 12:30 p.m.; registration deadline is July 30. For information, call John Massetti, 651-365-3378.
IAM Backs New Rules on CEO Pay
The cavalcade of corporate corruption during the past 4 years is slowly forcing changes to the rules governing compensation for top corporate executives. Leading the way is a proposal that will require mandatory expensing of stock options.
Under current regulations, fixed price stock options are not expensed in full detail, giving this form of compensation preferential treatment over performance-based stock options, which must be fully disclosed. Individual and institutional investors have lost billions during recent corporate scandals, including those that involved fraudulent and misleading financial statements. CEO's are frequent recipients of fixed price stock options and full disclosure of these options will go a long way to restoring the credibility of corporate financial statements.
IAM President Tom Buffenbarger wrote a letter in support of the Financial Accounting Standards Board (FASB) proposal to require mandatory expensing of stock options.
Jobs, Economy Lead Voters Concerns
Jobs and the economy continue to be the most important issues among likely voters, according to a Washington Post poll released this week.
Twenty-nine percent of respondents considered the economy and jobs the most important issues that will affect their vote for president, overshadowing the next closest issues – the U.S. campaign against terror and the war in Iraq.
With 53 percent of those polled disapproving of the way President Bush is handling the economy, the jobs issue looms large for both candidates in the presidential election. Fifty-one percent of respondents said Democratic Presidential hopeful John Kerry would do a better job handling the economy, compared to only 43 percent for Bush.
President Bush's ability to relate to ordinary Americans also threatens his campaign. Only 42 percent of respondents said Bush understands the problems of everyday people, while 55 percent said Kerry understands the problems of everyday Americans.
Last Call for 2004 Communications Classes
Districts and Local Lodges are reminded that the deadline for Advanced Editors and the Advanced Web Development classes are approaching.
The Communications Dept. must receive the enrollment deadline for Advanced Web Development no later than July 31, 2004, and the deadline for Advanced Editors is no later than August 2, 2004.
The call and enrollment information about the Web Development and Advanced Editors classes was mailed to each District and Local Lodge.
The IAM Communications Department classes for 2004 are scheduled as follows:
2004 Advanced Editors - November 7-12
2004 Advanced Web Development - October 17-22

For more information contact the IAM Communications Department at 301-967-4520.
Metal Trades to Combat Union-Busting Tactics
The IAM will join with key representatives from the AFL-CIO Metal Trades Department to combat the growing assault on collective bargaining rights by the U.S. Department of Defense (DoD).
The Union coalition is focusing on the DoD Authorization Act of 2003, which gave Defense Secretary Donald Rumsfeld authority to modify personnel practices within the Department. Rumsfeld interpreted that authority as a virtual license to attack collective bargaining and labor agreements. Among the proposals, Rumsfeld aims to implement new rules that would scrap union representation for large numbers of DoD employees, claiming "national security" concerns.
"This is a thinly disguised effort to strip away basic collective bargaining rights and other long standing protections for tens of thousands of DoD workers," said Jim Price, IAM Collective Bargaining Coordinator and representative to the Metal Trades coalition. "And it doesn't end there. Many other Federal employees could also be affected and the so-called "reforms" could ultimately spread to the private sector."