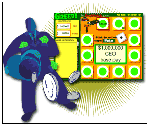 Corporate profits are down, layoffs are way up—and CEOs still get huge paychecks, bonuses and retirement perks. To see how you'd fare compared to these CEOs, play GREED!
GREED is the AFL-CIO's Executive PayWatch Board Game that takes the PayWatch visitor through a story of what life is like for a millionaire CEO and a worker struggling to make ends meet.
---

Union Plus uses the collective strength of union members to provide a wide range of services at discount prices, from credit cards to home mortgages.
This month, Union Plus spotlights its discount legal services program. For more information, click here.

---

Get your legislator to sign a pledge to protect Social Security and Medicare
To find out how much you could lose from Bush's plan to privatize Social Security, find out more information about the Bush plan and download flyers to distribute at work, click here

---


Get Your Convention Gear Check out gear for the 2004 IAM Convention
---

The IAM
Executive Council
International President
R. Thomas Buffenbarger

Secretary Treasurer
Donald E. Wharton

GVP Western
Territory
Lee Pearson

GVP Canada
Dave Ritchie

GVP Midwest
Territory
Alex M. Bay

GVP Headquarters
Robert V. Thayer

GVP Southern
Territory
George Hooper

GVP Eastern
Territory
Warren L. Mart

GVP Transportation
Robert Roach, Jr.
Friday, July 19, 2002

Medical Records Destroyed at Pratt & Whitney
Acting on a complaint from the IAM, federal officials from the Occupational Safety and Health Administration (OSHA) are investigating whether Pratt & Whitney destroyed medical records to conceal links between working conditions and brain cancer cases at the Connecticut-based jet engine plant.
The OSHA complaint was filed after an IAM member's request for medical records led to the discovery that 12 to 18 boxes of records, including employee x-rays, had been destroyed in what the company called a 'routine purge.'
Conditions at Pratt's Connecticut factories are at the center of a white-hot controversy over the cause of dozens of suspicious deaths among workers over the years.
The Connecticut Department of Public Health said at least 43 Pratt employees died over the past 20 years from a brain tumor called glioblastoma multiforme. The IAM believes the death toll is closer to 60 and is linked to powerful chemicals and solvents used by workers to clean engine parts at Pratt plants.
The federal investigation comes as a multi-million dollar study is set to begin examining the medical records of 123,000 Pratt employees who worked at plants between 1952 and 2000. "A full investigation is crucial," said Carol Shea and Kate Greco, widows of two IAM members who died from glioblastoma.
---
Alliance Draws the Line on Drug Bill
The Alliance for Retired Americans declared that it would not support any prescription drug plan which did not adequately protect its members, noted George J. Kourpias, president of the 2.7 million-member organization.
"Our members have told us over and over that they need a comprehensive prescription drug benefit that is universal, voluntary, affordable and available to all Medicare beneficiaries," Kourpias said.
Kourpias said the Alliance has a clear message for elected officials and those running for elective office. "The price for our support in November is a bill that helps older Americans pay for the prescription medications. It cannot be a bill that lines the pockets of health care providers and the pharmaceutical industry."
For more information visit the Alliance website at www.retiredamericans.org.
---
GVP Ritchie Names Clermont Grand Lodge Rep
Canadian GVP Dave Ritchie, named Mario Clermont as a Special Representative on the staff of the International Union. Clermont, currently the Canadian Education representative, will be stationed in Montréal, with responsibilities including education in the Province of Québec, the aerospace portfolio for Canada, High Performance Workplace Organization across Canada (HPWO) and other duties. Ritchie also appointed Gord Falconer, to the position of Canadian Education Representative. Falconer will be stationed at the Canadian Office and begin his duties August 19, 2002.
---
Bogus Bill Benefits Offshore Corporations
"The 'American Competitiveness and Corporate Accountability Act of 2002' has nothing to do with competitiveness and everything to do with rewarding companies who turn their backs on American workers," said IP Tom Buffenbarger,
The legislation, proposed by House Ways and Means Committee Chairman Bill Thomas, would actually raise taxes on domestic manufacturers while providing up to $90 million in tax breaks for U.S. companies that produce goods overseas. "It's outrageous," said Buffenbarger. "To issue such a proposal in the midst of one of the most severe economic downturns in our nation's economic history."
By contrast, a bill introduced by Rep. Jim Maloney (D-CT) and Rep. Richard Neal (D-MA) would deny tax benefits to corporations that set up overseas headquarters. Their bill, the 'Corporate Patriot Enforcement Act' (H.R. 3884), requires the same tax treatment for offshore and U.S.-based corporations. It is estimated that offshore tax evasion schemes cost the IRS (and U.S. taxpayers) between $20 and $40 billion in 2000.
---
Airport Workers Deserve Safe Workplace

In a July 17 letter (click here) to U.S. Transportation Secretary Norman Y. Mineta, GVP Robert Roach, Jr. called for additional security measures to protect airline workers. "
The recent shooting at an El Al ticket counter at Los Angeles International Airport and a similar incident in May at a Southwest ticket counter in New Orleans underscores the need for immediate action.

"The threat to our nation's airports is not coming solely from foreign radicals. Airports have become a target for any person looking to make a statement," said Roach, who called for security checkpoints at terminal entrances and bulletproof glass to protect airport agents.
In 2001, the IAM expanded its Passenger Rage Campaign to focus on protecting Public Contact Employees at airport terminals in addition to Flight Attendants in the air. "We believe that diffusing passenger rage incidents prior to a passenger boarding an aircraft is an essential element to preventing incidents while airborne," said Roach
---