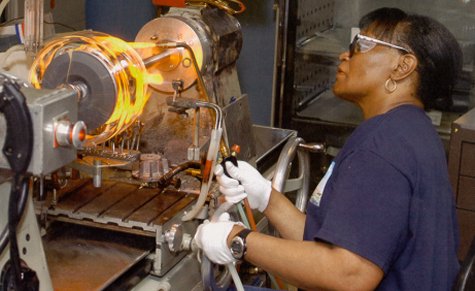 As part of the North America's Might cover story, the new IAM Journal features members like LL 1916's Rosetta Williams-Huley, a glassblower
at GE Healthcare's plant in Milwaukee, Wisconsin.
IAM Journal Focuses on North America's Might
The Summer 2004 edition of the IAM Journal is in the mail and it shines its spotlight directly upon American and Canadian IAM members ― North America's Might. Across North America they work day in and day out in jobs that are the heart of both country's economies. In industry after industry, IAM members play an absolutely indispensable role in production processes or customer services.

The magazine focuses on a number of locals and districts and highlights the work IAM members do and the impact they have on their communities and their economies.
"What we, as Machinists, do every day is indispensable to the engine of economic growth," said IP Tom Buffenbarger. "Destroy us and that engine grinds to a halt."
A closely watched meeting in Chicago between IAM leaders and senior management at the Boeing Co., provided a good starting point for renewing strategic discussions on issues critical to Boeing's workforce.
The frank discussions provided background for negotiations on a new contract at Boeing's Commercial Aircraft unit, which will begin in 2005. The current three-year agreement expires on Sept. 1, 2005.
"The meeting was an effort on both sides to rebuild lines of communication that were fractured after the 2002 negotiations," said IP Buffenbarger, who attended the meeting with IAM Aerospace Coordinator Dick Schneider, District 751 President Mark Blondin, members of the IAM Executive Council, local IAM representatives and staff. "We discussed challenges posed by Airbus, the quality of health care for our members and the future direction of this company."
Following the Chicago meeting, Boeing announced it would recall 600 to 700 Machinists among 3,000 new hires in the Puget Sound area. The company credited new orders and said it will also add 250-300 workers in Wichita and 50-100 in Portland. District 751 President Mark Blondin welcomed the announcement, calling it "the best news we've had in some time."
First Agreement for Cedarcroft Workers
Improvements to wages and benefits highlight the first collective bargaining agreement for IAM members at the Cedarcroft Place Nursing Home in Stratford, Ontario.
The 55 members of Local 1927 ratified a three-year agreement that calls for a 75 cent per hour wage increase for Registered Practical Nurses in the first year and a two and a half percent wage increase for all other classifications. All classifications receive a three percent wage increase in each of remaining two years of the agreement. Full-time and part-time employees will receive lump sum signing bonuses of $500 and $300 respectively. Probationary full-time and part-time employees will receive lump sum bonuses of $400 and $250 respectively.
Bush Board Revokes Grad Students' Organizing Rights
Graduate students working as teaching assistants at Brown University saw their right to organize disappear when Bush appointees to the National Labor Relations Board (NLRB) voted 3-2 to overturn the 2000 decision that gave students the right to organize.
Graduate students' organizing rights were established in a groundbreaking case that gave New York University graduate students employed by the university the right to organize under the National Labor Relations Act.
In its latest decision, the NLRB said that graduate student employees have a primarily academic relationship, not an economic relationship, and to allow graduate student employees the right to organize could prove "harmful" to the education process.
However, "collective bargaining by graduate student employees is increasingly a fact of American university life," said Democratic NLRB members Wilma B. Liebman and Dennis P. Walsh, who pointed out the original decision included two democrats and one republican and was still unanimous. They added that the decision to overturn "is woefully out of touch with contemporary academic reality."
New Commercial Trucking Regulations Overturned
The U.S. Court of Appeals for the DC Circuit Court overturned recently enacted federal regulations that increased drive time for commercial truckers, saying the regulation did not consider drivers' health.
"We hold that the final rule is arbitrary and capricious because the agency neglected to consider a statutorily mandated factor--the impact of the rule on the health of drivers," the court ruled.
The regulations, issued in April 2003, increased the hours a commercial trucker can spend driving in one day from 10 to 11, and cut the total number of hours spent working, including non-driving work-related activity from 15 to 14.
"Tired truck drivers are a major danger on our highways and this rule was a formula for more death and injuries," said Joan Claybrook, President of Public Citizen, the DC-based consumer advocacy group that brought suit.
Hourly and Weekly Earnings Down
Hourly and weekly earnings have declined in six of the past seven months, according to a report by the Economic Policy Institute (EPI). The EPI also reported that, after adjusting for inflation, hourly and weekly earnings are less than they were when the current so-called recovery began.
The EPI outlined three factors to account for the stagnant growth in hourly and weekly earnings. First and most important is the lingering impact of the jobless recovery, which has seen an unchanged unemployment rate of 5.6 percent since November 2001.
Another factor is the jobs being added are lower paying than the high-value jobs lost during the past four years.
States Blinded to Offshoring Gambit
A new report by the Washington Alliance of Technology Workers, "Your Tax Dollars at Work …Offshore," reveals that state governments are frequently unaware they are sending information technology work offshore.

The report found that nearly every state has engaged foreign companies to perform state work offshore.
In many cases, state governments awarded contracts to U.S. companies believing the work would be performed domestically, only to find the work was subcontracted to an offshore vendor.


In other cases, states assume they are dealing with a domestic company because it uses a U.S. mailing address, when in fact the work is performed offshore.


The research group found that 18 U.S.-based firms are aggressively seeking state government contract work, primarily information technology work, in at least 30 states. The firms have captured about $75 million in state contracts so far and are seeking more. Offshore outsourcing firms appeared on at least nine separate vendor lists in California, Connecticut, Minnesota, Georgia, Missouri and North Carolina, according to the report.