The entry deadline for the 2002 IAM Newsletter and Website Contest is July 31, 2002.
If your lodge hasn't entered yet, act soon. For entry forms and information, contact the IAM Communications Department at 301-967-4520.
---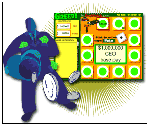 Corporate profits are down, layoffs are way up—and CEOs still get huge paychecks, bonuses and retirement perks. To see how you'd fare compared to these CEOs, play GREED!
GREED is the AFL-CIO's Executive PayWatch Board Game that takes the PayWatch visitor through a story of what life is like for a millionaire CEO and a worker struggling to make ends meet.
---

Union Plus uses the collective strength of union members to provide a wide range of services at discount prices, from credit cards to home mortgages.
This month, Union Plus spotlights its discount legal services program. For more information, click here.
---


Get Your Convention Gear Check out gear for the 2004 IAM Convention
---

The IAM
Executive Council
International President
R. Thomas Buffenbarger

Secretary Treasurer
Donald E. Wharton

GVP Western
Territory
Lee Pearson

GVP Canada
Dave Ritchie

GVP Midwest
Territory
Alex M. Bay

GVP Headquarters
Robert V. Thayer

GVP Southern
Territory
George Hooper

GVP Eastern
Territory
Warren L. Mart

GVP Transportation
Robert Roach, Jr.
Friday, July 26, 2002



Rally Set to Block Stanley Exit
Union members, shareholders and civic leaders will gather at the gates of the Stanley Works in New Britain, CT, on Monday, July 29 to demand an about face in company plans to move its headquarters to a post office box in Bermuda.
By recasting itself as a foreign corporation, Stanley hopes to skip on nearly $30 million in U.S. taxes each year. The move also threatens to cost Stanley retirees and shareholders millions in capital gains taxes when their U.S. shares are converted to the new foreign shares.
The high noon rally will feature comments by IP Tom Buffenbarger, AFL-CIO President John Sweeney and Connecticut Congressman John Maloney, who recently introduced a bill in the U.S. House of Representatives to block Stanley's move.

In related news, the Treasurer of the State of California said his office, which controls $45 billion in state and local funds, would no longer consider investing in 22 companies, including Stanley Works, that are headquartered overseas, but effectively based in the U.S. "Corporations hiding behind a mailbox in Bermuda are shirking their duty as Americans, and undermining confidence in the financial markets," said State Treasurer Phil Angelides. "We will use our clout as investors to let companies know we will not tolerate this type of irresponsible conduct."
---


Urgent Fast Track Alert: Call Today!
In a bid to ram Fast Track through Congress before the August recess, House leaders emerged Friday morning from an all-night, closed door conference ready to vote on a trade deal that is a giant step backwards for workers and workers rights
Every IAM member should immediately call their representative in Washington, D.C. and urge them to vote
against
the conference report for H.R. 3009.
Call the Capitol Hill Switchboard toll free at 877-611-0063 or 202-224-3121. It is very important to make your call today, Friday July 26, before the House votes on the conference report. To send an action alert e-mail message to your member of Congress, go to the "Stop Fast Track Vote H.R. 3009" at www.goiam.org.
Among the most cynical arguments for the trade bill is the claim by administration officials that Fast Track trade authority is necessary to restore confidence in markets rocked by wave after wave of corporate scandals.
"We cannot afford to let this corporate kickback become the law of the land," said IP Buffenbarger. "I urge every member to get to a phone today and tell their representatives to stand up for workers rights in this country. We have the obligation and the opportunity to make a real difference today. It's our jobs, our health and our safety at stake."
---
Hope and Prayers for Trapped Miners
The nation is holding its collective breath over the fate of nine coal miners trapped 240 feet below the surface in Somerset, Pennsylvania. Incorrect maps apparently led the miners to pierce a wall that released millions of gallons of water and cut off the shaft where the miners were working.
Tapping sounds were heard by rescue crews after the accident and families cling to the hope the miners are safe in an air pocket above the freezing water. Another group of miners escaped the rising waters by wading to safety after being warned away by the trapped workers.
"The IAM joins the rest of the country in hope and prayer for these men to be returned safely to their families," said IP Tom Buffenbarger.
Coal mining is among the country's most dangerous occupations with the highest fatality rate of any industry. According to the Department of Labor, 72 miners died in accidents during 2001. There are currently about 75,000 miners working in the U.S.
---
Anti-Union Homeland Security Bill
President Bush threatened to veto the Homeland Security Bill if it does not contain language giving him the right to revoke union rights and civil service protection for the nearly 170,000 employees who will make up the new federal agency.
The White House complained existing labor laws and collective bargaining rights would prevent efficient operation of the new national security agency.
"This is an insult to every union member in this country," said IP Buffenbarger. "For this administration to paint federal workers as potential security risks due to their collective bargaining rights is outrageous. The suggestion that our nation's security depends on government's ability to hire and fire at will calls into serious question whether this administration understands what working America is all about."
---
Corporate Fraud Bill: Too Little, Too Late
Politicians and business groups are busy congratulating themselves over House and Senate approval of a measure to increase prison sentences for corporate crooks and to expand oversight of the accounting industry. But for millions of defrauded investors, laid off workers and disgusted citizens, the bill does nothing to correct the damage done by years of deregulated business practices.
The recent corporate crime wave drove legislators to pass the so-called reform bill with unusual speed. Threats by accounting industry lobbyists and House Republicans to hold up the legislation never materialized after scandals continued to rock the financial markets, draining billions from stock portfolios and retirement accounts.
Meanwhile, the financial fallout for former WorldCom workers continues with news the bankrupt company will not pay severance to employees fired after the collapse of the energy giant.
---