Web Highlights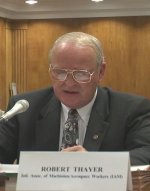 GVP Thayer Rips China Trade Deals. Thayer tells commission the costs of bilateral trade deals with China.
Breaking News video.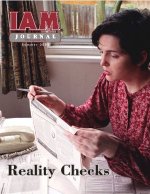 Read The Summer IAM Journal Online
The IAM takes an in-depth look at the Unemployment Insurance system.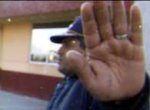 Behind the Label:
When employees of Mexico's Kukdong apparel factory stopped work to protest the firing of five coworkers, management called local police and had the strikers forcibly removed from company grounds. Read this and other stories of workers in the global clothing industry.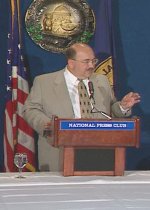 Breaking News Video:
IP Tom Buffenbarger addresses Washington D.C.'s National Press Club and defines the IAM's position on National Missile Defense.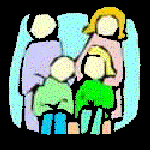 Economic Snapshot:
The official poverty line is never enough to cover a family's total expenses for basic needs. Read the full explanation.

The IAM's
Executive Council
Friday, August 3, 2001
---
Rail Retirement Bill Passes Big In House
During an evening session on July 30, 2001, the United States House of Representatives overwhelmingly passed H.R. 1140, the Railroad Retirement and Survivors Improvement Act of 2001 by a vote of 384 to 33.

"Congratulations to everyone who contacted their Representative to support this legislation," said Transportation GVP Robert Roach, Jr. "Your commitment and dedication made the difference in passage of this bill." The IAM represents more than 100,000 rail workers and lobbied aggressively for improvements to the 1930's era program.

Supported by both rail labor and rail management, the legislation now moves to the Senate, where a companion bill, S. 697, already has 72 co-sponsors. Members are urged to contact Senators and urge their support for the bill that will make much needed railroad retirement reform a reality.
---
Journal Gives Wage Insurance a 'Reality Check'
"Less than 40 percent of the workers laid off in this recession will ever receive an unemployment check," said IP Tom Buffenbarger in the opening pages of a chilling report on the nation's under-funded, antiquated, and often discriminatory unemployment insurance (UI) system.

In a report titled "Reality Checks," the latest issue of the IAM Journal takes a state-by-state look at the national wage insurance program that routinely denies coverage to women, part-time workers and independent contractors who now make up one third of the layoff-racked U.S. workforce.

Despite the fact that U.S. unemployment benefits are among the world's lowest, many state unemployment trust funds are dangerously under-funded. According to the IAM report, only 28 states are able to pay benefits for more than a year in the event of a deep recession.

The report calls for an aggressive reform program and lists five steps each state can take, which include adequate and equal protection for women who make up more than half of the U.S. workforce yet are routinely disqualified from UI if they quit jobs due to reasons related to child care, pregnancy or spousal abuse.
---
GVP Thayer Defends U.S. Aerospace Jobs
n testimony before the U.S.-China Security Review Commission, IAM GVP Robert V. Thayer told lawmakers that trade deals known as 'offsets' have serious consequences. "The demands by China that U.S. aerospace firms transfer production and technology in return for market access is costing thousands of highly skilled U.S. jobs and threatens to impact the security relationship between these two nuclear superpowers."

The public hearing was held for the purpose of reporting to Congress on the impact of bilateral trade deals with the Peoples Republic of China.

The IAM charged that U.S. firms are giving China, with its long record of human rights abuses, the potential to overwhelm a vital U.S. industry. "Jobs are being lost to a country that tortures its citizens, prohibits independent labor unions and executes political dissenters," said Thayer. "In addition, the competition that China gives the U.S. aerospace industry will have negative effects on national security by the gradual "de-skilling" of U.S. workers."
---
Royal Airline Workers Ratify First IAM Contract
Three hundred IAM Ramp and Cabin Service workers employed at Canada's Royal Airlines overwhelmingly ratified their first IAM agreement after 11 months of hard bargaining that saw the airline change ownership midway during negotiations.

"Canada 3000 bought out Royal Airlines and then replaced management representatives with a completely new team," said Don McLean, IAM General Chairman. "We had to start out all over again with new players."

Highlights of the agreement include substantial pay raises, a pension plan, an extra week of vacation and a guarantee of 60 percent full-time employment.

"The pension agreement alone is unusual on a first contract, but the 60 percent full time employment guarantee is even more of an accomplishment," said McLean. "Canada 3000 generally operates at 30 percent."

Dave Ritchie, Canadian IAM GVP says its no surprise they got such a good contract. "We know what's fair, and we know what's current. When we negotiate, we do so from a position of strength."
---
AFL-CIO Unions Rally to Block Fast Track
Fast track bureaucrats and trade mavens peeked nervously from the windows of U.S. Chamber of Commerce headquarters in Washington, D.C. as hundreds of union marchers filled the street below and loudly demanded human rights and workers rights be part of any U.S. brokered international trade pacts.

IAM members took part in the march from AFL-CIO headquarters to be there when the Chamber launched their 'August Assault' to promote passage of the unfettered deal-making authority. The Chamber, the White House and the Republican leadership strongly oppose enforceable workers' rights and environmental standards in trade agreements.

Meanwhile, Democratic Senators are calling on the Bush administration to prove it can enforce existing trade laws before Congress considers increasing the President's authority to negotiate new trade pacts.
---