Web Highlights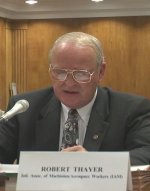 GVP Thayer Rips China Trade Deals. Thayer tells commission the costs of bilateral trade deals with China.
Breaking News video.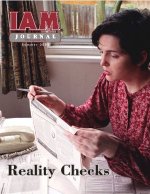 Read The Summer IAM Journal Online
The IAM takes an in-depth look at the Unemployment Insurance system.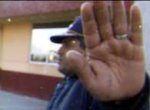 Behind the Label:
When employees of Mexico's Kukdong apparel factory stopped work to protest the firing of five coworkers, management called local police and had the strikers forcibly removed from company grounds. Read this and other stories of workers in the global clothing industry.

The IAM's
Executive Council
Tuesday, August 7, 2001
---
Hill Recess: Make Your Voices Heard
Make an appointment to visit your senators and representatives as they return home for a month-long recess. This is the perfect time to visit and make your voices heard. Urge them to support working family issues and to oppose any measures that weaken working Americans.

Urge them to vote against anti-democratic Fast Track proposals, which have led to unfair trade deals that punished workers, but protected big business. Remind them that NAFTA has been a nightmare for workers. In the seven years since its passage, NAFTA caused the loss of more than 800,000 manufacturing jobs in the U.S.

As our jobs disappeared, our imports skyrocketed, leaving an ever-widening trade deficit. Tell your senators and representatives that now is the time to stand up for workers who pay a heavy penalty for these trade agreements. Tell them to just say "no" to these unfair trade deals. Tell them to derail Fast Track and get back on the right track.

Remember, your congressional delegation will be home until Congress reconvenes September 5. Use the time to make your voices heard. We can make a difference.
---
EPI Debunks Bush Panel Scare Tactics
Still another think tank added its voice to the chorus pointing out the fallacies of President Bush's handpicked Social Security Commission. The Economic Policy Institute (EPI) charges the panel's privatization schemes would "unravel" Social Security's ability "to insure against loss of income, disability and death."

In a recent report, EPI claims that since the Bush panel "can't rely on sound economics to defend" privatization, the panel is now suggesting that Social Security is "a bad deal for African Americans and women." The facts show, EPI says, that the Bush panel's claims are just so much hogwash.

"For the past 66 years, Social Security has offered a safety net for workers and their families in the event the primary source of income is lost due to retirement, disability or death," the EPI report notes. "In these situations, women, children, low-wage workers and African Americans benefit greatly from Social Security."

Social Security has more than proven its worth as a social insurance program, EPI said. The average elderly household receives 58 percent of its income from Social Security. Without those benefits, an additional 39 percent of the elderly would fall into poverty. It is also a large disability and life insurance program—about a third of Social Security benefits pay for survivorship and disability benefits—and African Americans, women and children are the major beneficiaries.
---
FAR 145 Aircraft Repair Rules Rewritten
In 1988, the Federal Aviation Administration throttled back on the requirements necessary for foreign repair stations to be certified to work on U.S. registered aircraft. For thirteen years, the IAM and the AFL-CIO Transportation Trades Department worked for new rules to close safety-related loopholes created by the 1988 regulations and to prevent the flow of aircraft repair work to low-wage, unregulated offshore repair facilities.

The fight for new rules cleared a major hurdle this week when new Federal Aviation Regulations, Part 145 (FAR 145) were published in the Federal Register after more than a decade of debate, public hearings and opposition from industry lobbyists.

While the new regulations do not completely reverse the damage done in 1988, foreign repair stations will be required to meet tougher standards of training and accountability for all persons performing or supervising maintenance work on U.S. aircraft. In addition, the FAA will require initial and recurrent employee training as a precondition to foreign repair station certification.
---
Bush Fares Poorly on Worker Trust Issues
American workers place little trust in the Bush administration when it comes to important workplace issues such as a reasonable minimum wage, equal pay for women, privacy protections on the job, workplace safety and job discrimination. In a new Peter D. Hart Research Associates survey, workers also say the Bush administration cares more about protecting the rights of business than those of workers.

Some 49 percent of those surveyed say the administration is biased in favor of business and employers interests over worker rights. Only four percent say the Bush White House puts workers' rights over employers' interests. Thirty-five say the administration favors both equally.

When asked how much they trust the Bush administration to protect workers' rights on the job, 67 percent say they don't trust the Bush White House at all or only just somewhat. Fifty-one percent say they have no trust in the administration on workplace heath and safety issues.
---
Industrial Conference Deadline Nears
August 20 marks the cut-off date for room reservations at the Hyatt Regency Atlanta, site of the IAM Industrial Conference slated for September 16-20. Delegates who have not booked rooms for the conference are urged to do so as soon as possible. The hotel can be reached toll-free at 800-233-1234. Tell them you are attending the "IAM Industrial Conference."
---