Web Highlights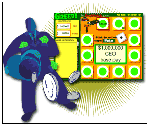 Play Greed, The Executive PayWatch Board Game Greed takes you through a story of what life is like for a millionaire CEO and a worker struggling to make ends meet. Just click to roll the dice to see if you end up on Easy Street or Tough Luck Row.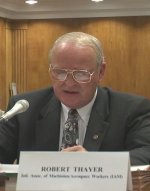 GVP Thayer Rips China Trade Deals. Thayer tells commission the costs of bilateral trade deals with China.
Breaking News video.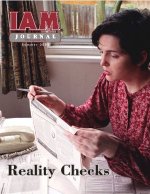 Read The Summer IAM Journal Online
The IAM takes an in-depth look at the Unemployment Insurance system.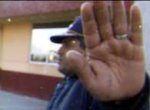 Behind the Label:
When employees of Mexico's Kukdong apparel factory stopped work to protest the firing of five coworkers, management called local police and had the strikers forcibly removed from company grounds. Read this and other stories of workers in the global clothing industry.

The IAM's
Executive Council
Friday, August 10, 2001
---
NMB Rejects Raider Bid At UAL
The National Mediation Board (NMB) dismissed an application by the Aircraft Mechanics Fraternal Association (AMFA), ruling the raider organization failed to submit sufficient cards to warrant an election for mechanic and related employees at United Airlines.

The March 30 filing by the self-described craft association came amid tense negotiations between IAM District 141-M and United Airlines and brought all substantive negotiations to a halt. The NMB conducted a four-month investigation and issued their decision on August 9, 2001.

"AMFA knew they didn't have enough interest for an election, yet they filed their petition to intentionally stall our negotiations with United Airlines," said IP Tom Buffenbarger. "Airline workers have enough roadblocks to reaching an agreement without having an outside group torpedo their negotiations," added GVP Robert Roach, Jr. "AMFA owes an apology to the thousands of United employees who have been forced to wait for a new contract."

The New Hampshire-based raider organization failed repeatedly in the past to gain the support of mechanic and related employees at United, who have been represented by the IAM since 1945. Defeated by the IAM in 1968, 1977 and 1994, this week's decision by the NMB marks the fourth time the splinter group has been rejected at United.

"We have wasted enough time on outside distractions," said Scotty Ford, District 141-M president and lead negotiator who called on United's representatives to return to the bargaining table immediately to complete an agreement.

Related Links:
IAM Transportation
Air Transport District 141-M
---
Fast Track Ploy Draws Fire
Workers and their unions stepped up efforts to block Fast Track proposals and pledged to mount an all-out effort against the jobs-stealing measure when Congress reconvenes next month. GOP leaders kept the trade scheme under wraps prior to the August recess, fearing they lacked the votes to pass it.

The AFL-CIO issued a "Call for Action" during the recess and drafted plans for a month-long campaign of opposition that will end with a massive rally and march in Washington, D.C. on Sept. 30. The federation set Sept. 26-Oct. 1 as Global Justice Week. That week coincides with meetings of the International Monetary Fund and the World Bank. In addition to Fast Track, the campaign opposes the Free Trade Area of the Americas, supports the unconditional cancellation of debts owed by the world's poorest countries to the IMF and the World Bank and seeks priority treatment of HIV/AIDS.

For more information on Fast Track activities call Erin O'Neill at 202-637-5246 or Ken Grossinger at 202-637-5393. For more details on Global Justice Week, visit www.aflcio.org/globaleconomy.
---
Air Transport Leaders Land at WWW Center
Thirty-six union leaders from around the world came to the William W. Winpisinger Center this week for the first International Air Transport Union Symposium. The three-day conference gave workers' representatives from six countries an opportunity to develop global trade union strategies on behalf of air transport workers worldwide.

"If corporations can generate products and services on a global basis, there must be global recognition of workers' rights," said IP Tom Buffenbarger, who emphasized the need for air transport unions to support one another's activities regardless of national boundaries.

"An airline doesn't operate in a vacuum," said Transportation GVP Robert Roach, Jr. "In a world where airlines have created global alliances, air transportation workers around the world must forge similar alliances. We must live and breathe international solidarity as we have never done before."

Related Links:
IAM Transportation
International Affairs
---
AFL-CIO Names New Board Members
The AFL-CIO named six new members to its Executive Council at its quarterly meeting in Chicago. All of the new members filled vacancies on the Council. The new members are: Joe Hunt, president, Iron Workers; Cheryl Johnson, president, United American Nurses; Bruce Raynor, president, Union of Needletrades, Industrial and Textile Employees (UNITE); Cecil Roberts, president, Mine Workers; Ed Sullivan, president, AFL-CIO Building Trades Department and Clyde Rivers, president, California School Employees Association.

The 54-member Council is the highest-ranking leadership body in the union movement.

---
Industrial Conference Deadline Nears
August 20 marks the cut-off date for room reservations at the Hyatt Regency Atlanta, site of the IAM Industrial Conference slated for September 16-20. Delegates who have not booked rooms for the conference are urged to do so as soon as possible. The hotel can be reached toll-free at 800-233-1234. Tell them you are attending the IAM Industrial Conference.
---