Web Highlights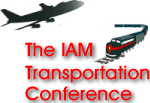 Breaking News Video: IAM Transpo delegates head to the Big Apple. See it now . . .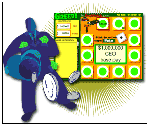 Play Greed, The Executive PayWatch Board Game Greed takes you through a story of what life is like for a millionaire CEO and a worker struggling to make ends meet. Just click to roll the dice to see if you end up on Easy Street or Tough Luck Row.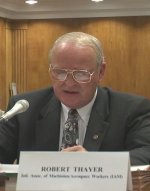 GVP Thayer Rips China Trade Deals. Thayer tells commission the costs of bilateral trade deals with China.
Breaking News video.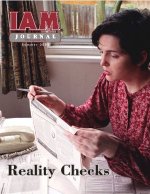 Read The Summer IAM Journal Online
The IAM takes an in-depth look at the Unemployment Insurance system.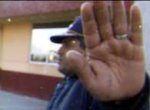 Behind the Label:
When employees of Mexico's Kukdong apparel factory stopped work to protest the firing of five coworkers, management called local police and had the strikers forcibly removed from company grounds. Read this and other stories of workers in the global clothing industry.

The IAM's
Executive Council
Friday, August 17, 2001
---
Transportation Conference Delegates Set Goals
After a rafter-rattling address by IP Tom Buffenbarger, and a stirring call to action by AFL-CIO Secretary-Treasurer Richard Trumka, delegates to the 2001 Transportation Conference stepped up and delivered a set of goals worthy of the most powerful transportation union in North America.

"Through their delegates, the members have spoken," said Transportation GVP and conference chairman Robert Roach, Jr. "They want their union to continue organizing, to take advantage of innovations in communication technology, to remain politically involved and militant on behalf of worker's rights, and to continue the fight against the negative effects of global trade." The delegates also received detailed reports on progress toward goals they set at the previous transportation conference.

Delegates heard from Dave Ritchie, Canadian GVP and conference co-chairman who linked the issues of world trade and raider activity in the U.S. and Canada. "Raiders don't recognize the threat to airline jobs posed by globalization, and they definitely don't understand that united we stand and divided we fall."

Cheryl Eastburn, director of the IAM Women's Department, profiled the growth and influence of union women in the IAM transportation department. "In four years, the total number of IAM women jumped from 16.4 percent to 24 percent," said Eastburn. "Today, 44 percent of all airline and railroad workers in the IAM are women. We are also filling leadership roles at every level of this great union."

More than 10,000 railroad workers are represented by the IAM. Railroad Coordinator Mark Filipovic spoke on the ill-advised efforts to dismantle AMTRAK. "Nowhere else in the world is national passenger rail service expected to be self sufficient," said Filipovic. He called on delegates to contact their representatives in congress and urge support for continued federal funding of AMTRAK.
---
Lawyers Welcomed By Transpo Delegates
With only a passing reference to the line from Shakespeare regarding killing all the lawyers, IAM general counsel Allison Beck introduced a panel of labor attorneys whose work was critical to some of the IAM's most important victories in the past year.

IAM associate general counsel David Neigus spoke of the successful IAM efforts to defeat legal obstacles during the AeroMexico and ATA organizing drives. "Proving a charge of carrier interference is difficult," said Neigus. "In each case, sworn statements of employees made all the difference.
The IAM organizers who went out and got those statements deserve to be congratulated."

Joseph Guerrieri spoke passionately of IAM legal battles to protect TWA employees from broken promises and plans by American Airlines to penalize senior employees and retirees. "It is unconscionable what American Airlines is proposing," said Guerrieri.

Mary Cornish, a noted Canadian labor attorney and Bob Bush, counsel to IAM Districts 141 and 141-M also addressed the delegates. Bush spoke of injunctions, restraining orders and the extended negotiations with employee-owned United Airlines. "We will get an industry-leading contract out of United Airlines, voluntarily or involuntarily. Either way, we'll get it."
---
US Airways Pitches Radical Restructuring Plans
Unions reacted angrily while Wall Street yawned at plans by US Airways to radically restructure the carrier. A key component of the plan calls for an unspecified number of regional jets to replace larger mainline jets. Pilots at US Airways are paid according to the size aircraft they fly and representatives of the pilot's union at US Airways stated "…this management is on the path to declaring war."

IAM representatives met with US Airways officials and dismissed suggestions they revise current contracts to allow parts of the restructuring plan to go forward. "The current IAM-US Airways agreement does not become amendable until October 2004," said Scotty Ford, District 141-M president, representing mechanic and related employees at US Airways. "And we will not open our contract for changes prior to the amendable date."

"US Airways is not a failing carrier," said Randy Canale, District 141 president, representing Fleet Service members at US Airways. "There is insufficient evidence to justify tactics normally used to rescue bankrupt carriers. We do not believe it is necessary to destroy US Airways to save it."

Related Links:
IAM Transportation
---
Communications Conference Signup Due Soon
The second and final call to the 2001 IAM Communications Conference has been sent to all IAM locals and districts, and time is running short to register. This year's conference which will be held in Seattle, Washington, begins with registration Sunday, October 28, and runs through Wednesday, October 31. The conference theme, "Break On Through" will feature the newest communication tools, hands-on workshops, and the annual IAM Newsletter & Website Contest Awards. Questions about the conference should be directed to the IAM Communications Department, 301-967-4520.
---
Conference Delegates To Visit IAM Archives
This year's IAM Industrial Conference will feature a tour of the IAM Archives which are housed at Georgia State University in Atlanta. The tour is set for the afternoon of Sunday, September 16. Delegates, spouses or guests must sign up for the tour during registration on Saturday or Sunday morning.

---