Web Highlights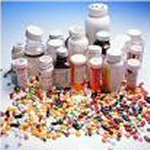 Noteworthy News:
High prescription prices are a major factor in driving up medical costs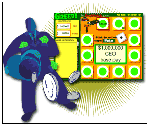 Play Greed, The Executive PayWatch Board Game Greed takes you through a story of what life is like for a millionaire CEO and a worker struggling to make ends meet. Just click to roll the dice to see if you end up on Easy Street or Tough Luck Row.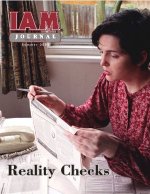 Read The Summer IAM Journal Online
The IAM takes an in-depth look at the Unemployment Insurance system.

The IAM's
Executive Council
Friday, August 24, 2001
---
IAM Dedicates Memorial to Fallen Members
No one expects to lose their life at their job, but far too often it happens. Each workplace death leaves behind shocked co-workers and devastated families. IAM members and families from across the country gathered at the William W. Winpisinger Education and Technology Center to dedicate a new permanent memorial to honor IAM members who lost their lives on the job.

"It's been eleven years and not a day goes by that our family doesn't think of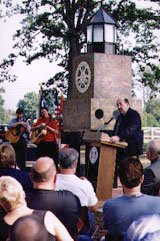 my father," said Local 568 member Brandon Smith. His father, Brent Smith, was killed when the welds gave way on the lift he was working in. Brandon now works at the same company, Kennecott Utah Copper, as his father. "I think of all the graduations, weddings and most of all the grandchildren he's missed. I now advocate for safety at my job. I tell people to please be careful, because it's your families that will miss you most."

"Our fight for safety is perpetual," declared IAM President Tom Buffenbarger.

"From this day on, this lighthouse will be an eternal beacon for our fallen brothers and sisters. We must use this occasion to rededicate ourselves to the cause of a safe workplace."

The Workers' Memorial features a sculpture of a lighthouse with the names of fallen IAM members inscribed in bricks around its base. The fallen members' names were submitted by IAM locals and family members. For photos of the memorial service, go to:
http://www.goiam.org/visit.asp?c=1965.
---
Get Ready for Labor Day and Union Label Week
Help put Labor back in Labor Day by raising awareness about working family issues. The AFL-CIO has Labor Day sample fliers, background information fact sheets available at http://www.aflcio.org/workingfamiliestoolkit/index.htm.

During Labor Day week, the AFL-CIO will release a new study on American workers' attitudes toward work, the economy and employers (information about the study is on the working families toolkit page, or call 202-637-5279).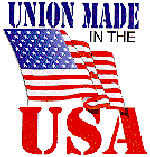 The federation will also host its annual Online Labor Day Festival at www.aflcio.org.
Don't stop at Labor Day either. Use the entire week to make an extra effort to look for the union label when you shop. Spread the word in your community about the benefits of being a union member, too. The AFL-CIO's Union Label and Service Trades Dept. designated the entire week Union Label Week 2001, starting Labor Day Sept. 3 and ending Sept. 8. A sample editorial, graphics, a Union Label Week 2001 Proclamation and other materials are available at the Union Label Dept.'s web site: http://www.unionlabel.org or by calling 202-638-2131.
A sample Labor Day message that you can use as a letter to the editor of your local paper or other Labor Day activities is attached. The text is online at
http://www.iamaw.org/publications/imail/labor_day_letter.htm.
---
Senate Bill Attacks Collective Bargaining Rights
A Senate bill promoted by airline lobbyists and sponsored by John McCain (R-AZ), Trent Lott (R-MS) and Conrad Burns (R-MT) will eliminate airline workers' right to vote on their contracts, as well as their legal right to strike.

If passed into law, the Airline Labor Dispute Resolution Act (S. 1327) will allow the Secretary of Transportation to force airlines and unions into 'baseball arbitration'. Named after the type of arbitration used to settle contract disputes between major league baseball players and owners, the bill will require each side to present a comprehensive package to an arbitrator. The arbitrator then chooses one of the packages in its entirety.

"Baseball arbitration is a system set up to settle contract disputes between millionaire ball players and billionaire owners," said Transportation GVP Robert Roach, Jr. "Airline contract provisions can be the difference between keeping a job and unemployment. The stakes are too high to have anyone but the employees themselves make the final decision to accept or reject a contract."

All IAM members should contact their elected representatives in Congress and demand S. 1327 strike out. Visit the IAM's Legislative and Political Action page at http://www.goiam.org/politics.asp to send an Action Alert to your legislators.
---
IAM National Pension Fund Offers 401(k) Plan
The IAM National Pension Fund announced it will make a 401(k) plan available to more than 4,000 companies whose employees participate in the IAM National Pension Plan or other defined benefit pension plan.

"Our members are looking for ways to bolster their retirement savings and this is a fine adjunct to their pension plan," said Don Wharton, IAM secretary-treasurer and co-chairman of the board of trustees of the IAM National Pension Fund.

Wharton encouraged participation in the plan, which will be available September 1 and be administered by CitiStreet, a joint venture of State Street Corp. and Citigroup. The new 401(k) will be participant-directed and include a package of 12 core funds including the SSgA IAM Shares Mutual Fund.
---
Tentative Agreement Reached at PSA Airlines
After 14 months of direct and mediated talks, District 141-M negotiators reached a tentative agreement with PSA Airlines, a wholly owned subsidiary of US Airways. Improvements in the 4-year agreement covering 150 Mechanic and Related employees include general wage increases, a signing bonus, new taxi and run-up premiums and elimination of an intern program. Ratification meetings will be held September 10, 11 and 12.

---