Web Highlights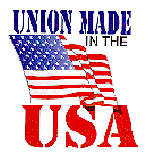 Get Ready for
Labor Day &
Union Label Week
Raise awareness about working family issues. The AFL-CIO has Labor Day sample fliers, background information fact sheets available online.


Celebrate this Labor Day Online
Join the AFL-CIO in the Online Labor Day Festival at www.aflcio.org.


Union Label Week Begins September 3
Use the entire week to make an extra effort to look for the union label when you shop. Spread the word in your community about the benefits of being a union member, too.


Send a Labor day Message to Your Hometown Newspaper
A sample Labor Day message that you can use as a letter to the editor of your local paper or other Labor Day activities is linked to this page.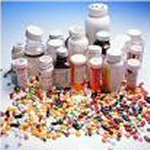 Noteworthy News:
High prescription prices are a major factor in driving up medical costs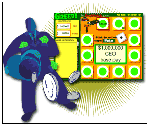 Play Greed, The Executive PayWatch Board Game Greed takes you through a story of what life is like for a millionaire CEO and a worker struggling to make ends meet. Just click to roll the dice to see if you end up on Easy Street or Tough Luck Row.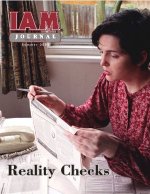 Read The Summer IAM Journal Online
The IAM takes an in-depth look at the Unemployment Insurance system.

The IAM's
Executive Council
Tuesday, August 28, 2001
---
Two Members Die in Midair Collision
The IAM lost two valued members on Monday, August 27th when the aircraft they were piloting collided in midair. The two pilots, Larry Groff and Lars Stratte of Local 946 in Rancho Cordova, worked for San Joaquin Helicopters and were fighting forest fires in Northern California.

"Our hearts go out to the families of these members and their co-workers," said IAM President Tom Buffenbarger. "I hope they know the prayers and thoughts of this entire union are with them today."

Groff and Stratte were killed when their air tankers slammed into each other over a raging wildfire. They were experienced military veterans doing incredibly dangerous work, state fire officials said. The smokey conditions, the fast shifts in weight, the turbulent winds, as well as constantly dealing with obstructions like trees and power lines make this a very difficult exercise.

These workers were part of a group that had voted to join the IAM last April and just ratified their first contract this past week. Grand Lodge Representative Gerry Greer, who led the negotiations, said that the pilots were "a very dedicated, brave group. Their job is one of the most dangerous occupations that exists."

"Workplace injuries and deaths occur too often. We need to remain ever vigilant," said Western Territory GVP Lee Pearson. "These new brothers made the ultimate sacrifice trying to protect the families in the regions where the fires are occurring. Our sympathy and prayers go out to the families of these brave young men."



---
Local 777 Strike Ends in Victory
Nearly 1,700 members of IAM Local 777 began returning to work today after reaching agreement ending a 27-day strike at 69 auto dealerships in the greater St. Louis metropolitan area. The three-year agreement addresses work schedules, pension improvements and wage scales that led to the work stoppage. Federal mediators helped work out the proposal, noted DBR Jim Brown, District 9.

"These members never wavered in their commitment to do whatever it took to reach agreement," Brown said. "They stood firm from start to finish." The unit is comprised of body workers, mechanics, service writers and support staff.
---
Planning Begins for Lockheed Talks
Strategic planning for contract talks covering more than 5,000 members at Lockheed Martin got underway with a session chaired by GVP Bob Thayer in Palmdale, CA, last week, reported Dick Floyd, aerospace coordinator. "Job security ranks high on the priority list," Floyd noted. "Out-sourcing has been a major issue."

Thayer said contract talks could begin later this year after contract proposals are crafted based upon membership surveys. The current agreement expires March 1, 2002.
---
District 9 Notches Missouri Organizing Wins
IAM District 9 won two organizing drives bringing marine service technicians in Lake of the Ozarks, MO to IAM District 9 in Bridgeton, MO. Lake of the Ozarks is located in central Missouri.

The first win was on Tuesday, July 31, 2001 for 9 marine technicians at Village Marina. The second win was on Wednesday, August 1, 2001 for 12 marine technicians at Port Arrowhead. These new members repair and assemble boats that range up to 57 feet long. Some of the most popular selling boats they work on are $400,000 to $1.3 million craft.

District 9 scored yet another organizing win on Thursday, August 2, 2001 in Granite City, IL at Phillips Service Corporation, a commercial tank cleaning service. Scott Stackle, District 9 Organizer said, "These workers were unanimously for IAM representation."
---
GLR Ted Neima Tapped for State Panel
California Gov. Gray Davis named GLR Ted Neima to the state's Public Employment Relations Board (PERB). Earlier, Neima served as special assistant to the Labor Commissioner from 1983-84.

"We are proud of Ted and excited for him. Gov. Davis has chosen a true champion of the people, we applaud his decision," said Western territory GVP Lee Pearson. "Ted has been a true journeyman in his fight to serve IAM members. We all wish him well."

The Board administers the collective bargaining statutes that cover employees of California's wide-ranging agencies.
---
Celebrate Union Label Week 2001
Spread the union message to those outside the trade union movement who have little concept of the contributions of America's union to our nation's progress. That's why Union Label Week 2001 is so important. It begins on Labor Day and continues through September 8. Use the week to look for the union label when you shop. Use this opportunity to spread the word about the benefits of union membership in your community.

A sample editorial, graphics, a Union Labor Week 2001 proclamation and other materials are available at the Union Label Dept's. Web site: www.unionlabel.org or by calling 202-628-2131.
---