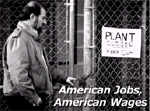 President Bush signed Fast Track legislation that will usher in a new round of NAFTA-style agreements.
To get the Facts about 'Free Trade' and its damaging effect on America's workers, read "The Real Cost of 'Free' Trade" from Vermont Congressman Bernie Sanders.
---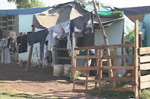 Video:
Live Here if You Dare
(For video, scroll down to the link in the 'Third Shift' section of the News page)
Join Eastern Territory IAM members in a tour of the Maquiladora area in Tijuana, Mexico to see firsthand the deplorable living and working conditions of Mexican workers.
---

This year's Union Label Week runs Sept. 2-7.
Download a full range of resources to help promote union-made products at the AFL-CIO Union Label and Service Trades website, www.unionlabel.org.
---


Get Your Convention Gear Check out gear for the 2004 IAM Convention
---

The IAM
Executive Council
International President
R. Thomas Buffenbarger

Secretary Treasurer
Donald E. Wharton

GVP Western
Territory
Lee Pearson

GVP Canada
Dave Ritchie

GVP Midwest
Territory
Alex M. Bay

GVP Headquarters
Robert V. Thayer

GVP Southern
Territory
George Hooper

GVP Eastern
Territory
Warren L. Mart

GVP Transportation
Robert Roach, Jr.
Thursday August 8, 2002


'Sir' Greenspan Deserves Royal Flush
Buckingham Palace announced this week that Federal Reserve chairman Alan Greenspan will receive an honorary British knighthood. "Awarding Federal Reserve chairman Alan Greenspan an honorary British knighthood for 'outstanding contribution to global economic stability' is like naming Enron's Ken Lay to be 'CEO of the Year,'" said IP Tom Buffenbarger. "It makes no sense to honor a man whose fiscal policies set this nation on a crash course with a job-killing recession."
News of the ceremonial appointment for Greenspan comes as speculation increases over his possible replacement. At 76, Greenspan is the oldest Federal Reserve chairman in history. Rumors abound that Greenspan could resign soon, giving President Bush the opportunity to appoint a Republican successor before the 2004 election. "There's no guarantee a Bush replacement for Greenspan would do any better, but he or she could hardly do any worse," said Buffenbarger.
---
Unions Oppose Bush Threats in Dock Talks
The AFL-CIO executive council voted this week to approve a resolution calling on President Bush to respect collective bargaining rights and step back from plans to interfere in negotiations between ship owners and 10,500 West Coast port workers represented by the International Longshore and Warehouse Union (ILWU).
The Bush administration recently convened a 'task force' with officials from Commerce, Labor, Transportation and Homeland Security departments and is considering military action if talks between ship owners and the ILWU fail.
The resolution urged President Bush to publicly pledge that he will not interfere in the collective bargaining process and under no circumstances use federal troops to interfere in a legitimate labor dispute.
Despite strong IAM support for the AFL-CIO resolution regarding collective bargaining rights, differences remain over proposed ILWU contract demands requiring port companies to abrogate existing collective bargaining agreements and replace them with ILWU agreements. "Existing collective bargaining agreements and long-standing union jurisdictions must be respected in any agreement between ILWU and port management," said IP Tom Buffenbarger.
---
United Airlines' UK Union Meets With IAM
Officials from the Transport and General Workers Union (TGWU), the largest transportation union in the United Kingdom, traveled to Washington, DC, this week to confer with the IAM regarding their current negotiations on behalf of 700 United Airlines Customer Service, Ramp and Cargo Agents at London's Heathrow Airport.
"The TGWU is facing some of the same obstacles we faced during two and a half years of negotiations with United Airlines," said General Vice President Robert Roach, Jr. "Through meetings like this, both unions learn from each other and form a partnership to better represent working families."
"We are here to build links for the future, and hope to meet on a regular basis," said Oliver Richardson, Regional Industrial Organizer for the TGWU. "This is the start of a new relationship for both unions. These meetings have been extremely helpful and productive we are sure our members in London will realize the benefits arising out of our discussions."
---
District 837 Machinist Wins
Missouri Primary Race
IAM Local 837B member Bruce Darrough won the Democratic primary election for State Representative in Missouri's 75th district. Darrough captured 73 percent of the Democratic vote in North St. Louis County and is preparing for the general election in November. Darrough focused on affordable retiree health care and lower prescription drug costs.
"Bruce Darrough did a great job in Missouri. He is one of many Machinists getting involved and running for elected office," said IP Tom Buffenbarger. "The more working people we elect, the more responsive government will be to all Americans who work hard and want to build a better life for their families."
Darrough is an Assembly Inspector at the Boeing Company in St. Louis and currently serves as Local 837B's Secretary-Treasurer.
---
Western Territory Marks "First" Contracts
Members at Fairhaven Shipyard, Bill Brandt Ford, and Cubic Worldwide Technical Services achieved their first-ever IAM contracts. The Fairhaven employees arrived at an agreement with the company only four weeks after it was organized. The 28-member unit there is expected to grow to 40 by the end of the year.
The Bill Brandt workers had a tougher row to hoe. It took them five months of tough negotiations and a one-day strike to win a first agreement.
Seventeen IAM members at Cubic Worldwide Technical Services will enjoy wage increases, shift premiums, and coverage by the IAM National Pension Plan after negotiating their first contract.
Meanwhile, 11 Automotive Technicians at Town and Country Chrylser in Portland, Oregon are now represented by the IAM. Their next step in the process will be to negotiate a first contract.
---
Celebrate Union Label Week, Sept. 2-7
Union Label Week 2002 is September 2-7, beginning Labor Day and running through Saturday. Union Label Week is a good opportunity to publicize the added value union membership creates for the entire nation.
Today, American markets are flooded with sweatshop produced retail goods—clothing, tools, toys, sporting goods and other consumer items. We can help change that by getting our employers to buy union made products and putting pressure on our local governments to buy union-made products when they spend taxpayer dollars.
For more information about Union Label Week, including sample op-ed pieces, radio spots, a Union Label Week Proclamation and camera-ready artwork, go to www.unionlabel.org.
---
iMail Delivery Shifts to Thursday
In response to reader requests, iMail delivery will switch from the current Tuesdays and Fridays to Tuesdays and Thursdays. Switching to Thursdays will give locals who distribute iMail more time to get it to the shop floor without having to wait an entire weekend, especially when there is an action item for important votes in Congress.
---