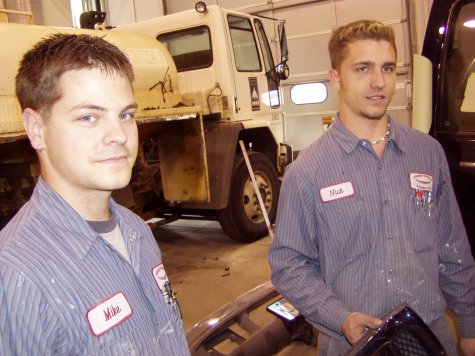 IAM mechanics Mike Bergman, Lead Body Shop Mechanic,
and Nick Rasmussen Apprentice Body Shop Technician at Kremer Spring, Alignment & Body in Inver Grove heights, Minnesota.
A Random Act of Kindness
The weekly "Sainted or Tainted" column in the St. Paul Pioneer Press regularly features the best and worst behavior among Minnesota residents. In the August 7 column, several IAM auto mechanics joined the ranks of the "Sainted" for an unusual act of generosity.
When Terri Cheney of Rosemount, MN brought her husband's car to Kremer Spring & Alignment in Inver Grove Heights for some minor repair work, she expected to pick the car up later that afternoon after paying approximately $150.
"It came out in casual conversation when I dropped the vehicle off in the morning that my husband is serving in Iraq," said Cheney. "When I arrived to pick it up in afternoon, they said the job was "on them" as a thank you for my husband's service to the country. I never even saw a bill."
Auto mechanics at Kremer Spring & Alignment, Mike Bergman and Nick Rasmussen, are members of IAM Local 459, District 77.

"These members and this dealership certainly deserve to be applauded for their thoughtful and patriotic act of kindness," said IP Buffenbarger. "On behalf of the entire IAM membership, I want to thank them for demonstrating what this union and this country are really all about."
IAM Seeks Court Appointed Trustee at UAL
In the escalating drama over the future of United Airlines, the IAM filed a motion in a Chicago, Illinois bankruptcy court asking judge Eugene Wedoff to appoint a Chapter 11 trustee to oversee United Airlines' bankruptcy.
"United Airlines management has thrown away the trust and respect of its employees," said Transportation GVP Robert Roach, Jr. "No airline can successfully exit Chapter 11 without employee support. This management team has placed UAL on a collision course with disaster."
United Airlines entered into a July 23, 2004 financing agreement that effectively prohibits the carrier from making legally required payments to fund employee pension plans.
"United's employees, creditors and customers deserve management that will operate effectively and within the boundaries of law," said Randy Canale, President of IAM District 141. "The immediate appointment of a trustee is essential to the recovery of United Airlines."
The IAM also filed a separate motion objecting to United's bankruptcy court request for an extension of its exclusivity period in which to file a plan of reorganization. Both IAM motions are available at .
Read the AFL-CIO Executive Council resolution on protecting pensions at United Airlines.
Boeing Continues To Explore Outsourcing
Boeing is considering the sale of yet another manufacturing operation, this time a Canadian plant employing about 400 people in Arnprior, Ontario. Members of IAM Local 1542 at the Canadian plant were told last week that the company has identified the Arnprior plant as one that no longer fits its "strategic focus."

Company officials said there is no deal currently in the works and that "Boeing hasn't set a deadline by which a sale must be completed, nor has it decided for certain that it will sell." Meanwhile the lives of the employees are on hold.

In April, the company said it was trying to sell its commercial manufacturing operation in Wichita, which employs more than 3,000 IAM members, and two smaller Oklahoma plants in Tulsa and McAlester. This year the company also sold its commercial-electronics division, based in Irving, Texas.

The Arnprior plant that is part of Boeing Commercial Airplanes and produces metal and machined parts for five models of Boeing airplanes - the 737, 747, 757, 767 and 777 , which other facilities use in assembling finished airplanes.

Boeing's two other Canadian facilities in Winnipeg and Mississauga aren't affected by the decision to seek a buyer for the Arnprior plant.
Iowa Machinist Featured on National News
Machinist Jerry Nowadzky, 49, of Montilcello, Iowa, is fast becoming a national icon representing American workers as he travels the country talking about the devastating effects outsourcing.
Nowadzky, President of IAM District 6, first came to national attention in January during the IAM "Wall of Shame" tour across Iowa, telling his story about being laid off from two different Machinist jobs. One job was outsourced to China and the other was sent to Mexico. He now works at a supermarket making half of what he used to make.
Nowadzky recently appeared on stage during the Democratic National Convention in Boston and was prominently featured in news stories during the AFL-CIO "Show Us the Jobs" bus tour. Earlier this week, Nowadzky could be seen on the CBS Evening News talking once again about the lack of good paying jobs and the difficulties still being faced by ordinary Americans trying to survive in the worst job market in decades.
Bush Budget Blamed for Record Deficit
The federal deficit has hit a record $395.8 billion, the Treasury Department reported this week, continuing a string of dubious economic records broken by the Bush administration.
With two months still left to go in the fiscal year, the Bush administration expects the deficit to hit $445 billion by the end of the year. The enormous deficit will mark the third straight deficit under Bush's watch after a string of budget surpluses during the Clinton administration.
The $395 budget deficit is up 22 percent from the same time last year and shatters 2003's record $374.3 billion budget deficit.
Democratic presidential hopeful John Kerry and other Democrats point to the Bush Administration's massive tax cuts, which have primarily benefited the wealthy, as the main reason for the ballooning deficit. Kerry has pledged to cut the deficit in half over the next five years if he is elected President.
Oil Hits Record High
Crude oil prices hit a record high of $45.13 a barrel on Thursday due to worries over further attacks on oil supplies by Iraqi militants. Prices had peaked at $45.04 a barrel on Tuesday after the Iraqi Shi'ite militia led by cleric Moqtada al-Sadr attacked the country's largest oil supplier on Monday.
The news of Thursday's record came as no surprise as oil prices have continued to sky-rocket this summer. Since the end of June, U.S. prices are up 19 percent, or $7 per barrel.
The record-setting crude oil prices have led to an economic slowdown as gas prices, which are at a national average of $1.867 a gallon, have led to a slowdown in consumer spending.
Prices will likely continue to hover around $45 a barrel or even higher due to worries about Russian oil supplier YUKOS and continued concern over a limited global supply.
Federal Reserve Raises Rates Again
Dismissing widespread concerns that the economic recovery is faltering, Federal Reserve officials announced this week that interest rates would be raised from 1.25 percent to 1.50 percent.
The increase comes despite government reports last week that only 32,000 jobs were created in July, the poorest showing this year and far below the 200,000-plus jobs analysts had been expecting.
"The softness in the economy isn't mostly about oil," said Jared Bernstein, senior economist at the Economic Policy Institute, referring to record high prices for crude oil. "It's as much about the weakening labor market, and raising rates is precisely the wrong medicine for that problem."