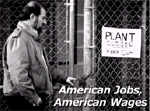 President Bush signed Fast Track legislation that will usher in a new round of NAFTA-style agreements.
To get the Facts about 'Free Trade' and its damaging effect on America's workers, read "The Real Cost of 'Free' Trade" from Vermont Congressman Bernie Sanders.
---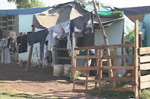 Video:
Live Here if You Dare
(For video, scroll down to the link in the 'Third Shift' section of the News page)
Join Eastern Territory IAM members in a tour of the Maquiladora area in Tijuana, Mexico to see firsthand the deplorable living and working conditions of Mexican workers.
---

This year's Union Label Week runs Sept. 2-7.
Download a full range of resources to help promote union-made products at the AFL-CIO Union Label and Service Trades website, www.unionlabel.org.
---


Get Your Convention Gear Check out gear for the 2004 IAM Convention
---

The IAM
Executive Council
International President
R. Thomas Buffenbarger

Secretary Treasurer
Donald E. Wharton

GVP Western
Territory
Lee Pearson

GVP Canada
Dave Ritchie

GVP Midwest
Territory
Alex M. Bay

GVP Headquarters
Robert V. Thayer

GVP Southern
Territory
George Hooper

GVP Eastern
Territory
Warren L. Mart

GVP Transportation
Robert Roach, Jr.
Tuesday August 13, 2002


US Airways Members to Vote
on Restructuring Proposals
IAM Mechanics and Fleet Service workers at US Airways will vote later this month on a company-proposed restructuring package aimed at returning the carrier to financial stability. US Airways entered Chapter 11 bankruptcy protection on August 11 with a goal of emerging by early 2003.
The proposals by US Airways follow weeks of meetings where IAM representatives sought to limit the negative impact of any restructuring plan on employees. "We believe US Airways can successfully restructure while it continues to serve the traveling public and provide employment for our members," said GVP Robert Roach, Jr. "With the help of bankruptcy attorneys hired months ago, we will represent our members' interests with the company and throughout the court proceedings."
Details of the company's restructuring proposals will be presented to Mechanics and Fleet Service committee representatives in a series of meetings on August 14 and 15. Voting will follow informational meetings for members who will then accept or reject the company's proposals.
---
GOP Ducks Social Security Issue
A spreading rash of corporate scandals and stock market slumps puts a new spin on White House plans to "privatize" the Social Security program. More and more Republican candidates in the November elections are "running for cover" on the politically volatile issue.
"Politics always gets in the way of serious policy," noted Rep. Jim Kolbe, R-AZ, who authored a bill to privatize the nation's most successful social program. "I think it's a mistake not to stick with the president's position," he added.
Senior citizens, who rely on Social Security for groceries and other needs, vote in large numbers. With more and more 401(k) retirement plans losing value in a sagging stock market, Social Security checks become even more vital to retirees and older workers.
Democrats hope to turn those sentiments into a wedge issue and use it to help regain a House majority in the looming election.
---
Boeing Machinists Join Massive March
for Longshore Workers
With only two weeks left before their own contract expires, Boeing Machinists joined 2,500 area unionists Monday, jamming the streets of Seattle in a powerful show of solidarity with the International Longshore and Warehouse Union.
"When the president of the United States threatens to use National Guard troops to smash a strike, that is a direct, mortal threat to the freedom of union members everywhere," said Bruce Spalding, secretary treasurer of IAM District 751, Seattle.
The massive march halted traffic for two miles along the main thoroughfare serving Seattle's waterfront. Similar marches took place Monday in San Diego, Los Angeles, Oakland, San Francisco and Portland.
President Bush has threatened to use federal troops to keep U.S. ports open if stalled contract talks lead to a strike or lockout.
---
Local 1759 Plans 'Hawgs for Dogs' Ride
The Second Annual Northern Virginia "Hawgs for Dogs" rally kicks off September 21. IAM Local 1759 sponsors the event, which raised more than $8,700 for Guide Dogs of America from last year's inaugural event. For more information, go to www.novahawgsfordogs.org.
---