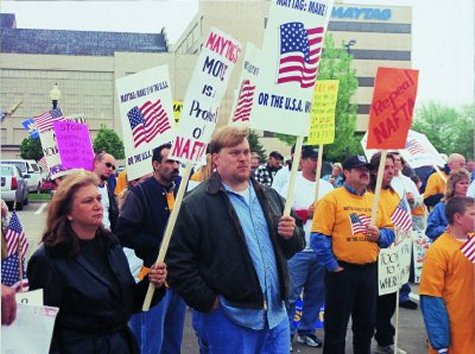 Maytag workers protest the closing of the company's Galesburg, Illinois plant. County officials there may sue the appliance maker to recover tax breaks awarded the company.
Galesburg Sues to Recover Maytag Tax Cuts
A prosecutor in the western Illinois town where Maytag Corp. plans to close a major factory is planning to sue the company to recoup property tax breaks.

Knox County State's Attorney Paul Mangieri plans to sue Maytag, alleging the nation's third-largest appliance maker owes more than $1.1 million in property taxes on its soon-to-be-closed Galesburg manufacturing plant. Mangieri alleges the company was allowed no more than $1 million in tax abatements on new buildings or improvements over 10 years but deducted more than $2 million during the 1990s for warehouse renovations.

''Maytag's announcement of its closure struck this community out of the blue,'' said Mangieri when Maytag announced plans to shift production to Reynosa, Mexico.

"What about all those incentives and tax breaks given to Maytag to help retain and maintain that business in our community?''

Dave Bevard, president of IAM Local 2063 in Galesburg, said the lawsuit is one way to hold Maytag to the same standards it publicly embraces. "Maytag talks a lot about accountability. They weren't very accountable when they announced plans to close our facility," said Bevard. "They said the workers weren't accountable, it was management. Yet it was the workers that took the hit."

Mangieri said he won't file the suit until the city and township of Galesburg, Knox County, the Galesburg Sanitary District, the Galesburg School District or Carl Sandburg College gives him authority to sue Maytag on their behalves.

About 380 of the plant's 1,600 employees have been laid off, and 875 full-time production workers received two months' notice in July that they were losing their jobs. About 200 employees will continue working until February 2005.
AFL-CIO Condemns Bush on Shipping Jobs Overseas
The lack of good jobs, the record trade deficit and the refusal of foreign nations to eliminate unfair trade practices can be attributed directly to faulty domestic and foreign policies by the Bush Administration, according to a recent AFL-CIO issue brief titled "The Bush Record on Shipping Jobs Overseas."
The brief outlines the dubious record of actions and non-actions by the Bush Administration that have led to a rapidly deteriorating economy and trade landscape for the United States.
It examines Bush's refusal to enforce domestic trade laws, to use existing trade laws to address blatant violations of worker's rights and to heed recommendations from his own administration to take action against surges of imports from China and other nations.
A laundry list of additional missteps by Bush is also addressed including tax breaks for foreign production and more government contracts and initiatives for companies that destroy American jobs.
"The nation's record-setting trade deficit in June, up 58 percent over the same month two years ago, is damning confirmation of the administration's failed trade policies," declared AFL-CIO President John J. Sweeney.
More Americans Favor Kerry on Economic Issues
A majority of Americans disapprove of the way President Bush is handling the economy and feel Democratic Presidential hopeful John Kerry is better equipped to improve economic conditions, according to a poll released Thursday by The Pew Research Center for the People and the Press.
Two-thirds of respondents rate the national economy as "only fair" or "poor," while 52 percent disapprove of the way Bush is handling the economy. Meanwhile, 52 percent of those polled feel Kerry is more likely to improve the country's economic conditions, compared to only 37 percent for Bush.
The poll, which found that Kerry is rated above Bush on all key domestic issues including the economy, health care and education, confirmed the wide-spread belief that there will be very few swing voters in November's presidential election.
Only 22 percent of respondents are undecided or say there is a chance they will change their minds. Of those people, 42 percent said that Kerry "cares about people like me," while only 22 percent said the same of Bush.
District 98 BR Suffers Loss In Iraq
Tom Santone, Business Representative for District 98, became a part of a growing number of U.S. families that have suffered a loss in the Iraq conflict. Santone's son-in-law, Army1st Lieutenant Neil Anthony Santoriello, was killed in action when an improvised explosive device detonated near his mounted reconnaissance patrol vehicle on August 13 in Khalidiyah, Iraq.

Lieutenant Santoriello, 24, of Verona, Pennsylvania, was assigned to the 1st Battalion, 34th Armor, 1st Brigade, 1st Infantry Division, at Fort Riley, Kansas. Santoriello was an Eagle Scout and a member of Boy Scout Troop 139 in Verona and Penn Hills, Pa. He graduated from Penn Hills High School and Dickinson College, where he was a member of the ROTC.

"A grateful nation and the IAM family sends its thoughts and prayers to the Santone and Santoriello families during their time of loss," said Tom Buffenbarger IAM President. Arrangements for the funeral and services are still pending. Internment will be at Arlington National Cemetery on Tuesday August 24 th at 9 A.M.
No Jobs, Less Pay
After being adjusted for inflation, workers' earnings are decreasing across all sectors of the economy, according to a report, "Bush's Jobless, Payless 'Recovery,'" from the Labor Research Association (LRA), which also predicts minimal growth in earnings in 2005.
The Bureau of Labor Statistics recently reported that during the year ending June 2004, workers' real earnings actually decreased 9 out of 12 months, a statistic that can partially be attributed to the Bush administration's decision to ignore the ongoing high rates of unemployment.
The LRA also reports that 60 percent of the jobs created between June 2003 and June 2004 were in low-wage industries paying less than $13.30 an hour.
Ten percent of the U.S. workforce remains either unemployed or underemployed, according to the LRA. They provide compelling statistics to show that wages will not rise in 2005 either.
Surveys by Mercer, World@Work and The Conference Board all point to minimal increases in worker's wages next year.
McKinnon Joins Western Territory Staff
Brother Matt McKinnon will join the Western Territory staff as a Special Representative, announced General Vice President Lee Pearson. McKinnon has held several important positions throughout IAM in his 25 years of service including Steward, Executive Board member, Trustee, and Civil Rights Committee member for Local Lodge 685; Business Representative for District 50; and IAM National Planning Committee Member.
Brother McKinnon was also assigned to one of the first Political Education classes at the Winpisinger Center, which he used to create grassroots campaigns in San Diego to raise the profile of working family issues. McKinnon worked under Governor Gray Davis on the California Air Resources Board and served as the first Deputy Secretary of Labor for Workforce and Economic Development.
McKinnon was awarded the "Labor Visionary of 1998" by the California Labor Federation and "Labor Leader of the Year" awards from the Tri-County Labor Council and the Riverside-San Bernardino Labor Council.
IAM Mourns Retired GLR H.C. "Bubba" Summers
The Southern Territory regrets to announce the death of retired Grand Lodge Representative H.C. "Bubba" Summers who died Wednesday, August 18, 2004.

"Bubba was famous for his dealings with the NLRB," said Southern Territory GLR Tommy Daves. "He was responsible for some of the early labor law precedent created from cases he handled before the board. He was superb at getting them to rule in our favor.

"He was my mentor when I started as an IAM representative. The labor movement will miss him, and I know his friends, family, and fellow unionists will miss him," said Daves.

Visitation is today at the Northside Chapel, 12050 Crabapple St., Roswell, Ga. from 4:00 – 7:00 P.M. The Funeral is Friday, August 20, 2004 at 11:00 A.M.