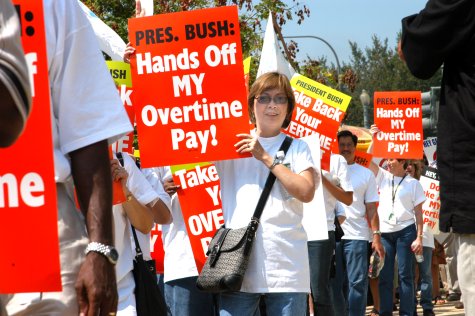 Nearly a thousand workers rallied outside the U.S. Department of Labor yesterday, protesting the Bush Administration's new overtime regulations
Workers Protest OT Regs Outside Labor Dept.
Nearly a thousand workers rallied outside the U.S. Department of Labor yesterday, protesting the Bush Administration's new overtime regulations, which could cost as many as 6 million workers their overtime pay.
Carrying signs such as "Bush Thinks Workers are Worth-Less" and "President Bush – Hands Off My Overtime pay," protesters called on Congress to repeal the regulations, which went into effect on August 23.
"The fight is not over yet," said Republican Sen. Arlen Specter of Pennsylvania, who along with Democratic Sen. Tom Harkin of Iowa and AFL-CIO President John Sweeney, pledged to continue to fight to have the new regulations changed. "History will record that on August 23 in the year 2004, America's workers suffered the single biggest pay cut ever – since the founding of our country," said Sweeney.
"If employers no longer have to pay time-and-a-half for overtime work, they will have an incentive to demand longer hours instead of creating more jobs, taking money from the pockets of middle-class working families," said Harkin.
In the high-stakes fight over pension plans at bankrupt United Airlines, attorneys for the company claimed the airline was using its "best business judgment" when it decided to suspend required funding for employee pension plans.
The claim outraged IAM members attending last week's bankruptcy court hearing in Chicago. "It is United's 'business judgment' that put this company into bankruptcy in the first place and it is because of United's 'business judgment' that an independent trustee should be appointed," said Randy Canale, President of District 141, representing more than 30,000 active and retired IAM members at United. A hearing on the IAM's request for a trustee is scheduled for September 17, 2004.
Attorneys for the airline also admitted in court that it was United Airlines, and not its lenders, as first reported, who proposed the suspension of pension payments as part of an amended Debtor in Possession (DIP) financing arrangement.
Despite vigorous opposition by the IAM, AFA and the Pension Benefit Guaranty Corporation, the court approved the carrier's latest financing package. Judge Wedoff indicated that the financing agreement, in and of itself, did not prohibit the company from making the required pension contributions.
The judge also warned that if United management failed to include its employees, their unions and creditors in their decision making process, he may allow other interested parties to present competing restructuring plans for the airline. Judge Wedoff stressed the critical role the employees play in the survival of the airline and the importance of the IAM and its members' participation in finding solutions to challenges facing United.
Report Shows Increased Outsourcing by States
In a new study done for Accenture, an outsourcing provider, national and state governments are rapidly joining the private sector in outsourcing key human resources and other functions.

The report says the outsourcing movement is taking hold in governments and government agencies, especially in countries such as the United Kingdom and Australia.
Some 10 to 15 states are now said to be considering HR outsourcing including the State of Florida, Detroit Public Schools and the Texas Health and Human Services Commission.

But, in the extremely partisan report conducted for a pro-outsourcing audience, the study notes that governments must carefully weigh negative consequences, such as job losses, skills transfers, unemployment costs and the disruption of local services against the promised benefits.
Member's Son Meets Kerry
Liam Buschel, son of Local 1725 Shop Steward and newsletter editor Rich Buschel, recently accompanied his father to a Town Hall Meeting in Charlotte, NC, where he met Democratic Presidential candidate John Kerry. " I hope you win," said Liam when he met Kerry. "I think you'll make a great president." Kerry thanked him and gave him a hug.
Seven-year old Liam, a veteran of many union meetings, rallies and other labor functions, is a member of Kids For Kerry, the grassroots organization founded by 12-year old Ilana Wexler. Wexler drew national attention recently at the Democratic National Convention, where she urged young people to get active in politics and chastised Vice President Dick Cheney for using "bad words" on the floor of the U.S. Senate.

At the Charlotte campaign stop, Kerry discussed his plans for jobs, healthcare, environment, energy and education. "I don't believe that anybody ought to work 30 years anywhere and have nothing to show for the 30 years except your experience," said Kerry, who remained after the meeting to shake hands, pose for pictures and sign autographs.
Illinois Protects State Workers OT Rights
Illinois Governor Rod Blagojevich declared that changes in overtime regulations instituted by the Bush Administration will not affect state workers as he signed a bill protecting workers who might lose overtime eligibility under the new federal rules.

The new Illinois law will protect an estimated 400,000 state workers. The Economic Policy Institute said approximately six million workers nationwide were likely to lose overtime benefits.
Blagojevich told the Labor Department that Illinois is ignoring the potentially negative impact of the federal law. "'Illinois law protects overtime pay for these workers," said Blagojevich. "We intend to keep in that way. If you work hard and then you work extra hard, you deserve to get paid extra money. That's overtime."
---
Past iMail | Your Email |www.goiam.org | Print Version | iMail Sign-Up