Raytheon's Mexico Move Raises Quality Concerns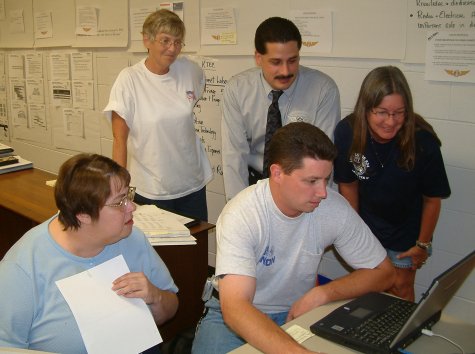 In the War Room: IAM Local 733 Subcontracting Committee works on plans to keep Raytheon wire harness jobs in Wichita. (l to r front): Colleen Peterson, Jeff Keniep (l to r back): Lee Carney, BR Frank Molina, Lori Love
Leaders of IAM District 70 are working overtime to complete a proposal they hope will convince Raytheon Aircraft to keep 350 wire harness jobs in Wichita.
The effort represents the second time IAM-represented employees mobilized to boost productivity at Raytheon in the face of threats to move the aircraft component assembly work to Mexico.
Over a year ago, workers devised ways to preserve quality while cutting wire harness assembly time by as much as 50 percent. The current union proposal includes shrinking management staffing levels. In some cases, the number of supervisors has risen from four to more than fifteen.
Plans by the company to shift the wire harness work to Mexico could also lead to costly quality control issues, according to Local 733 President James Rodehorst. "The company's reputation is at stake," said Rodehorst. "Regardless of labor costs in Mexico, there is no way to replace the years of experience and the commitment to quality of Raytheon IAM members in Wichita."
---