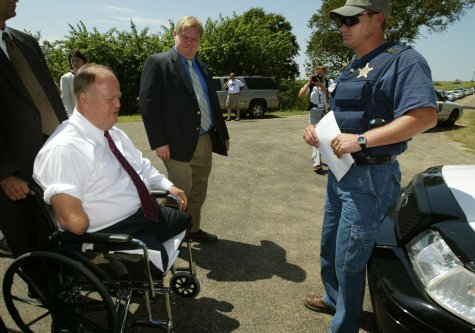 Former Georgia Senator and triple amputee Max Cleland was turned away when he tried to deliver a letter calling on President Bush to condemn TV ads attacking fellow Vietnam veteran John Kerry's military service.
Cleland On Combat Mission
Former Georgia Senator and triple amputee Max Cleland was turned away when he tried to deliver a letter calling on President Bush to condemn TV ads attacking fellow Vietnam veteran John Kerry's military service.
Cleland's letter, signed by nine members of the U.S. Senate, urged the President to "recognize this blatant attempt at character assassination, and publicly condemn it," adding, "This administration must not tacitly comply with unfounded accusations which have suddenly appeared 35 years after the fact, and serve to denigrate the service of a true American patriot."
The episode marks the latest turn in the controversy surrounding attack ads financed in large part by wealthy Texas Republicans with close ties to the Bush Administration. Despite growing concerns over illegal coordination between the Bush campaign and the ads authors, the Bush Administration has refused to disavow the ad campaign.
Cleland, who flew the Machinists jet to Crawford, Texas, was accompanied on his mission by former Green Beret John Rassmann who rejected claims by the swift boat group and credited John Kerry with saving his life when he pulled him from a river during a firefight in South Vietnam. "I had bullets flying around me and now they're calling me a liar," said Rassmann in a news article.
In a related development, the Bush reelection campaign's top lawyer resigned after it was revealed he provided legal advice to the controversial swift boat group. Federal Election Commission rules prohibit coordination between political campaigns and groups using unregulated contributions.
On August 25, IAM leaders met with White House, Labor and Treasury Department officials to discuss the pension funding issue at United Airlines and the larger problems facing defined benefit plans in the airline and other industries.
"Multiple agencies of the federal government share the IAM's concern for the impact a United Airlines pension termination would have on our members, the American taxpayer and the economy," said GVP Robert Roach, Jr., who attended the meetings along with Administrative Assistant Frank Celona and Airline Coordinator Jim Varsel.
The White House confirmed the meetings, adding, "We are concerned about the United pension plans and are listening to the ideas of the Machinists and others,'' said Claire Buchan, a White House spokeswoman.
"United Airlines has made a serious mistake if they think the federal government is going to willingly accept pension responsibility from companies abandoning their obligations," said Roach. "The seriousness of this issue transcends partisan politics. United must immediately reverse course or they are headed for disaster."
Member to Member Mobilization Set for Sept. 2
With less than three weeks to go before the first votes are cast in key battleground states, the IAM is joining the AFL-CIO in an unprecedented campaign to reach more than one million union voters before the final votes are cast on November 2. The onset of early voting and absentee voting in many states means the drive to turn out union voters begins much earlier, and lasts longer than in previous elections. At least 17 states will open their polls before the end of September.
On September 2, the night George W. Bush accepts the Republican nomination for President, the AFL-CIO plans to put thousands of union volunteers on the streets in 16 states going door-to-door to urge union households to vote in the upcoming election. The Labor 2004 neighborhood walks are part of a massive Get Out the Vote (GOTV) effort that will continue right up until Election Day.
"IAM members are encouraged to participate in this member-to-member effort to make our voices heard in what is rightfully being called the most important election in our lifetime," said IP Tom Buffenbarger. "From the economy to the environment and the right to organize, there is no shortage of reasons for union members to get involved in this election."
IAM members can contact local AFL-CIO coordinators to learn how to participate in the September 2 nationwide effort.
Bush Makes OSHA More "Business-Friendly "
Since its first days in office, the Bush Administration has scaled back or canceled numerous Occupational Safety and Health Administration (OSHA) initiatives designed to protect workers, according to an investigation by the Washington Post.

Bush's oversight of OSHA "has translated into a smaller staff to develop new standards, less reliance on the views of organized labor and an enlarged role for business," reported the Post.
OSHA is the federal agency that conducts research on potential hazards to workers and decides when the federal government should step in by formulating new workplace standards.

Besides cutting research and enforcement staff, the Bush Administration has dramatically scaled back OSHA's efforts to protect workers by canceling proposed safety regulations such as the Ergonomics standard; protection against tuberculosis exposure and regulating chemicals used in making semiconductors which were suspected of causing miscarriages.

In all, the Bush Administration has canceled 24 proposed safety rules, compared to just seven under his father George H.W. Bush and nine under Bill Clinton.
"In the past, the business community worked to develop regulations that were acceptable," Patrick Tyson, a lawyer who held senior positions in OSHA in the 1970s and 80s told the Post. "But now the game has changed, and the business community feels like they can kill any regulation they want."
Vegas Auto Dealer in Rat Flap
IAM members at Desert Toyota in Las Vegas recently held an informational picket featuring the infamous inflated rat to let the community know of the struggles they encountered while trying to exercise their right to have a union.
The protest emphasized the slow-going negotiations between Desert Toyota and service technicians there despite a federal judge's order in February requiring the dealer to bargain in good faith. The judge's decision upheld two prior decisions by National Labor Relations Board administrative law judges.
Desert Toyota is the first of 193 Las Vegas Valley car dealerships, repair shops and trucking companies the IAM is attempting to organize. The dealership is part of a larger network of dealerships known as AutoNation, the largest auto dealership chain in the United States. The IAM has several AutoNation dealerships under contract already and organizing efforts are underway at several others.
New Book On Outsourcing Slams U.S. Firms
A new book written by CNN commentator Lou Dobbs warns American companies against sending jobs offshore, saying companies engaged in outsourcing jobs are in effect firing their customers.

In Exporting America: Why Corporate Greed is Shipping American Jobs Overseas, Dobbs explains that U.S. workers will eventually be unable to purchase the goods and services being exported back to America by U.S. companies.

Dobbs writes that the general trend of shipping jobs offshore is undermining the U.S. middle class, putting Americans out of work, forcing others to work harder and longer for less pay and devastating some communities.

Dobbs has made the outsourcing of American jobs a top priority for more than a year. In a recent interview he says,

"I think if this trend continues, is allowed to continue, that the United States, without being unduly alarmist, is headed toward if not a third-world category than a second-world category as a nation."

On the CNN Lou Dobbs Tonight website he maintains a current and running list of American companies that export U.S. jobs offshore.
Poverty Rate, Uninsured on the Rise
The number of Americans living below the poverty line increased by 1.3 million to 35.8 million last year, or 12.5 percent of the population, according to the U.S. Census Bureau.
The Census Bureau also reported that the number of Americans without health insurance rose to 45 million, an increase of 1.4 million.
The news, which could hurt a Bush campaign already reeling from the recent economic downturn, marks the third straight year that there has been an increase in both categories.
Especially notable was the 800,000 additional children living in poverty last year, putting the number of children below the poverty line at 12.9 million.
The data released Thursday came roughly a month earlier than usual, prompting some Democrats to accuse the Bush Administration of attempting to play down the bad news.
---
Past iMail | Your Email |www.goiam.org | Print Version | iMail Sign-Up