---
Unity: A Labor Day Message
from IP Tom Buffenbarger
Unity is an abstract ideal. It implies harmony and agreement. And yet, "unity" is neither natural nor commonplace. Whenever individuals act in concert, there is at least one degree of separation. Original intent, enlightened self-interest, individual talents, hopes and aspirations -- all tend to push us apart.
Throw cultural, political and economic differences into the mix and centrifugal forces take over. Like rays from the sun, we spin off in a billion directions. With each passing second, we grow weaker and more distant from our neighbors.
As the separation increases, wedges are driven between us. Walls are built. And, as our isolation becomes ever more apparent, our adversaries pick us off ... one by one until the ideal of unity fades into oblivion.
The opposite occurs in a labor union. There, unity is a concrete concept, one driven by common sense and uncommon selflessness, one made necessary by the forces arrayed against us.
No, our unity is not perfect. A perverse disunity often strikes us at critical moments because we, too, are subject to the cross-pressures in any human endeavor.
But we have found ways to compensate: Sublimating one's own preferences for the good of all; working relentlessly for a mutual benefit; turning defeat and disappointment into determined defiance. We routinely and successfully employ unity to bargain collectively for better wages or less onerous working conditions.
Such unity came at a high cost. And yet, it also produced inordinate benefits.
Just look around. America is a more perfect union because of what this nation's labor movement has fought for: a 40-hour week, paid vacations, health insurance, pensions and, most important, a living wage that enables us to provide for our families.
As we approach Labor Day 2003, let us celebrate our unity and what that unity has given all of us.

---
Pullman Porter Museum Honors Diane Babineaux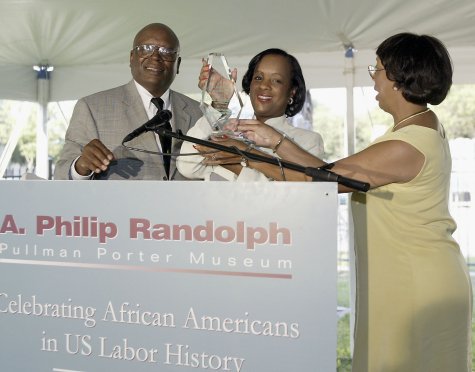 Midwest Territory Communicator Ed Lewis (l) accompanies IAM Executive Assistant Diane Babineaux as she receives the 2003 'Gentle Warrior' award from Lyn Hughes, founder of the A. Philip Randolph Pullman Porter Museum.
At a ceremony honoring contributions by African Americans to the U.S. labor movement, the A. Philip Randolph Pullman Porter Museum in Chicago presented IAM Executive Assistant Diane Babineaux with its 2003 "Gentle Warrior" award.
The award recognizes African Americans who exemplify the gritty determination and warrior spirit for which A. Philip Randolph was known throughout his career. Past awardees include Leroy Shackleford, the last International Vice President of the Brotherhood of Sleeping Car Porters (BSCP) and members of the Vulcan Society, an organization of black firefighters who lost 12 men during the 9/11 tragedy.

---
Kourpias Named to Labor Hall of Fame
Former IAM International President George Kourpias will be inducted into the Northwest Iowa Labor Council's Labor Hall of Fame during a Labor Day ceremony in Sioux City, IA.
More than 600 union members and their families are expected to attend the event, which is held each year at the council's annual Labor Day picnic. The award honors labor leaders who have contributed a lifetime to improving the rights, respect and working conditions of Iowa's men and women.
"We believe this is the most important labor award given in Northwest Iowa," said Mike Peters, Labor Liaison for the Northwest Iowa Labor Council. "As International President of the Machinists Union, George Kourpias was an impassioned voice for working men and women in Iowa and across the country. He continues to speak out today as president of the Alliance for Retired Americans. It's our privilege to name him to the Labor Hall of Fame."