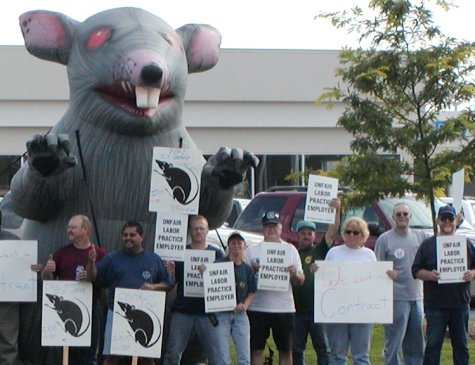 LL 435 brought a secret weapon to an educational picket line to call attention to a lack of progress in contract talks.
Rat Patrol Hits Coldwater, Michigan
Lack of progress in negotiations with Cole Story Ford-Lincoln in Coldwater, Michigan prompted Local Lodge 435 to bring in a secret weapon for an informational picket . . . a 12-foot tall inflatable rat.
"This was a last resort," said Stacey Arnold, District 97 Business Manager. "There appears to be no other way to get a contract the members want."
The IAM represents seven service technicians at the dealership, which was organized earlier this year. The IAM and the dealership are deadlocked over the union security clause.
CEO Pay Soars at Top Outsourcing Firms
America's CEOs who outsource the most U.S. jobs are seeing big rewards in their annual salaries. CEO pay at the 50 top outsourcing firms increased by 46 percent in 2003, according to a new joint study by nonprofit groups Institute for Policy Studies (IPS) and United for a Fair Economy (UFE). Outsourcing leaders far outstripped their CEO counterparts at the 365 large companies surveyed by Business Week, who averaged nine percent increases in 2003.
The pay gap between a U.S. CEO and an American call center worker is about 400:1. The gap between a U.S. CEO and an Indian call center worker is 3,348:1 and the gap for a U.S. CEO and an Indian software programmer is 1,300:1, according to the report.
United Technologies Corp. CEO George David is one of the top earners with a 629 percent increase in pay from 2002 to 2003. UTC has software development centers in Pune and Bangalore, India and outsourcing contracts with five Indian vendors.
Other winners in the outsourcing game include outgoing Citigroup CEO David Weill who made $54 million in 2003. His pay went up 305 percent. Citigroup is the sole owner of e-Serve International, an Indian IT service company that provides call center, transaction processing and data management services for Citibank.
Among the leaders of the top 50 outsourcing firms are: Oracle, Bank of America, Cognizant Technology Solutions; Morgan Stanley; Intuit; SBC Communications; Conseco; JP Morgan; Chase; Sprint; Bank of New York; Time Warner; General Electric and American Express.
Kerry Talks Jobs With Union Members in Everett
Democratic presidential nominee John Kerry traveled to the Pacific Northwest on August 27 and spoke with union members about protecting aerospace jobs, preserving health care and creating educational opportunities for workers and their children.
More than 600 Machinists, Firefighters and Teachers filled the Everett Events Center near Seattle for the Town Hall-type meeting that gave workers an opportunity to ask the nominee questions face to face. Unlike events held by the Bush-Cheney campaign, no one was asked to sign a loyalty oath to attend, nor were ticket holders required to pledge to work for the campaign.
IAM members of District 751 attending the event welcomed assurances by Kerry that he would oppose Airbus and fight for Boeing jobs connected with the stalled $23.5 billion Air Force refueling tanker project. "When he's the president, he said he's going to sign the bill for the tankers," said District 751 President Mark Blondin, who met privately with Kerry. "We're going to have new Air Force tankers," declared Blondin, "and they're going to be made at Boeing."
Labor Aims to Reach One Million Union Homes
Thousands of union members will hit the streets in 16 key states on Sept. 2 in an all-out effort to reach one million union households with information about what's at stake for workers in the upcoming election.
The unprecedented grass roots effort is part of the AFL-CIO's Labor 2004 program, which is coordinating door-to-door campaigns in Missouri, Wisconsin, Minnesota, Iowa, Maine, New Hampshire, Ohio, Pennsylvania, West Virginia, Michigan, Florida, Washington, Oregon, Arizona and New Mexico.
"Don't let anyone tell you this isn't the most important election in our lifetime," said IP Tom Buffenbarger. "We have a chance on November 2 to get this country back on the right track and we need to let every union household know how much their votes matter."
IAM members should contact AFL-CIO Central Labor Councils in their state to take part in the Sept. 2 effort. Additional information about upcoming Labor Day activities is available at www.afl-cio.org.
SFO Janitors Clean Up with IAM Victory
Air Transport Local Lodge 1781's Organizing Committee earned a major victory when 114 janitors employed by Scientific Concepts at San Francisco International Airport voted to join the Machinists Union.
"Congratulations are due to Local 1781 President Carl Finamore, his eager organizing team and the dedicated core of stewards and members who worked with the janitors own organizing committee to reject the company's anti-union campaign," said Transportation GVP Robert Roach, Jr.
The initial meeting with the company is scheduled for Sept. 4, 2004. This campaign is part of a broader multi-union initiative to organize all workers at the San Francisco airport.
IAM Flight Attendants Geared for Negotiations
Continental Airlines Flight Attendant representatives met at the District 142 offices in Kansas City, MO to conclude preparations for negotiations with the Houston-based carrier. The negotiating committee reviewed the member-submitted proposals that will be exchanged with the airline on September 28, 2004.
The IAM contract for Continental Flight Attendants becomes amendable on October 1, 2004. Thousands of Continental Flight Attendants have participated in crew room and online computerized surveys to prepare for negotiations.
Following the success of the Continental Airlines Flight Attendant Negotiations Survey, computer surveys were made available in all ExpressJet crew rooms for the month of August. ExpressJet is Continental's regional jet partner. Hundreds of ExpressJet Flight Attendants took the survey to help direct their negotiating committee when their formal contract negotiations begin later this year. Continental Micronesia Flight Attendants will begin the process early next year.
Memorial Fund Set for Lt. Anthony Santoriello
A memorial fund has been established for Army 1st Lieutenant Neil Anthony Santoriello, who was killed in action on August 13 in Khalidiyah, Iraq. Lt. Santoriello, who was laid to rest in Arlington National Cemetary on August 24, is the son-in-law of District 98 BR Tom Santone.
Contributions will benefit the Boy Scout Troop 139 scholarship fund where Santoriello, 24, of Verona, Pennsylvania, was an Eagle Scout and a scout member in Verona and Penn Hills, Pa.

Contributions to the memorial fund can be sent to:
Neil A. Santoriello Memorial Fund
Care of: Lori Rossey, Branch Manager
PNC Bank, Verona Office
742 Allegheny River Blvd
Verona, PA 15147
New Website Features Union Made Products
The AFL-CIO Union Label & Service Trades Dept. has created a special website designed to help shoppers locate and purchase union-made goods and services. The site, www.shopunionmade.org goes "live" on Sept. 1, 2004 and comes just in time for fall and winter holidays.
"Union members in North America make some of the finest products that can be found anywhere in the world," said GST Warren Mart. "This new website is just what's needed to help socially conscious shoppers locate high quality, union-made products and support fellow union members in the process. It's a good deal all the way around."
---
Past iMail | Your Email |www.goiam.org | Print Version | iMail Sign-Up