Web Highlights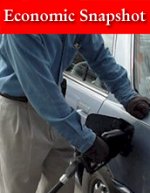 A Drop In the Bucket:
Drilling in the Arctic National Wildlife Refuge will do little to help us achieve energy independence.

---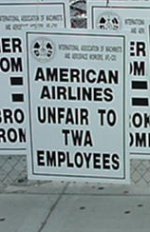 IAM members at TWA, conducted informational picketing last week at nine major airports to protest unfair treatment by American Airlines.

---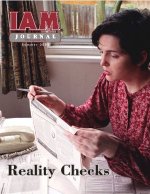 Read The Summer IAM Journal Online
The IAM takes an in-depth look at the Unemployment Insurance system.

The IAM's
Executive Council
Tuesday, September 4, 2001
---
IP Joins IAM-Bombardier Negotiations
Contract-renewal negotiations between the IAM and aerospace giant Bombardier Inc. began in Montreal last week. International President Tom Buffenbarger, GVP Dave Ritchie and GVP Bob Thayer joined the union side of the bargaining table for the opening round of negotiations.

"IAM members at Bombardier are determined to reach an agreement that fully reflects the success of the Canadian aircraft manufacturer," said Buffenbarger. Montreal-based Bombardier manufactures jets, regional aircraft and rail equipment. Revenue at the company topped
$16 billion last fiscal year.
---
Tentative Agreement at Air Wisconsin
Fifteen hundred IAM members at Air Wisconsin will vote on the terms of a tentative agreement reached by representatives of Air Transport District 143. Details of the pact, including increased retroactive pay, will be released to the Clerical, Office, Fleet and Passenger Service groups prior to voting.

Air Wisconsin operates as a United Express regional airline, carrying more than four million passengers annually between 42 cities in twenty-one states.
---
Workplace Survey Gives Employers Low Ratings
More than two-thirds of working Americans—68 percent—say workplace rights need more protection today. For nearly two-thirds of today's workers, employers inspire little or no trust that they will treat workers fairly. Corporations, workers say, are far more concerned with profits than with people and have far too much power in the workplace.

These findings are shown in a national survey conducted by Peter D. Hart Research Associates for the AFL-CIO. It is the most exhaustive study ever conducted on worker rights, the federation said.

Some 56 percent of workers surveyed say new laws are needed to hold corporations responsible for the way they treat employees, a number that has risen sharply.

The survey showed a 10 percentage point increase over the past five years among workers who feel management has too much power and a 12-point increase in those saying new laws are needed.

Workers strongly support rights to protect economic security, equal opportunity and reasonable working conditions. They believe they should be able to earn a decent wage and work free from discrimination, harassment and health and safety hazards.

One-third to one-half of these workers give their employers mediocre to failing grades on these key issues. Working women are particularly supportive of worker rights and strongly critical of employer shortcomings.

Workers across-the-board say protecting the right to join a union is very important. More than 9 in 10 say firing a worker for supporting a union is "unacceptable."

The AFL-CIO commissioned the survey to elicit opinions about work and the economy from a representative sample of adults in the U.S. workforce. For a complete report, go to www.aflcio.org.
---
Social Security Panel Sets Public Hearings
The commission named by President Bush to begin privatizing Social Security, the nation's most successful social legislation, released dates for its next public hearings on the controversial issue. The first hearing will be held September 6 in San Diego. The panel meets at the San Diego Marriott Hotel and Marina, 33 West Harbor Drive. The sessions, open to the public, will run from 9:30 a.m. to 12:30 p.m. and from 2 p.m. to 5 p.m.

The second hearing is set for Cincinnati, OH, on September 21. Location and times will be announced.
---