Web Highlights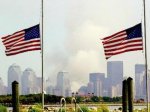 Terror Strikes America's Working Familes
A special report from the AFL-CIO on September 11's aftermath.


News and updates about what happened.


Unions are providing ways to help victims of the Sept. 11 terrorist attacks. Find out what you can ddo to help.


What the AFL-CIO and the labor movement have to say about the tragedy

The IAM's
Executive Council
Breaking News for Friday, September 14, 2001
---

Canadian Members Show Solidarity
Canadian delegates to the joint Canadian/Western Territories staff conference passed out red roses in a moving show of solidarity between the IAM members from the two democratic nations in the aftermath of the tragedies in New York City and at the Pentagon.

"This rose symbolizes for us as Canadian brothers and sisters our shock…our anguish…our grief. This rose symbolizes our friendship, our love and our solidarity with you," said Angela Schira, the IAM's delegate to the Canadian Labour Congress and secretary-treasurer of the British Columbia Federation of Labour. Many of the delegates later placed the roses at the door of the U.S.consulate in Vancouver, B.C., in memory of the victims of the brutal terrorist attack.

"Our hearts go out to you as your nation weeps," Shira said.
---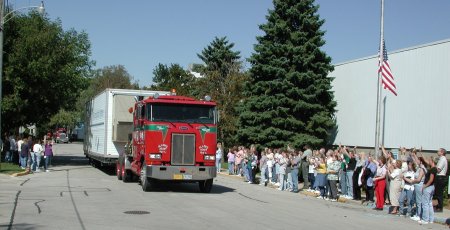 IAM members at AG Communications Systems in Genoa, IL provide a rousing sendoff to LL1269's Dennis Dolan and Gary Stroud as they depart for New York City accompanied by a truck loaded with a mobile communications trailer.
IAM Members Provide Disaster Aid
Members of IAM Local 1269, Genoa, IL, were quick to respond to the World Trade Center disaster. These skilled workers build communications components that proved essential in the search and rescue efforts on the scene. Their employer, AG Communications Systems, dispatched Local 1269 members Dennis Dolan and Gary Stroud to deliver and set up a complete Mobile Emergency Restoration Trailer, or MERT, to restore communications at the rescue effort.
"We are deeply honored to be able to play a small part in this effort," said Garland Mayton, Local 1269 president. "We have all been touched by this horrible event." Members of the IBEW assisted in the effort, he added."
---
What You Can Do
Both the IAM's Community Services Department and the AFL-CIO offer helpful guidance on how we can all play a part in recovering from the terrorist attacks on our people. Labor's charity, the Union Community Fund, is putting together a fund for our brothers and sisters in both NYC and the Washington, DC area. Make checks payable to the Union Community Fund, and designate them for the Sept. 11 Relief Fund. Mail to Union Community Fund, 815 16th St., NW, Washington, DC. Donations also may be made online at www.unioncommunityfund.org.

Blood donations also are needed. To find out how to donate in your community, please call the Red Cross at 800-GIVE-LIFE. To stay informed on this issue, visit www.goiam.org and www.aflcio.org for breaking news and opportunities for help.
---
Air Transport Conventions Rescheduled
District 141 and District 143 rescheduled their upcoming conventions to accommodate delegates facing travel restrictions in the wake of the

September 11 hijackings. The District 141 annual convention will now be held November 27-29 in Las Vegas, Nevada. District 143 will hold it's annual convention in Orlando, Florida on October 9 –11, rather than the original date of September 9-18. The District 141 Ground Safety Conference, scheduled for September 18-20, is postponed and will be held the week of December 9, 2001.

District 141-M and District 142 are reviewing their convention schedules and members will be advised of any changes to those events.

Related Links:
District 141
District 143
---
Tight Security Greets Returning Passengers
The nation's airspace reopened for limited passenger travel after a two-day shutdown that followed terrorist attacks on aircraft in Washington and New York. Security measures at airports will be guided by an 11-point plan issued by the Federal Aviation Administration (FAA), including a ban on curbside check-in and knives of any length carried by passengers. The new rules regarding knives will extend to metal cutlery used in food service, leaving diners with forks and spoons, but not knives.

The new security rules were announced following meetings between airlines, the FAA and Transportation Department officials. Federal officials and transportation union representatives have long been vocal critics of airport security, pointing to high-tech screening devices operated by poorly trained, minimum wage contract workers. Lawmakers in Washington weighed in, scheduling hearings on aviation safety to begin next week. In the Senate, Commerce Committee Chairman Ernest Hollings (D-SC) called for the federal government to operate airport screeners.

Mail and cargo is temporarily banned from all U.S. passenger flights and the FAA indicated only non-stop overseas flights by U.S. carriers operating from high-security airports will be accepted. Private planes and corporate aircraft remain grounded until further notice.
---