Cessna Employees Rally To Support Negotiators
Nearly two thousand IAM members gathered near the Arkansas River in Wichita, KS earlier this week carrying signs that read : "No Takeaways!" and "Worst Contract Ever!" and "We Will Fight for Our Jobs." Local 774 members and their families left no doubt they are prepared to fight for a just and fair contract with Cessna Aircraft.

The Negotiating Committee at Local 774 has been locked in tough negotiations with Cessna management for over a month now as Cessna's parent company, Textron, threatened workers with major takeaways in all areas of the contract, including a "consumer-based" insurance scheme that shifts costs onto its workers.
"Today Textron saw the power of the Fighting Machinists," said Southern Territory GVP Bob Martinez. "Our members will fight for the future of their jobs and their families. Our members are the heart of our union. We are all proud of our brothers and sisters at Cessna."

The current contract is scheduled to expire at midnight on Sept. 12, and the Negotiating Committee expects to receive the company's final offer on Sept. 9. IAM members will vote on the offer on Saturday, Sept. 11. About 4,300 Cessna employees are covered under the current contract.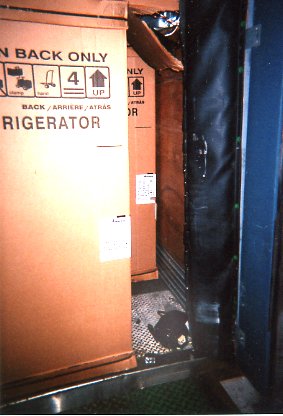 Charges of shoddy workmanship have dogged Maytag products since the company began moving production of Maytag products to Mexico
Misgivings Over Mexican Maytags
Charges of shoddy workmanship have dogged Maytag products since the company began moving production of Maytag products to Mexico earlier this year. Members of Local Lodge 2063 in Galesburg, IL, whose jobs are being eliminated due to the move, believe the company's overall reputation will suffer as a result.

Among the reasons for concern is the recent discovery that a critical wiring check may not have been performed on all Maytag refrigerators shipped to the U.S. from Mexico. Local officials explained that Maytag could not confirm or deny that the process known as "hypotting" had been completed on all refrigerators produced at Maytag's Reynosa, Mexico facility.

Officials are being told that Maytag has no real idea of the percentage or amount of these units that may or may not have had the process completed, but believe it is not a high number.

The questionable units can be identified by serial numbers that begin with a five.
Winchester Slammed for Closing Ammo Plant
Midwest Territory GVP James E. Brown ripped into Winchester Ammunition President Richard M. Hammett for closing a rim fire ammo production plant in East Alton, Illinois and moving production to a non-union facility in Oxford, Mississippi.
"The IAMAW has represented the employees in rim fire since at least 1946," wrote Brown in a scorching letter to Hammett. "In all those years, the workforce in the East Alton area has been extremely productive and dedicated to making Winchester Ammunition the finest in the world."
Winchester claims its decision to move will increase profits and reduce costs. "We regret the need to relocate our rim fire operation but conditions leave us with no other reasonable alternative," said Hammet in a press release announcing the closure.
"So after 58 years, your thanks to those employees is a pink slip while you search the country to find free buildings, tax breaks or someone who will work for less money than the wages and benefits that have been negotiated in the East Alton Area," said Brown.
"It appears that we can add your name to those corporate robber barons who search out the cheapest labor and the most tax incentives while having no loyalty to the workforce that built and sustained their business."
Unions Act Against China Currency Scam
A coalition of AFL-CIO trade unions is joining with an alliance of U.S. industrial representatives in an unprecedented legal initiative that calls on the Bush administration to protect U.S. workers from China's deliberate currency manipulation.
The labor-management alliance, known as the China Currency Coalition, filed a petition today in Washington, D.C. charging China is deliberately undervaluing its currency by nearly 40 percent. The petition was filed under Section 301 of U.S. trade laws and claims China's exchange rate unfairly subsidizes China's exports around the world.
The coalition is seeking the immediate elimination of China's currency undervaluation, which gives Chinese products a huge advantage on the world market and adds to serious trade imbalances around the world. The Bush administration has 30 days to respond to the 301 petition.
"The damage caused to the U.S. economy by China's currency scheme is documented beyond any doubt," said IP Buffenbarger. "This administration must decide if it stands with U.S. workers or if the gospel of unregulated free trade is so powerful that it prevents governments from acting on behalf of their own citizens."
Bush Threatens Veto of Overtime Rules
In response to overtime regulations proposed by the Bush administration that could cost as many as 6 million Americans their right to overtime pay, members of the U.S. House of Representatives will consider an amendment this week that could block the Bush regulations from taking effect. The Bush administration has threatened to veto the bill if it makes its way through Congress.
The Obey-Miller Amendment would prohibit the use of funds to administer any change in the overtime regulations that were in effect prior to the final overtime rule, with the exception of expanding overtime protection for low-income workers.
The Democratic amendment would protect a broad range of workers across a variety of industries, including team leaders, working supervisors, employees without a college degree, artistic professionals and mortgage lone officers.
Greenspan Targets Social Security Benefits
Federal Reserve Chairman Alan Greenspan, who will retire in 2006 at the age of 80, repeated his call for raising the retirement age and slashing Medicare and Social Security benefits. Ignoring deficits created by Bush administration tax cuts, Greenspan continues to claim the impending retirement of baby boomers will add enormous strain to the government's deficit.
"Social Security is not going bankrupt," said Edward F. Coyle, executive director of the Alliance for Retired Americans. "Chairman Greenspan and the Bush administration paint a bleak forecast for Social Security while laying the burden of trillions in irresponsible tax cuts on the backs of America's retirees. This is about misplaced priorities, not the future solvency of Social Security."
GAO Says Bush Medicare Official Should Pay
In the latest blowup over the controversial new Medicare law, the Government Accounting Office (GAO) said the former head of the Medicare agency, James Scully, should be docked seven months salary for threatening to fire chief Medicare actuary Richard Foster.
According to the GAO, Scully violated an explicit provision of federal appropriations law that prohibits any threat or action to prevent federal officials or employees from communicating with Congress. An earlier investigation found Scully repeatedly threatened to fire Foster, a highly respected and long-time civil servant, if he responded to requests from Congress for accurate information about the cost of the Medicare Bill.
Bush administration officials lobbied heavily for the bill, which gives private insurers a huge role in the Medicare program. The bill was approved in Congress after lawmakers were promised the bill's cost would not exceed $400 billion over 10 years. Less than 2 months after the bill was signed, the White House concurred with Foster's suppressed estimates of more than $530 billion over 10 years.
"This was corruption at the highest levels," said Sen. Frank Lautenberg, who said the Bush administration had purposely hidden information about "its flawed Medicare plan."
'American Jobs' Film to Premier on Sept. 13
A powerful new documentary containing more than 60 interviews with U.S. workers whose lives were turned upside down by outsourcing will premier in Seattle on Sept. 13.
The 1-hour film was produced, directed and self-financed by independent filmmaker Greg Spotts after he noticed many of his friends were losing their jobs. "I started to have a sense that there was an underlying structural change rather than a cyclical change happening in the economy," said Spotts in a recent interview.
From North Carolina, where Spotts spoke with out-of work textile workers, to Washington state, where he met with laid off high tech and aerospace workers, the poignant stories evoke intense anger and sympathy. In an interview with 18-year IAM member Charles Craft, the Boeing employee tells of dismantling his machinery for shipment overseas. The film also contains historical footage of the debate in Congress leading to the creation of the North American Free Trade Agreement (NAFTA), which Spotts credits for launching the outsourcing phenomena.
---
Past iMail | Your Email |www.goiam.org | Print Version | iMail Sign-Up