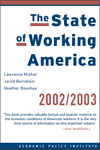 Preliminary findings from the biennial State of Working America from the Economic Policy Institute.
---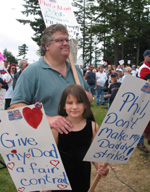 Keep up to date on Boeing negotiations on the "IAM Boeing News" page on goiam.org. Video, press releases, updates and news stories are available.

---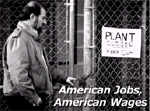 President Bush signed Fast Track legislation that will usher in a new round of NAFTA-style agreements.
To get the Facts about 'Free Trade' and its damaging effect on America's workers, read "The Real Cost of 'Free' Trade" from Vermont Congressman Bernie Sanders.
---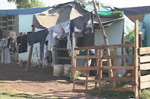 Video:
Live Here if You Dare
Join Eastern Territory IAM members in a tour of the Maquiladora area in Tijuana, Mexico to see firsthand the deplorable living and working conditions of Mexican workers.
---


Get Your Convention Gear Check out gear for the 2004 IAM Convention
---

The IAM
Executive Council
International President
R. Thomas Buffenbarger

Secretary Treasurer
Donald E. Wharton

GVP Western
Territory
Lee Pearson

GVP Canada
Dave Ritchie

GVP Midwest
Territory
Alex M. Bay

GVP Headquarters
Robert V. Thayer

GVP Southern
Territory
George Hooper

GVP Eastern
Territory
Warren L. Mart

GVP Transportation
Robert Roach, Jr.
Thursday, September 12, 2002


Bargaining Begins for 17,000 at NWA
District 143 began negotiations with Northwest Airlines on behalf of nearly 17,000 IAM members, including Customer Service Agents, Reservation Agents, Quality Service Assistants, Security Guards, Simulator Technicians, Flight Kitchen, Plant Protection, Stock Clerks, Clerical and Equipment Service Employees.
The IAM is the largest union at Northwest and members there are optimistic despite the industries slow recovery from the worldwide travel recession. Northwest Airlines has fared better than other major carriers based on cash on hand, aircraft returned to service and consistent high loads.

"Negotiations are what its all about," said Bobby DePace, District 143 president and directing general president, who expressed enthusiasm about District 143's negotiations with Northwest and Alaska Airlines. "This is our time to shine."
---
UAW Votes 98% to Strike Boeing

Nearly 1,500 members of a Pennsylvania UAW Local voted overwhelmingly to strike the Boeing Co. at midnight on Friday, Sept. 13, if a new agreement is not reached by then. The union members, who work at Boeing's rotorcraft plant in Ridley Township in Delaware County, rejected a company offer that called for increased health insurance co-pays and 'flexibility' in transferring workers from one department to another.
The UAW strike deadline coincides with a vote for 25,000 IAM members at Boeing plants in Wichita, Portland and Seattle. Machinists there will vote for a second time on a company proposal that increases health insurance co-pays and transfers union work to non-union vendors.
---
Dispute Puts U.S. Aluminum Industry at Risk

IAM workers at Alcoa Intalco in Washington State are fighting a squeeze play by the Bonneville Power Authority (BPA) that could eliminate hundreds of IAM jobs and potentially shut down the aluminum industry in the Northwest.
Central to the issue is a pending decision by BPA's to end an electricity supply relationship with Intalco that would cripple the company by forcing it to buy its power on the volatile and costly spot market.
BPA answers to the Department of Energy (DOE) for how it performs its energy allocation responsibility. Members should contact their elected representatives and urge them to pressure the DOE to make sure that short-sighted agenda isn't placed above the interests and survival of Northwest working families.
For more information, visit the IAM Western Territory link at http://www.goiam.org/territories.asp?c=3490
---
IAM Wins US Airways Bonus Pay Settlement

On August 26, the IAM filed a motion in bankruptcy court to vacate an order giving US Airways authorization to pay $6 million in so-called performance payments to certain executives and managers at the carrier.
In a negotiated settlement, US Airways agreed to limit compensation for employees above the rank of Vice President as part of any bonus or retention program approved by the bankruptcy court.
Pilots and Flight Attendants at US Airways joined the IAM's legal action, however, flight attendant representatives balked at the proposed settlement and were rebuffed by the bankruptcy judge.
According to the settlement, a restrictive bonus payment schedule was imposed at US Airways and none of the permitted payments will be made to Mr. Wolf, the non-executive chairman of US Airways or any of the new US Airways executive officers, including Mr. Siegel, the president and CEO, Mr. Cohen, the executive vice president or Mr. Glass, the senior vice president.
---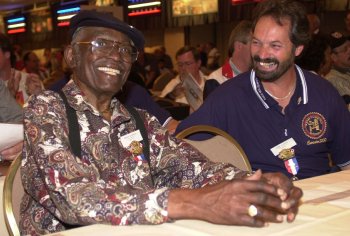 Farewell to a True Hero

The IAM lost a true hero and friend yesterday with the passing of District 751 member Roman Mayfield. "The IAM has lost someone truly special. Roman Mayfield showed the true spirit of trade unionism and human dignity," said IAM President Tom Buffenbarger. Roman first went to work for Boeing in 1946. At the time of his death, he was the only active member who participated in every District 751 strike – 1948, 1965, 1977, 1989 and 1995 – and was preparing a possible sixth trip to the picket lines.
Because Roman was an African-American, he was not eligible for full IAM membership when he first started at Boeing. The first order of business at the 2000 IAM Convention was to restore full seniority to Roman and any other IAM member who did not accrue IAM membership between the time they were hired and when the IAM Constitution was amended in 1948.
"Despite the early barriers, Roman Mayfield worked hard for his fellow brothers and sisters every day," said Buffenbarger. "His legacy is one of compassion and caring that we can all admire and cherish. I will miss him."
---
Jobless Workers Face Tough Sledding

Working families pay a hefty toll as the Bush recession picks up steam. Recent economic figures for August show that long-term joblessness is up more than 54 percent from the same month a year ago. The AFL-CIO released a study, No Job + Benefits = No Relief for the Unemployed, showing that 429, 343 jobless workers ran out of unemployment benefits -- up by 67.2 percent over last year.
"Jobless workers take a back seat to the Fast Track traders and Wall Street brokers," said IP Tom Buffenbarger. "Let's change that equation when the polls open November 5."
---
Attention U.S. Citizens Living in Canada

The U.S. allows American citizens living abroad to vote in American elections. If you are an American citizen living in Canada, or if you hold dual U.S.-Canadian citizenship, you can participate in the American elections through the Democrats Abroad website at (http://ca.democratsabroad.org).
Despite approximately 300,000 Americans living in Canada who are eligible to vote, few have registered and voted in past elections through absentee ballot.
A small percentage of those absentee ballots, cast in the right states, would have been enough to reverse the result of the 2000 presidential election. With the Democrats holding a single-seat majority in the Senate and the Republicans holding a slim majority in the House of Representatives, a small number of votes could have a huge impact on the balance of power in the U.S.
---