labor issues you care about . . . in streaming video
---
The Worst Economy in 200 Years?
Precarious Cash Balance Pensions
Email Campaign to Save Raytheon Jobs
Working Families Presidential Forum
Plan to Derail Amtrak
Trading Jobs Overseas
Tough Sell for Tax Cut Tour
Trading Jobs Overseas
Stop the Attacks on Federal Workers
Kansas Governor Pledges to Support 'Grow Kansas'
Who Are They
Fooling?
Attack on Overtime
Gephardt Wins IAM Endorsement
---
International President
R. Thomas Buffenbarger

Secretary-Treasurer Warren L. Mart

GVP Western Territory
Lee Pearson
GVP Canada
Dave Ritchie

GVP Midwest Territory
Alex M. Bay

GVP Headquarters
Robert V. Thayer
GVP Transportation
Robert Roach, Jr.

GVP Eastern Territory
Lynn Tucker

GVP Southern Territory
Robert Martinez
T
uesday, September 16, 2003
---
Railroad Machinists Reject Contract, Vote to Strike

IAM members at the nation's Class 1 Freight Rail Carriers voted overwhelmingly to reject rail management's contract offer. In a separate vote, they authorize a strike if necessary to secure an agreement. The so-called 'last, best, and final offer' from the National Carriers Conference Committee (NCCC) was rejected by 97.3 percent of the voting membership. The strike authorization vote carried by 96.4 percent.
"The vote results confirm what we repeatedly told both the Carriers' negotiators and the National Mediation Board: IAM members would never accept such a proposal," said District 19 President Robert Reynolds. "Significant increases in employee healthcare contributions and meager wage increases are unjustified in light of the profits made by the carriers."
The Carriers' proposal is similar to a recent arbitrator-imposed contract between the NCCC and the Transportation Communications Union (TCU).
"After nearly four years of fruitless negotiations, we are clearly at an impasse," said GVP Robert Roach, Jr. "The Carriers must significantly modify their proposal or we will pursue a release from mediation by the National Mediation Board."
Negotiations have been underway since December 1999 to renew the national contract covering more than 7,500 IAM members across the United States.
---
Bush Urged to Fix Manufacturing Crisis

Michigan's congressional Democrats urged President Bush and his economic team to take immediate action to ease the growing crisis in the nation's manufacturing sector. In a strongly worded letter, the delegation pointed out that 2.5 million of the 3.3 million jobs lost during the Bush recession have come from the manufacturing sector.
Also, the delegation urged the White House to address other issues, including health care, prescription drug costs, pension issues and leveling the playing field in the international marketplace. Eight of the 14 major points raised in the letter dealt with the global economy—shaping fair trade agreements, tax policy, corporate loopholes and currency manipulation.
The delegation urged close scrutiny of the continuing currency manipulation scams in China, Japan and other U.S. trade partners. By undervaluing their currency and avoiding World Trade Organization (WTO) rules, these nations can increase their exports abroad, while making it difficult for U.S. products to find foreign markets.

---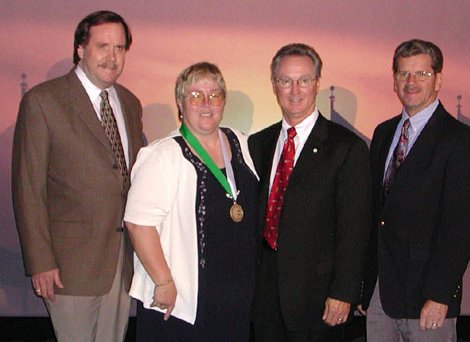 Local 1833 member Mary Sansom took top honors at Safety Council Conference. She is flanked by Mike Flynn, IAM safety director; Allan McMillan, NSC president; and Ron Kline, who chairs the Labor Division.

IAM Member Wins Top Safety Award

A dedicated IAM member took high honors at the recent conference of the National Safety Council. Mary Sansom became the second woman to win the Distinguished Service to Safety Award. It is given to those who have significantly impacted safety and health affairs both on the job and in their community.
Established in 1954, it is the Council's highest award to individuals. Since the beginning, 102 Labor Division members have received this award. Sansom was the first woman to chair the Labor Division of the Council and is its out-going chairperson.
A 30-year IAM member, Sansom has been an active member of Local 1833 from the beginning. In addition to chairing the Safety Committee, she also serves as recording secretary. A Northwest Airlines employee, she chairs the NWA/IAM Joint Labor-Management Safety and Health Committee and serves as an instructor at several levels.
Sansom played a key role in planning the Workers' Memorial at the union's education center in southern Maryland. She authored the resolution establishing the memorial.

---
Steel Tariffs Save JOBS!

The Machinists Union is joining the United Steelworkers of America (USWA) calling for steel tariffs to remain in place to aid the struggling American steel industry and to prevent even greater losses of North American manufacturing jobs.
The International Trade Commission (ITC) is planning to submit to the White House its mid-term review of the three-year steel tariffs. "We're at the halfway point of the President's three-year steel tariff program," said Steelworkers President Leo Gerard, who expressed confidence that the ITC's report will confirm the tariffs are working.
Due to unfair trade laws, more than 30 American steel companies remain in bankruptcy, 50,000 steelworkers have lost their jobs since the industry crisis began and more than 200,000 steelworker retirees have lost health coverage. "If the tariffs were removed now," said Gerard, "there's little doubt that we'd see more job losses and more retirees losing their health care."
On September 19-20, the USWA will hold a series of events to highlight the crisis in the steel industry. Rallies will take place in Washington, D.C.; Detroit, MI; and at Hartwood Acres, north of Pittsburgh, PA. For more information, visit the USWA website at www.uswa.org.

---
IAM Organizing Win in South Carolina

Six technicians employed by Desa, Inc., at Shaw Air Force Base (AFB) in South Carolina voted 5-1 to join the IAM. "These highly skilled Air Traffic Controllers, Ground Maintenance and Computer Operators are glad to be part of the IAM," said District 110 DBR Joe Greaser, who teamed up with Southern Territory Organizer Bobby Sapp and the District 110 Organizing Committee on the win.
At the same time, 22 Shaw AFB workers at Ahntech ratified their first IAM contract with average first year pay increases of 18 to 20 percent, health benefit increases and the Machinist Choice Insurance plan. "The contract was ratified 19-2," said Greaser. "Our new members are proud to have their first IAM contract, and this is proof of what the IAM can do for its members."
"During the past year, District Lodge 110 grew nearly 20 percent, organizing more than 170 new members," said Southern Territory GVP Bob Martinez. "I'm very proud of GLR Bobby Sapp, DBR Joe Greaser, and all of District 110. They know how to get the job done. Congratulations!"

---
Last Call for EAP/Community Services Class

Reservations must be made before this Friday's deadline for participants in the Community Services and Employee Assistance Program classes Nov. 16-23, notes Maria Cordone, Community Services/Retirees director. Sessions will be conducted at the Winpisinger Education & Technology Center in Placid Harbor, MD. To register, call the Center at 301-373-3300.

---
Read Past iMail | Email Your Opinion | Visit www.goiam.org | Print Version | Sign-Up for iMail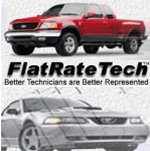 Flate Rate Tech is an organization "created for and by Ford and Lincoln Mercury service technicians solely to speak as one loud voice rather than 50,000 smaller voices," according to their website http://flatratetech.com. The fast-growing site offers forums for Ford customers, technicians and dealers to exchange information.

---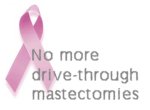 The Breast Cancer Patient Protection Act (HR 1886) will require insurance companies to cover a minimum hospital stay of 48 hours for patients undergoing mastectomy breast surgery. You can help ensure this critical legistlation is passed by signing the online petition now.
---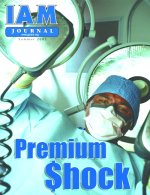 The Summer 2003 IAM Journal is now online. Skyrocketing health care costs are causing Premium Shock for members and employers. The IAM Journal looks at what's causing the increases and what can be done to change America's health care system.
---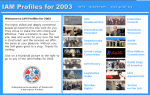 See who works for you, how the IAM is structured, and what services the IAM offers. Go to: IAM profiles for 2003.
---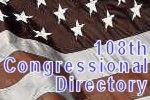 The 108th Congressional Directory . . . get your copy. Send $5 to the MNPL Education Fund, c/o IAMAW, 9000 Machinists Place, Upper Marlboro, MD, 20772.
---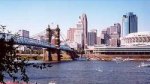 The official site for the 36th Grand Lodge Convention to be held in 2004 in Cincinnati, Ohio is now online. Check it our for convention news, sponsorship offers, and convention gear.