T
uesday, September 23, 2003
---
IAM Suspends Local Union Officials

The IAM suspended 16 union officials at Local 709 in Marietta, GA, following a union investigation that uncovered financial irregularities at the lodge, which represents nearly 3,000 workers employed at Lockheed Martin.
In a letter to Local 709 members, Machinists Union International President Tom Buffenbarger outlined the issues that led to the officials' suspension and the steps taken to restore full compliance with legal guidelines and IAM Constitutional requirements.
"We take any misuse of members' dues to be the most serious breach of an officer's financial responsibility," said Buffenbarger. "Every effort was made to correct the practices of this particular local lodge, and when those steps were not fully successful, we took additional steps to ensure full compliance."
According to IAM's financial review, the amount of questionable reimbursements and unreported tax liabilities could exceed $150,000 for the indebted officials.
As required by law, the IAM presented its findings to the U.S. Department of Labor, as well as its reasons for not continuing a formal suspension of Local Lodge 709, a move that would postpone upcoming local lodge elections. "We want those elections to go forward and for you – the members of Local Lodge 709 – to determine who can best correct the Lodge's financial mismanagement," wrote Buffenbarger.

---
House Votes to Take Amtrak to Brink of Shutdown
The Executive Committee of the AFL-CIO's Transportation Trades Department (TTD) unanimously adopted a policy resolution calling for $1.8 billion in Amtrak funding for Fiscal Year 2004, and a reversal of the House vote that allocated only half that amount.
TTD leaders said that the House vote means, "Amtrak could face financial collapse, thereby stranding millions of passengers and eliminating more than 20,000 jobs."
If the recent vote in the U.S. House of Representatives is allowed to stand, Amtrak would once again be brought to be the brink of a national shutdown, according to the leaders of 35 AFL-CIO transportation unions.

Read the TTD Resolution:
http://www.iamaw.org/publications/pdfs/4_amtrak.pdf

---
Unions Vow to Oppose WTO Agenda

The collapse of the recent World Trade Organization (WTO) talks in Cancun, Mexico, marked a major victory for labor unions and human rights advocates in their battle to stem the tide of global trade pacts.
"The WTO is little more than a puppet organization controlled by the world's wealthiest nations," said IP Tom Buffenbarger. "Until they acknowledge the human suffering and exploitation caused by their current agenda, we will oppose them wherever and whenever they meet."
Meanwhile, in testimony before the House Small Business Committee on WTO challenges to U.S. tax rules governing small businesses, IAM Trade & Globalization Director Owen Herrnstadt urged the committee to reject a proposal offered by Rep. Bill Thomas, Chairman of the House Ways and Means Committee. "Among other things, it is filled with a series of corporate tax cuts," said Herrnstadt, who warned, "The Thomas approach could present (even) more incentives for corporations to shift manufacturing jobs out of the country."
Herrnstadt's testimony before the House Small Business Committee:
http://www.iamaw.org/publications/pdfs/committee_small_business.pdf

---
Determined Anago Workers Choose Machinists

Employees of Anago Resources in London, Ontario finally have the union representation they wanted. On July 28, 2003, the 75 employees voted in favor of being represented by the International Association of Machinists and Aerospace Workers (IAMAW).
Following the vote, the employer placed legal obstacles in their way, obliging them to be present at the Labor Board on two separate occasions. Fortunately, this only made them more determined. "Despite the hurdles they had to go through, our members kept at it - and that just made them stronger," said IAM Organizer, Scott Jackson.
The new members are employed at two facilities which provide youth detention and custody services within the City of London. The members sought out the Machinists after learning that we would represent them and help to ensure that they would be treated with respect. They will join members in London-area Local Lodge 756.

---
Texas Jobs Program Wins $1.2 Million Grant

The federal government awarded nearly $1.2 million to expand the IAM sponsored Aerospace Industry Training Program, which will provide training and retraining for current and former aerospace workers in the Ft. Worth, TX area.
The two-year grant will provide current workers with specialized training in composite technologies, the hard, plastic-like material used by aerospace companies to build modern aircraft. Laid off workers will be provided with training in basic structural assembly as well as assistance in resume writing, job interview skill and help with job placement. Lockheed agreed to offer "preferential interviews" for applicants who complete the program.
The innovative program was on the brink of shutting down when Pat Lane, president and directing business representative of Local Lodge 776 and a Lockheed representative approached Rep. Kay Granger (R-Ft. Worth) about additional federal money for the program. The Texas representative told a local newspaper she was surprised the request was approved so quickly. "It was the funding we asked for, and we got it in record time," said Granger.

---
Hurricane Isabel Among the 10 Worst
North Carolina, Virginia, Maryland and the District of Columbia are still digging out from damage and debris left behind by Hurricane Isabel, now officially among the ten most costly storms to hit the U.S. since 1900.
The storm that hit the East Coast was less severe than the Category 5 storm that threatened to sweep in from the Atlantic, but high winds and a 7-ft coastal storm surge left millions without power and caused 38 deaths. Property damage from the storm is expected to reach into the billions.
IAM headquarters in Upper Marlboro, MD was shuttered due to a loss of electrical power from Thursday, Sept. 18 through Monday, Sept. 22.

---
Read Past iMail | Email Your Opinion | Visit www.goiam.org | Print Version | Sign-Up for iMail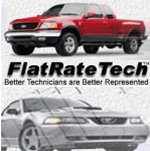 FlatRateTech is an organization "created for and by Ford and Lincoln Mercury service technicians solely to speak as one loud voice rather than 50,000 smaller voices," according to their website http://flatratetech.com. The fast-growing site offers forums for Ford customers, technicians and dealers to exchange information.

---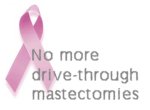 The Breast Cancer Patient Protection Act (HR 1886) will require insurance companies to cover a minimum hospital stay of 48 hours for patients undergoing mastectomy breast surgery. You can help ensure this critical legistlation is passed by signing the online petition now.
---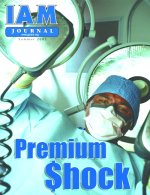 The Summer 2003 IAM Journal is now online. Skyrocketing health care costs are causing Premium Shock for members and employers. The IAM Journal looks at what's causing the increases and what can be done to change America's health care system.
---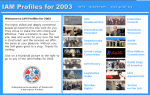 See who works for you, how the IAM is structured, and what services the IAM offers. Go to: IAM profiles for 2003.
---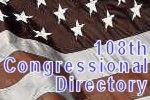 The 108th Congressional Directory . . . get your copy. Send $5 to the MNPL Education Fund, c/o IAMAW, 9000 Machinists Place, Upper Marlboro, MD, 20772.
---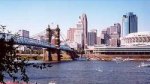 The official site for the 36th Grand Lodge Convention to be held in 2004 in Cincinnati, Ohio is now online. Check it our for convention news, sponsorship offers, and convention gear.