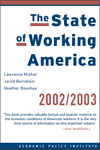 Preliminary findings from the biennial State of Working America from the Economic Policy Institute.

---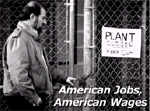 President Bush signed Fast Track legislation that will usher in a new round of NAFTA-style agreements.
To get the Facts about 'Free Trade' and its damaging effect on America's workers, read "The Real Cost of 'Free' Trade" from Vermont Congressman Bernie Sanders.
---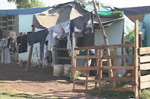 Video:
Live Here if You Dare
Join Eastern Territory IAM members in a tour of the Maquiladora area in Tijuana, Mexico to see firsthand the deplorable living and working conditions of Mexican workers.
---


Get Your Convention Gear Check out gear for the 2004 IAM Convention
---

The IAM
Executive Council
International President
R. Thomas Buffenbarger

Secretary Treasurer
Donald E. Wharton

GVP Western
Territory
Lee Pearson

GVP Canada
Dave Ritchie

GVP Midwest
Territory
Alex M. Bay

GVP Headquarters
Robert V. Thayer

GVP Southern
Territory
George Hooper

GVP Eastern
Territory
Warren L. Mart

GVP Transportation
Robert Roach, Jr.
Thursday, September 26, 2002


Union Coalition Plan Buoys United Airlines
A coalition of five unions representing more than 70,000 employees at United Airlines presented the financially troubled airline with a recovery proposal worth $5 billion in savings over a five-year period.

The extraordinary coalition reached agreement on the proposal's framework to protect jobs at the airline and to support the carrier's application for a $1.8 loan guarantee from the Air Transportation Stabilization Board.

"The IAM agreed to enter into discussions with the carrier in an attempt to avoid a United Airlines bankruptcy," said Scotty Ford, District 141-M president. "We are pleased we came to an agreement with our coalition partners," added Randy Canale, District 141 president. The two IAM districts represent more than 35,000 United Airlines employees.

"Together with other cost savings and broad strategic initiatives developed over the past few weeks, the coalition framework will enable the Company to improve its core annual profitability by $2 or $3 billion in the most challenging industry environment in history," wrote coalition members in a letter to UAL CEO Glenn Tilton.
---
Homeland Security and Worker Rights
President George W. Bush derided Senate Democrats for siding with "special interests in Washington, DC," and stalling passage of his Homeland Security bill. The "special interests" who stoked the presidential temper are the 170,000 federal employees who will be staffing the proposed new department.

Bush wants to strip away civil service protections that have been in place for decades and eliminate collective bargaining rights for more than 50,000 of those workers. "These workers are 'special interests' who deserve the same rights enjoyed by working people across the nation," said IP Tom Buffenbarger. "Many of them are veterans, many of them served in Korea, Vietnam and other trouble spots throughout the world. They have proven their dedication to homeland security. They are, indeed, special."

The hotly debated issues may come to a floor vote this week. To let your senators know how you feel, visit www.goiam.org/politics.asp. "Tell your senators that government workers have earned these rights. Make your voices heard," Buffenbarger said.
---
Incomes Drop, Poverty Rate Rises
The Bush recession continues to take a heavy toll on America's working families. Skewed trade policies, lay-offs and other factors related to the recession, which began last year, brought about the first decline in household income in 10 years and an increase in the poverty rate, according to figures released by the Census Bureau.

Real median household income fell by 2.2 percent, the Bureau noted. The typical household now takes in $1,127 less than it did in 1999. At the same time, the gap between the rich and poor continues to widen. Households ranking in the top 20 percent snagged more than half of all income in the United States. The bottom 20 percent took home a meager 3.5 percent, down from 4 percent in 1999.
---
IAM Contributes to Patient Safety Initiative
In response to one element of the American health care crisis, the IAM is working with health care professionals to develop an interconnected, electronic health information network to prevent medical mishaps and provide better overall patient care.

"This is an important opportunity for the IAM to influence the creation of a common electronic health care data information system," said IAM Strategic Resources director Steve Sleigh.

The public-private initiative will be developed under the direction of the non-profit Markle Foundation in New York. "The proposed network stands to produce great strides in patient safety and quality health care."
---
Drug Industry Profits High
Fortune Magazine says "drug companies pocket a far higher percentage of profits than any other industry--18.6 percent." The pharmaceutical industry's profits of $20.3 billion dwarf its nearest competitor--the automotive industry--which recorded profits of $15.4 billion. One drug firm, Merck, ranked among the nation's most profitable corporations. According to Fortune, "Merck's almost $6 billion in profits made it the 13th most profitable company in the nation."
---
Laid-Off WorldCom Workers Get Help
The AFL-CIO and laid-off WorldCom workers asked a federal bankruptcy judge to grant WorldCom's request for approval to pay severance benefits to workers left stranded by the firm's bankruptcy. The federation and the workers asked the court to allow all or some of the benefits to be paid as a lump sum, make extended health benefits retroactive to avoid gaps in coverage and provide documentation workers can use in job searches.

The WorldCom effort is modeled on the campaign former Enron workers used to win a precedent-setting $34 million severance settlement. The AFL-CIO and its affiliates played key roles in the effort.
---
Appeals Court Stings Multinational Firms
Workers won a round against multinational conglomerates when a federal appeals court ruled that such firms may be held liable in U.S. courts for human rights violations committed by others abroad.
A three-judge panel of the 9th Circuit Court of Appeal ruled that workers can sue Unocal Corp. for allegedly turning a blind eye to human rights abuses, including murder and rape, of Burmese villagers. World unions charge government officials forced villagers to work on a $1.2 billion natural gas pipeline in Burma.
---