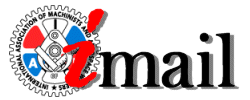 www.goiam.org
Tuesday, September 30, 2003
---
California Countdown Continues
Less than a week remains before votes are counted in the California gubernatorial election and labor leaders across the state are urging union members to vote NO on recalling Governor Gray Davis.

Holding the controversial recall election is expected to cost California taxpayers nearly $66 million, money many believe should be going to offset state cuts in education, health care and law enforcement.

In carefully scripted appearances, the leading Republican candidate, Arnold Schwarzenegger is reviving the positions of his top advisor, former California Governor Pete Wilson. During his term as Governor, Wilson eliminated daily overtime pay, tried to kill the prevailing wage law and refused to increase unemployment benefits for eight straight years.

If the recall achieves the needed votes, union leaders are urging members to vote for Lieutenant Governor Cruz Bustamante. An experienced lawmaker, Bustamante fought to restore overtime pay, enhance job safety and increase unemployment benefits.

The election is set for October 7.

---
Rail Talks Resume

Railroad contract negotiations for nearly 8,000 IAM members resumed this week in Washington, DC following the membership's rejection of a contract offer earlier this month.
The proposal from the National Carriers Conference Committee (NCCC), representing the nation's Class I Freight Rail Carriers, was soundly rejected by 97.3 percent of the voting membership. In a separate vote, 96.4 percent of the membership voted to authorize a strike if necessary to secure an agreement.
"The membership's refusal of the carriers' offer is clear," said District 19 President and Directing General Chairman Robert Reynolds. "If this week's negotiations do not produce significant movement on the part of the carriers, we will request the National Mediation Board release us from mediation so we can move the process forward."
---
Help End Lockout at Standard-Knapp
More than fifty IAM Local 782 members at the Standard-Knapp Company in Portland, CT have been locked out of their jobs for refusing to give in to what one IAM negotiator called "the worst contract offer I've ever seen."
Standard-Knapp's contract proposals would permanently lay off half the work force, gut job security protections, cut vacation and overtime pay, institute "merit raises" without any right to dispute them, and exchange recall rights for a modest severance package that would allow the company to hire new workers after laying off senior workers.
You can help by calling Standard-Knapp CEO Art Tanner at 860-342-1100 and tell him to get back to the negotiating table with a fair offer. For more information, contact IAM District 26 at 860- 828-0359.

Download a flier about the lockout:
http://www.iamaw.org/publications/pdfs/sk_handout_color.pdf
---
Maytag Layoffs Begin
Nearly 400 Maytag workers in Galesburg, IL saw their jobs disappear last week as the company moved forward with plans to shift refrigerator production to a factory in Reynosa, Mexico, where workers will assemble the so-called "American Classics" for a fraction of what U.S. workers earned.
Thousands of additional jobs in surrounding communities are expected to vanish when the company completes its scheduled shutdown of the Galesburg plant next year.
Despite mounting criticism, Maytag CEO Ralph Hake continues to defend the decision to shutter the profitable U.S. factory, saying the Galesburg plant is not "competitively viable." Hake's stand has exposed the venerable company to scorn for trading on its heritage at home while exploiting third world wages and working conditions abroad.
On the final day for many Maytag workers, IAM Local 2063 President Dave Bevard commended the union workers for the pride and craftsmanship they built into every appliance manufactured in Galesburg. "I couldn't be prouder," Bevard told the Associated Press. "The last 'wide-by-side that rolled off the line earlier this week was every bit as good as any other appliance being made today."

---
Global Intermodal Employees Choose IAM

By an 83 percent margin, employees at Global Intermodal Systems (GIS) in Wilmington, CA voted to join the IAM. The employees provide repair, storage and redistribution services for the shipping container industry. GIS was a primary non-union competitor to Container Care and Flexi Van, two IAM-represented container service companies in the California area. GIS has about 700 employees at 12 other locations along the West coast and Southeast United States.
District 190 Business Representative credits the win to a group effort by DL 190 Organizers and staff, District Lodges 725 and 947 and the Western Territory office.
---
U.S. Census Bureau: 43.6 Million Uninsured
The United States Census Bureau said the number of uninsured Americans increased by 5.7 percent in 2002 to 43.6 million. In 2002, more than 15 percent of all Americans were uninsured as compared to 14.6 percent in 2001.
The rise in the number of uninsured paralleled other negative benchmarks in President Bush's faltering economy, including the loss of 2.7 million jobs and declining household incomes for three straight years.
---