Breaking News for Tuesday, October 16, 200
---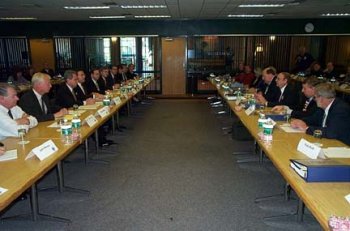 Contract Talks Open At P&W Jet Engines
Connecticut Machinists opened contract talks Monday for a new agreement covering more than 5,000 IAM members at Pratt & Whitney Aircraft jet engines.

Negotiations began with a powerful show of labor solidarity. IAM President Tom Buffenbarger was at the table along with GVP Bob Thayer (head of the IAM Aerospace Department), Eastern Territory GVP Warren Mart and representatives from IAM, UAW and IBT locals across the country that have contracts with Pratt & Whitney's parent company, the United Technologies Corp.

"Job security is a paramount issue. A significant improvement to pensions is a paramount issue," Buffenbarger told management. "We are here to make a fight. We are here to make a stand."

IAM District 91 members hold a strike authorization vote Wednesday. The current three-year agreement with Pratt & Whitney expires December 2.
---
Economic Slump Punishes Working Families
The growing economic aftermath of the Sept. 11 tragedies finds even more workers forced into the jobless lines, while both Congress and the White House focus most of their efforts on bail-outs for the corporate sector.

With nationwide layoff figures climbing near to 500,000, a GOP minority blocked a Senate measure that would have provided some much-needed relief to laid-off aviation workers. More than 140,000 aviation workers face current or future layoffs, with another 62,000 in the aerospace industry

Legislation aiding those laid-off workers in the aviation industry may be folded into the President's so-called economic stimulus package, where it would be so diluted that it will come as too little and far too late.

Visit the IAM website at www.goiam.org/politics.asp to send an action message to your Senators and Representative. Make your voices heard. We can make a difference.
---
'Fast Track' is the Wrong Track
Even major segments of the business community can't stomach the sleazy tactics being used to grease Fast Track. The Thomas Trade Train is leaving the station disguised as a response to terrorism.

"Trying to claim that Fast Track is an anti-terrorism weapon gives opportunism a bad name," said Kevin Kearns, president of the U.S. Business and Industry Council, an association of small and mid-sized manufacturers opposing the trade measure.

Supporters lack the votes for House passage, so now is the time to keep the bill from gathering a full head of steam.

Call toll-free 800-393-1082 and urge your members of Congress to defeat this job-stealing Fast Track measure.
---
Computer Contest Adds New Members
The lure of a free desktop computer proved a powerful organizing tool for IAM local and district lodges, according to GVP Bob Thayer. He reports that a total of 25 local and district lodges garnered 44 computers awarded for organizing new members.

"More than 12,000 new members joined our ranks as a result of this program," Thayer said. The computers were awarded to those local and district lodges that increased membership by at least five percent, Thayer explained. The competition ended last month.
---
Las Vegas Members Ratify First Contract
A jubilant group of IAM members ratified their first contract with Globe Ground Services at Las Vegas Airport. A three-year agreement covers the Ramp and Cabin groups, while Passenger Service Agents accepted a four-year pact.

The contracts include wage increases each year, as well as improvements in overtime language and compensation, additional paid holidays, a company-matching 401-K plan and Lead pay.

"This is a great group of people, they worked hard and did a fantastic job," said GLR Mike Wardle, who led the negotiating team. "I look forward to working with them again. He praised Stewart Ruskin, Robert Mort and Charles Hazelton for playing key roles in the negotiations.
.

---