The IAM's
Executive Council
I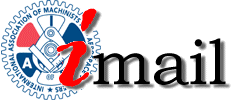 www.goiam.org
---
Friday, October 19, 2001
---
Machinists Reject CEO Goodwin's Threat
International President Tom Buffenbarger blasted United Airlines CEO James Goodwin for his doomsday letter predicting the demise of the nation's second largest carrier if revenues did not improve.

"United Airlines will continue to fly tomorrow, next month and next year," declared Buffenbarger. There are 100,000 determined United employees who will see that it does exactly that. And they will do so with or without Mr. Goodwin."

Shares of United's stock sank as news of the letter spread and
Reservations agents reported thousands of calls from concerned ticket holders. "Mr. Goodwin's letter undercut passenger confidence in air travel just as it was beginning to return," said the IP. "United's employees deserve better than the alarmist rant of a man who is clearly not up to the task of crisis management."
---
Delegates Cheer 'No Concessions' Speech by IP Buffenbarger
In the first airline convention held since the September 11 attacks, officers and elected delegates of District 142 heard IP Tom Buffenbarger declare the IAM will continue moving forward and "not go back one inch on any of the gains we achieved in our contracts."

Buffenbarger and Transportation GVP Robert Roach, Jr. both spoke of the need to go forward not backward. "We will not give anything back," said Roach. "Congress may have failed to help airline workers, but the IAM and District 142 will not fail you."

District 142, headed by President and Directing General Chairman William O'Driscoll, is the most diverse of the four air transport districts, administering 67 airline contracts, including TWA, Continental, Southwest and British Airways.
---
GOP Governors Ripe For Picking
Voters in New Jersey and Virginia are poised to break a
Republican stranglehold of U.S. governor's offices that is showing
weakness for the first time since GOP dominance of state house offices peaked in 1998.

"Good news for working families," says an eight-page report in the latest IAM Journal. The article takes aim at the Republican governors, detailing their rise to power, critiquing their policies and handicapping the various races. Republican governors currently rule 29 states, including eight of the country's 10 largest states.

The contests in New Jersey and Virginia are especially notable for the hard right candidates being fielded by GOP operatives. New Jersey voters must decide if ultra-conservative Bret Schundler is a fitting replacement for moderate Christie Whitman, who resigned earlier this year to head the EPA for President Bush. A similar choice faces voters in Virginia, where moderate Democrat Mark Warner is maintaining a lead in the normally conservative state.

The award-winning IAM Journal is in the mail to nearly 700,000 IAM members and also appears on the IAM website at www.goiam.org.
---
Ritchie Heads Effort to Save Western Star
When Freightliner Corp. announced it was closing its Canadian facility, Western Star Trucks in Kelowna, BC, GVP Dave Ritchie and the IAM swung into action. Ritchie fired off a letter to Brian Tobin, minister of Industry, urging him to join the campaign to save jobs at the facility. The plant has won the J.D. Powers Award as the world's top-quality truck producer for three consecutive years.

"Western Star is a vital part of the economy, which supports a number of local businesses and up to 4,000 indirect jobs," Ritchie said.

He urged members to "phone, fax and email" their political representatives and urge them to "join forces with the workers at Western Star" and keep the facility operating.
---
District 91 Members OK Strike Vote
More than 96 percent of IAM members at Pratt & Whitney voted to strike if negotiations fail to bring an acceptable contract at the facility in Hartford, CT, reported DBR Jim Parent.

"This vote shows that our members are prepared to do what it takes," he said. "Of course we want to reach an agreement. But our members are not willing to accept a substandard contract. They're ready to take a stand," Parent stressed.

Pratt & Whitney's parent company, United Technologies Corp., reported a 14 percent increase in earnings for the third-quarter, but said it planned to lay off 5,000 workers because of airline industry slowdowns. UTC said about half of those cuts would come at Pratt & Whitney, with another 1,500 coming from the Hamilton Sundstrand division.

The current agreement expires December 2, Parent said.
---
Computer Contest Clarification
Competition for a free desktop computer will remain open till the end of the year. GVP Bob Thayer reports that 25 local and district lodges won a total of 44 state-of-the art computers and added more than 12,000 new members to IAM membership rolls. To win a computer, a local or district must increase its ranks by at least five percent by organizing new members.
.

---

Comments, suggestions, or story items?
Contact IAMAW / Read previousimail